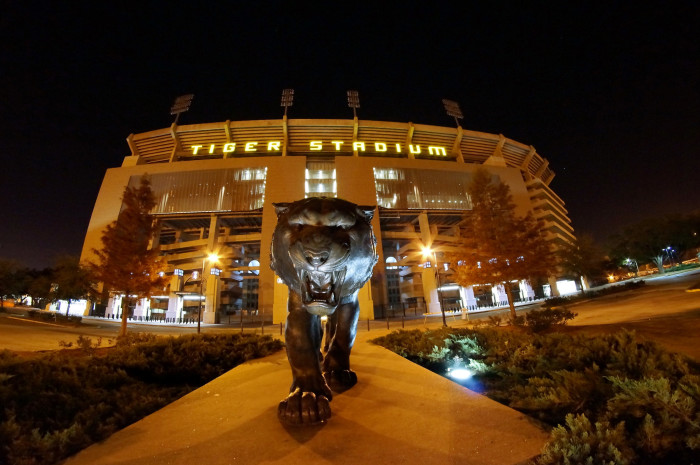 If there's anything that Southerners care about more than their regional cuisine, it's gotta be SEC football! To celebrate the 2015-16 college football season, Food Republic is launching a new series, SEC FoodBall. Each week, we'll profile a Southeastern Conference town, and more importantly tell you where you should eat and drink if you're fortunate enough to attend a game there. We'll also solicit advice from some locals to make sure you have the benefit of home team advantage.
Week 3: Auburn at LSU, Baton Rouge, Louisiana; Sept. 19
Auburn players may find themselves backing into Baton Rouge as they prepare to face LSU and the home team's band of rabid fans at Tiger Stadium, affectionately (and accurately) nicknamed "Death Valley." Auburn had to come from behind last week and survive overtime to defeat Jacksonville State, a team from NCAA football's lower FCS division. New quarterback Jeremy Johnson has thrown almost twice as many interceptions as touchdowns so far this season, and LSU's ballhawking defense looks to make Tiger bait out of the young QB's errant passes. On the positive side for Auburn, the game is scheduled as the CBS afternoon national broadcast, meaning that LSU's fans will have only half as much time to get liquored up pregaming as opposed to their preferred evening home kickoff times. One thing is certain: The Tigers will win this game.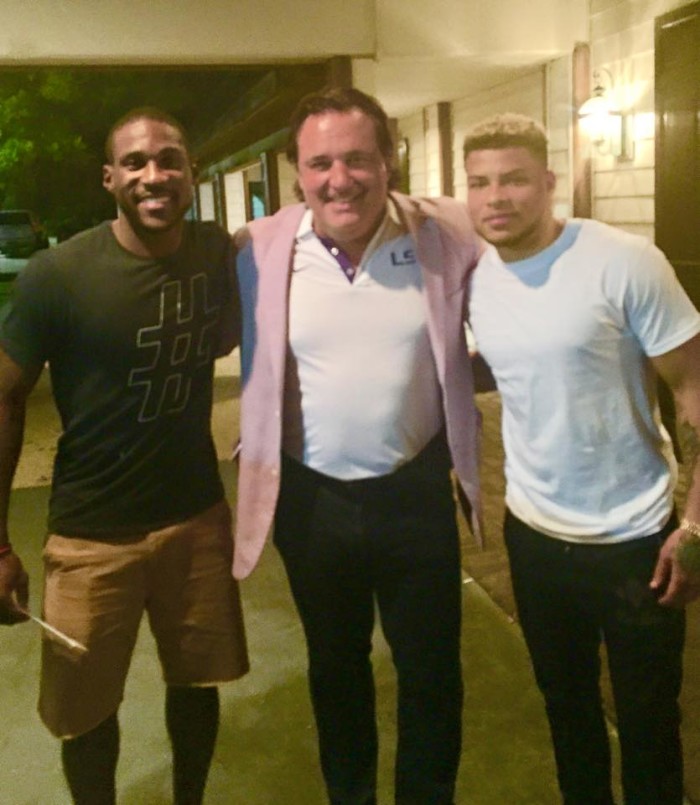 Since the game will be over at a decent hour, fans will need to find a place to enjoy a postgame meal and libation, so we turned to ex-LSU offensive guard from the late 1980s Ruffin Rodrigue for his advice. Rodrigue is quite qualified as an expert since he is also the proprietor of one of the best restaurants in Baton Rouge, the semi-eponymous Ruffino's. The restaurant was previously called Dinardo's, named after former coach Gerry Dinardo, but when Dinardo was chased out of town in favor of some hack named Nick Saban, Rodrigue stepped in to purchase and rename the Creole/Italian hybrid eatery.
The clubby atmosphere of Ruffino's is a favorite of the expense-account set that dines on seafood and pasta or avails themselves of classic Italian red sauce specialties. Who are we kidding? These are football fans. They go for the meat, and the list of steaks, veal and pork dishes is highlighted by the punny Pork Tchopitoulous. That's pronounced "pork chop-i-tewlus," in case you haven't spent much time in Louisiana. The dish of a marinated 11-ounce center cut chop with New Orleans–style barbecue shrimp and mashed potatoes is a meal for a man's man like Rodrigue. Ruffino's Restaurant, 18811 Highland Rd., Baton Rouge, LA 70809; 225-753-3458
Splurge
But when Rodrigue wants a special meal outside of his own restaurant, he heads about a dozen miles out of town to Roberto's River Road Restaurant, an authentic South Louisiana seafood shack on the banks of the Mississippi. While the environs might be casual, the food is deadly serious, with dishes like Fish en Papillote and Catfish Billy standing out from the menu of novel preparations. The former is a traditional way to cook the catch of the day, wrapped in parchment and baked with fresh herbs and lemon, French-style, topped with jumbo lump crab meat. And the latter is a plate of fried or grilled fillet of catfish topped with crawfish étouffée served over rice. Aiyee! Roberto's River Road Restaurant, 1985 LA-75, Sunshine, LA, 70780; 225-642-5999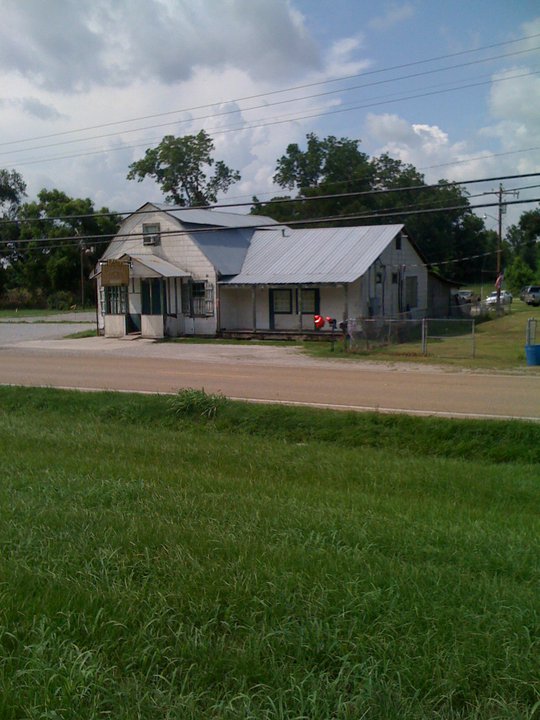 When it comes to quick, cheap and easy, Rodrigue isn't afraid to offer up a chain as a dining option. Fried chicken tender and crinkle fries emporium Raising Cane's has expanded to more than 300 outlets, but Rodrigue still thinks the original location is the best. Location No. 1 is still known as "the Mothership," and it remains a snapshot of the times when founder Todd Graves opened it almost 20 years ago. Ruffin admits he has a bias toward Raising Cane's. "Todd is one of my best friends, and I like how he hasn't changed a thing after opening it on the North Gates of the LSU campus." Employees are still encouraged to have a great time while they work, and the menu is still limited to chicken fingers, fries, Texas Toast and coleslaw. Why mess with simple perfection? Raising Cane's #1, 3313 Highland Rd., Baton Rouge, LA 70802; 225-387-3533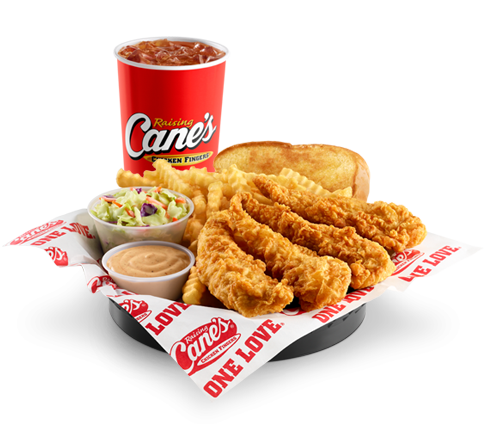 Eat Like a Local
Generations of LSU students and alums have missed class and been late to work thanks to late nights spent at the Chimes. In fact, the beloved beer joint offers undergraduate, master's and Ph.D. degrees as part of its Beer University program, with courses such as Abita Orientation, Beginner's Brown Ale and IPAs 101. Actually, it's just an excuse to drink your way through flights of beer from the Chimes's exhaustive list of more than 200 brews under the guise of achieving something more than getting a free T-shirt. Rodrigue has a soft spot in his heart for the Chimes. "It's an LSU staple, and some of my best memories in Baton Rouge are from when I was a student playing football and spending my spare time at the Chimes." Drop by for drinks and some oysters on the half shell or blackened alligator and create your own memories. The Chimes, 3357 Highland Rd., Baton Rouge, LA 70802; 225-383-1754
Another of Rodrigue's favorite local dive bars is also owned by a former LSU athlete, this time a walk-on basketball player named Brandon Landry. To commemorate his past as a non-scholarship athlete, Landry named his sports bar Walk-On's. Named the Best Sports Bar in North America in a contest by ESPN Mobile (although it's quite possible some LSU students stuffed the virtual ballot box), Walk-On's has expanded to eight locations across Louisiana and Texas. But it's the original spot on the south side of campus that Rodrigue holds dear, even more so now that another notable Louisiana sports star is involved. "Walk-On's is always a great time before and after a game, especially now that Drew Brees is a partner." Another reason that Rodrigue is a fan is that Landry is another buddy, and the pair joins with Graves of Raising Cane's to tailgate and attend every LSU home game.
Part of Walk-On's popularity comes from its dedication to raising the menu above and beyond that of your typical sports bar. In addition to the usual repast of beer, burgers and wings, Walk-On's features regional specialties such as bacon-wrapped and cream cheese–stuffed spicy Voodoo Shrimp and Catfish Atchafalaya, a plate of blackened or fried filets over rice topped with étouffée and fried crawfish tails. Walk-On's, 3838 Burbank Dr., Baton Rouge, LA 7080; 225-757-8010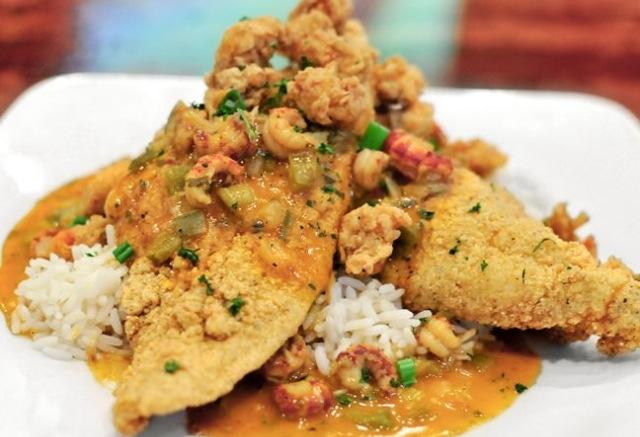 BBQ
When it comes to barbecue, Rodrigue continues to patronize his friends, in this case TJ Ribs, founded by his restaurant mentor TJ Moran. An unabashed homer, Moran created his rib joint as a place for dedicated LSU fans to enjoy baby backs among their fellow aficionados surrounded by walls covered in and display cases packed with LSU sports memorabilia. Among the more treasured Tiger totems is Billy Cannon's 1959 Heisman trophy, as well as many photos of legendary basketball sharpshooter Pistol Pete Maravich and a photo of Shaquille O'Neil holding Dale Brown in his arms. The smoked meat is pretty impressive, too, with ribs, brisket and pork shoulder prepared using a combination of dry rubbing, marinating, roasting, cooling and other secrets perfected in the Moran home kitchen. TJ Ribs wouldn't be a total winner without some fried Louisiana seafood, so you can expect plenty of crispy shrimp, crabs and fish on the menu as well. TJ Ribs; 2324 S. Acadian Thruway, Baton Rouge, LA 70808; 225-383-7427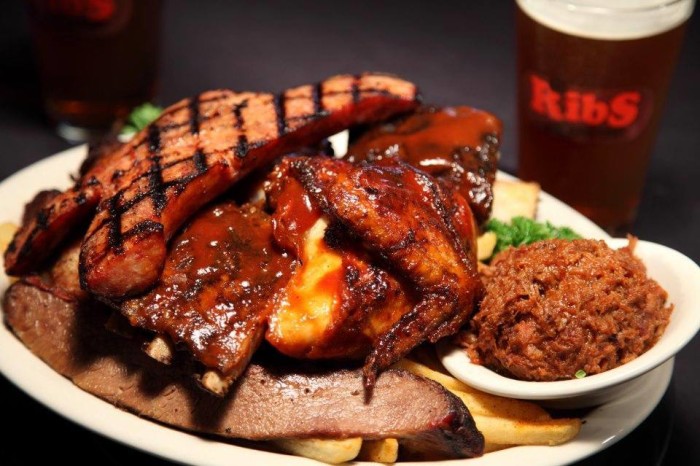 Another popular Baton Rouge barbecue destination is Pimanyoli's Smokehouse Cafe. Not your typical smoke shack name, Pimanyoli's is actually a portmanteau of the two original owners' nicknames, Piman and Yoli. Unfortunately, Pepper "Piman" Perriloux passed away in 2014, but not before passing on his pitmaster secrets to his partner Yolanda and the rest of the staff. Yoli is the mistress of the restaurant's specialty, Louisiana/Mississippi Delta-style hot tamales. Known as Pass-a-Dozen tamales, the recipe for these beef and pork treats wrapped in genuine corn husks is almost a century old, and folks do line up to order them by the 12-pack. (Or six at a time if you're feeling dainty. Wimp.) In addition to burgers, smoked chicken, pulled pork and spicy sausage dishes, brisket is a particular house specialty at Pimanyoli's. If you can't make up your mind, just order the Pepper, named after the late, great pitmaster. It's a sandwich with smoked beef brisket, pulled pork, coleslaw, mayonnaise, cheddar cheese and red onion piled atop a toasted bun. Pimanyoli's Smokehouse Cafe, 14241 Airline Hwy #105, Baton Rouge, LA 70817; 225-751-7590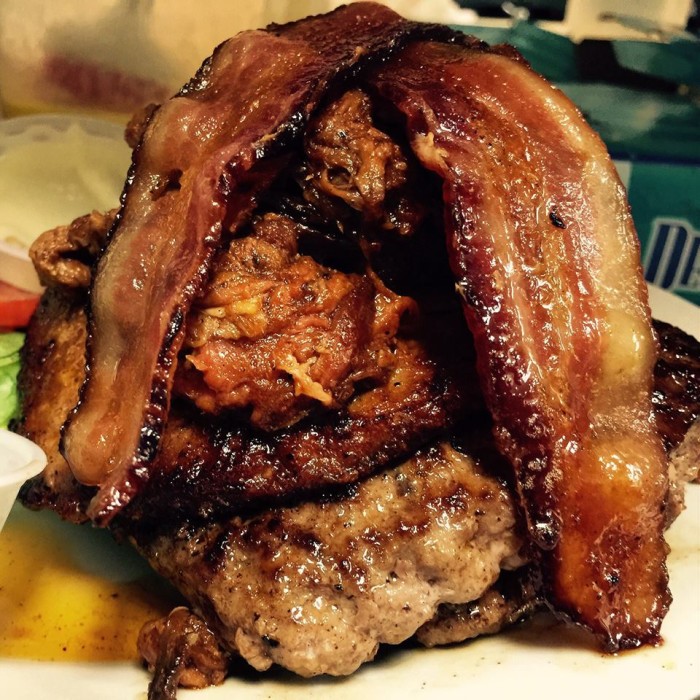 Pass the Tums and Geaux Tigers!