Michael Coll makes no apologies for opening a hangout designed primarily for wine geeks. Wine Disciples is a new wine bar in New York's garment district with an adjoining wine shop. Originally a single space, the location was split in two, with a new wall built in between, because New York state law doesn't allow bars and retail stores to operate out of the same location.
"I wanted to create a space for the community," says Coll. The community he's referring to is the wine community. "And they've responded well. A lot of the big distributors have their offices nearby. I want people to feel like they can just pop in and hang out here."
Members of the wine community — such as sales reps and sommeliers — are known to gather not only in the wine bar, but also in the shop. An area at the back, behind the well-lit rows of bottles, has a small bar set up for tastings. Reps who have spent the day pounding the pavement, hauling wine to places all over town, can stop here to take a load off.
This doesn't mean you shouldn't pay a visit to Wine Disciples if you don't work in the wine industry or identify as an oenophile. Wine Disciples is designed to cater to experts and novices alike. The shop is easy to navigate, and the bar offers themed flights of three to allow you to sample (and learn) as much as possible. On the menu now: volcanic island whites from Italy. Mix and match them with simple, fresh bites from the food menu, like grilled mackerel over a lemony puree or tender octopus with Jerusalem artichokes. A private room off the main dining area feels like a French country kitchen: all whitewashed walls and a long dark wood table that seats more than a dozen. Here Coll will host wine dinners and events that celebrate and impart wine smarts. 129 W. 29th St., New York, NY 10001; 212-239-4100; winedisciples.com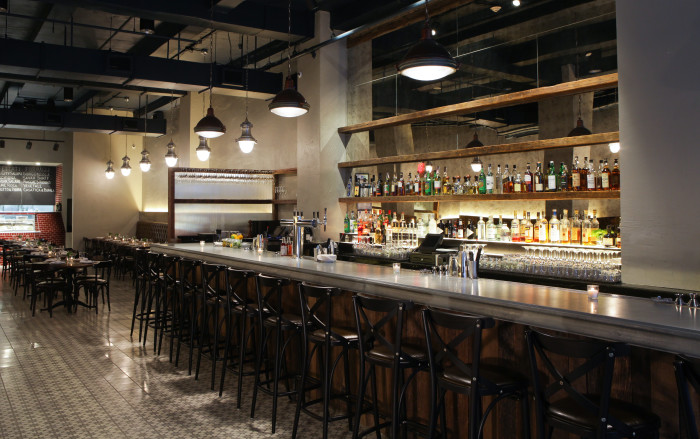 Wine Disciples is one of a smattering of new wine bar-shop combos that have opened across the country. (In states that don't have laws preventing it, the businesses can operate out of the same room.) Here are five more to check out:
Esters, Santa Monica, California
Esters has taken the stay-or-go concept all the way, allowing you to stay for a glass of wine and one of its delightful small plates or buy a bottle and a snack to go. But you will want to stay. The bright Art Deco room, its walls lined ceiling-high with bottles, feels romantic and modern at once. A brief menu of small plates can be paired with one of 20 wines by the glass, including such cheerful pours as dry Tokaj Furmint from Hungary and aligoté, the crisp white from Burgundy with such razor-sharp acidity that it begs for food. 1314 7th St., Santa Monica, CA 90401; 310-899-6900; esterswineshop.com
Tofino Wines, San Francisco, California
Take a 2,500-square-foot space with 20-foot ceilings and windows nearly as tall, fill it more more than 700 wines and add a bar area for quiet enjoyment of the aforementioned: This is Tofino Wines. Specializing in small producers from Europe and California that practice natural winemaking, the shop is notable for its champagne and sherry selections. Buy a bottle from the shop and take it over to the bar area for a $10 corkage fee. You can also order from a list of more than 30 wines by the glass, including several on tap. Pair them with small plates like smoked trout pâté and pan tomate. 2696 Geary Blvd, San Francisco, CA 94118; 415-872-5782; tofinowines.com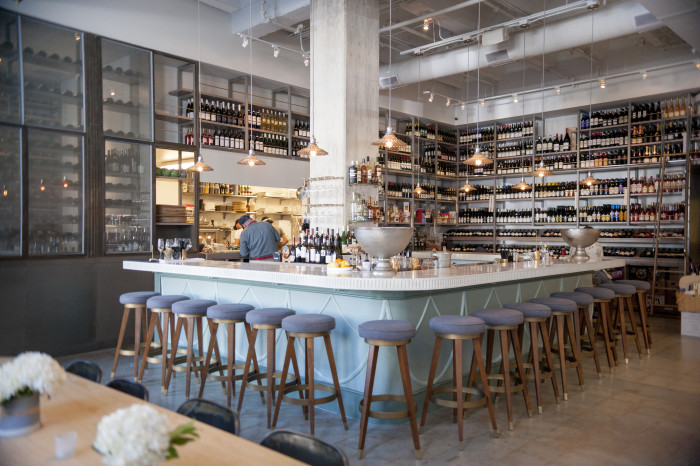 Oso Market + Bar, Portland, Oregon
Set in the Southeast Industrial District, the shop features Old World and local wines with a focus on organic and biodynamic producers. It also stocks an array of Portland-made gourmet treats, like Pinkleton's Curious Caramel Corn and Alma Chocolates. In the bar area, gleaming white tiles line the back bar and a big, Broadway-style "Oso" sign hangs above it. Customized flights of wine, sherry or vermouth are a great deal at $14 to $15. Pair them with small bites, like montaditos (Spanish mini sandwiches), or dishes from the new chef, Steve Lohse. 726 S.E. Grand Ave., Portland, OR 97214; 503-232-6400; osomarket.com
The Market St. Wine Shop & Wine Bar, Pittsburgh, PA
This combination gourmet grocery, butcher shop, coffee shop, wine shop and wine bar takes a slightly different approach to the concept. It sells and serves wine from a single winery in Abruzzo, called Collefrisio. Luckily, the winery is rather prolific, producing several whites, including a bright and fruity Falanghina, a fresh and floral Montepulciano rosé and even bubbly. Access to the bar area is through the grocery or via its own entrance. Wine by the glass or bottle can be paired with small plates, cheese and charcuterie. Or with anything from the shop. 435 Market St, Pittsburgh, PA 15222; 412-281-3818; marketstreetgrocery.com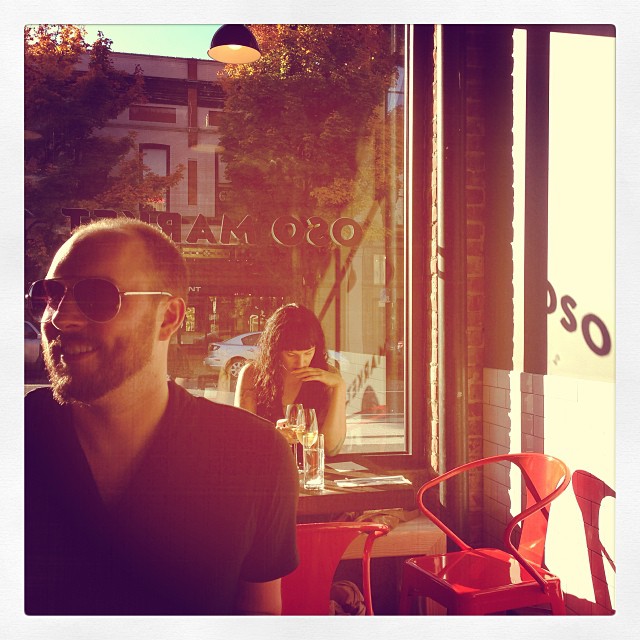 Bacchanal, New Orleans, Louisiana
By no means a newcomer, Bacchanal has been drawing crowds for more than a dozen years. Located at the far end of the Bywater, the tiny unassuming shop manages to stock its share of cool, obscure wines alongside simple, gulpable stuff best served chilled. And if you didn't know the magic garden of a backyard existed, you might not even peek out the back door. Of course, you'd probably be wondering where the music was coming from. Live jazz every night and generous cheese plates make for great wine pairings. And there's a full menu if you want to go ahead and make it dinner and a show. 600 Poland Ave., New Orleans, LA 70117; 504-948-9111; bacchanalwine.com