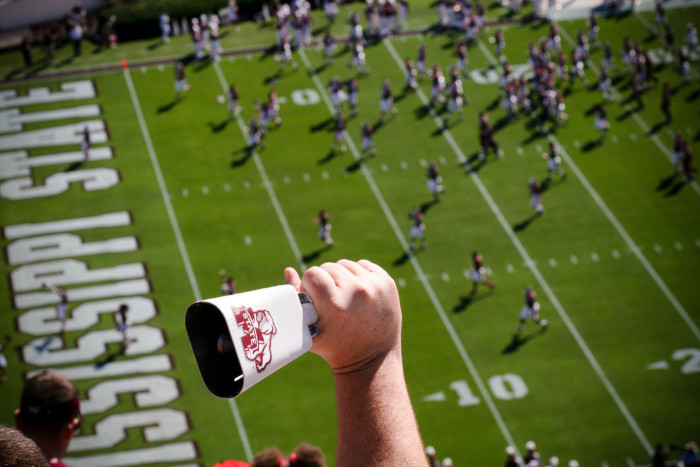 If there's anything that Southerners care about more than their regional cuisine, it's gotta be SEC football! To celebrate the 2015-16 college football season, Food Republic is launching a new series, SEC FoodBall. Each week, we'll profile a Southeastern Conference town, and more importantly tell you where you should eat and drink if you're fortunate enough to attend a game there. We'll also solicit advice from some locals to make sure you have the benefit of home team advantage.
Week 2: LSU at Mississippi State University, Starkville, Mississippi; Sept. 12
The Southeastern Conference ostensibly banned external noisemakers back in 1974, but fans of the Mississippi State University football team never paid that rule much nevermind. A trip to Starkville to watch the Bulldogs play usually leaves visitors with severe tinnitus as thousands of rabid State supporters clang their cowbells constantly in a fond reverence of the college's rural reputation as an ag school. This week, it's the LSU Tigers' turn in the bell tower as they meet MSU in what should prove to be a challenging early-season test for both teams.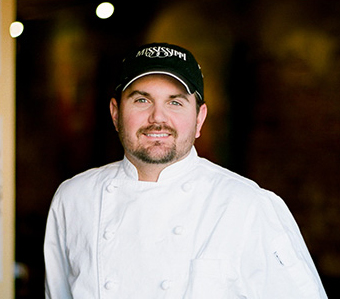 We asked Jonathan "Ty" Thames of Restaurant Tyler for his advice on where to get fired up before the game or lick your wounds as the ringing in your ears subsides. His restaurant is a popular gathering spot for fans seeking an upscale meal in town, and the menu is the best rationale for the city's cheeky nickname, StarkVegas. Start out with an app of crawfish dip torqued up with roasted garlic, spicy Italian sausage, spinach and herbs, and then progress to the house specialty of a 14- to 16-ounce bone-in cold-smoked pork chop finished with a truffle and Mississippi honey demi-glaze, and you might just look for the lights of the Strip. Restaurant Tyler, 100 E. Main St., Starkville, MS 39759; 662-324-1014
Splurge
Thames's suggestion for a special meal in town comes from an unexpected spot. By day, City Bagel serves exactly what you'd expect, boiled and baked bagels topped with lox and eggs for breakfast and converted into sandwiches for the midday meal. But Wednesdays through Fridays are Italian Nights at Daily Bagel, so if you pull your RV into town a few days before the game (which is the norm among SEC fans), you can sample a pretty respectable chicken scarparello or novel cajun spaghettini at extremely reasonable prices. Thames calls City Bagel one of his favorite spots in town: "It's a great place to relax and enjoy a couple of beers, and the hand-tossed pizzas are fantastic!" City Bagel, 511 University Dr., Starkville, MS 39759; 662-323-3663
Another local favorite is the Veranda, which Thames enjoys for its "nice bar area" but which is better known for serving Black Angus steaks that can be topped with lobster, jumbo lump crab, grilled shrimp or gorgonzola butter for an additional charge. The Veranda is the sort of place where current MSU students go when their parents are in town to foot the bill. The Veranda, 208 Lincoln Green, Starkville, MS 39759; 662-323-1231
Cheap Eats
After the 'rents have left, the students return to their regular haunts, like the STAGer In Grill, a divey little sports bar with the most popular chicken wings in town. In fact, yardbird is the core of the menu, with a spicy sandwich called the Topless Hot Chicken served open-faced on Texas toast and a ridiculously loaded chicken sandwich called the Clucking Doublewide, which features two fried chicken breasts with melted American cheese, bacon and ranch sauce teetering precariously between the buns. Bonus: Some nights you can "flip off your bartender" and call heads or tails for a chance at a free drink. STAGger In Grill, 106 Maxwell St., Starkville, MS 39759; 662-324-2447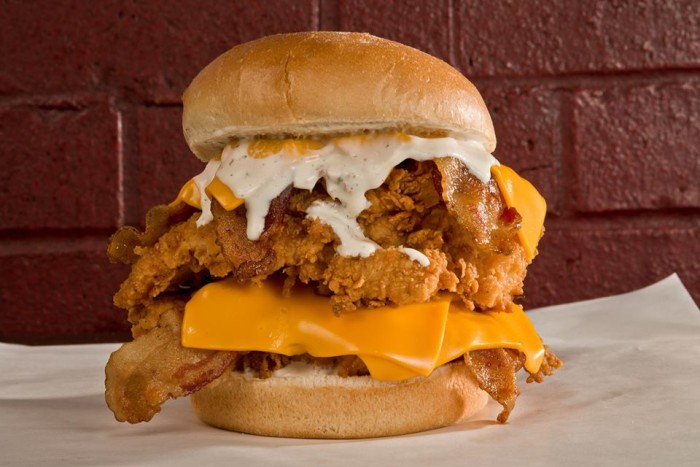 Fans of both SEC schools from Mississippi know that Oby's Cajun Dining is the place to go for a proper po'boy, but the Starkville location is the original. State fans wouldn't be caught dead eating at Oby's in Oxford. But that means they're missing out on some excellent jambalaya and muffalettas when the Egg Bowl is played in the home of their mortal enemies. With only a few dishes on the menu over ten bucks, Oby's is a fine choice for diners on a budget. Oby's Cajun Dining, 504 Academy Rd., Starkville, MS 39759; 662-323-0444
Eat Like a Local
Thames didn't go to school at MSU, but he got to Starkville as soon he could, and now he definitely knows where the locals hang out. If the streets of town look like they've been rolled up at 3 p.m. on a weekday, that's only because everybody is at Dave's Dark Horse Tavern hidden away in an old converted hotel just past the edge of campus. It's dark and deceptively large inside, but Thames digs the vibe. "It's a cool, divey spot with great pizza and a good bar scene. The best part about Dave's is that they feature local bands most nights." Frequent Power Hours offer various drink specials that are so cheap, you'll wonder how they keep the doors open. Clearly the answer is volume. (Off-menu tip: Order the Kathy Dip, a decadent combo of Ro-Tel, spinach, artichoke and sriracha.) Dave's Dark Horse Tavern, 410 Dr. Martin Luther King Jr. Dr. E., Starkville, MS 39759; 662-324-3316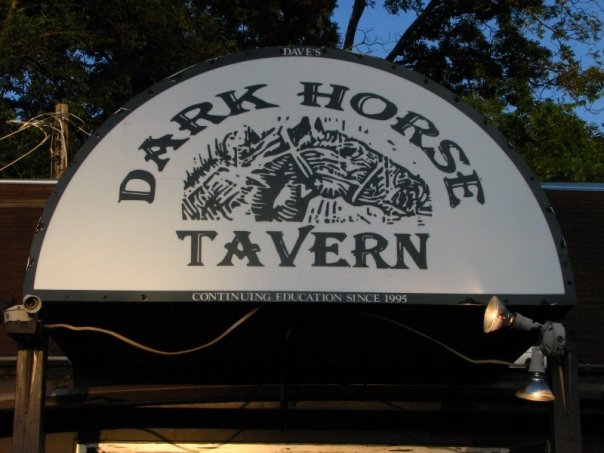 BBQ
When it comes to barbecue, Starkvillagers enjoy a lively and tasty debate between two local favorites, the Little Dooey and Petty's BBQ. The former started as a small family business serving homemade barbecue and sauce at a service station but quickly grew into a Starkville institution after customers demanded that the proprietors open their own restaurant. While the smoked meats remain a major draw, fans also clamor for the Little Dooey's fried Mississippi farm-raised catfish as well as platters of Gulf shrimp that have taken their final bath in the restaurant's fryers. The Little Dooey, 100 Fellowship St., Starkville, MS 39759; 662-323-6094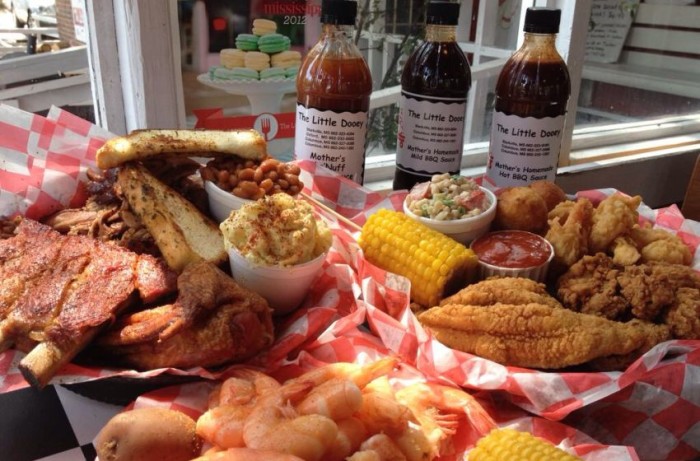 At Petty's, nobody visits for the service, which can kindly be described as surly at best. What does draw patrons is the straightforward menu of smoked pork shoulder, ribs, pork chops and Polish sausages. The ambience is nothing to brag about — it's basically a shack on the side of the highway with a little covered seating area — but when you bite into a BBQ grilled cheese sandwich or the barbecued pig snout (a regional specialty), you'll forget all about those air-conditioned chain barbecue joints. Petty's BBQ, 193 Highway 12 W, Starkville, MS 39759; 662-324-2363
However, when Thames is looking for a barbecue fix, he heads about a half hour out of town to Sonny's Smokehouse in Ackerman, Mississippi. "It's another divey joint, but it's got a real pitmaster whose food blows everything else away." Thames has been known to use Sonny's barbecue as part of an appetizer plate on his own menu at Restaurant Tyler. "I could take the time and smoke it myself, but I know it'll never be better than Sonny's." High praise indeed. Sonny's Smokehouse, 8936 MS-15, Ackerman, MS 39735; 662-285-8074
Until next week's game rolls around, Hail State!