With so much great writing surrounding glossy photos, detailed recipes and engaging stories, reading cookbooks is not the utilitarian jaunt of yesteryear, but rather a journey through the eyes of some of the most exciting food professionals in the industry. This fall's cookbooks have certainly grabbed our attention.
We whittled down the season's sizable reading list to our 21 favorites, influenced by everything from our obsession with Nashville hot chicken and Dale Talde's Asian fusion flavor symphony to our fascination with Sweden's Magnus Nilsson and London's Yotam Ottolenghi. Taco benders will never be the same, thanks to Alex Stupak's seductive guide to Empellón-grade fare at home, and if you're going to bake with chocolate, bake with the good stuff. Repeat after us: Guittard. Stay-home-and-cook season is upon us: Ready your woks and braisers, and preorder these essential volumes.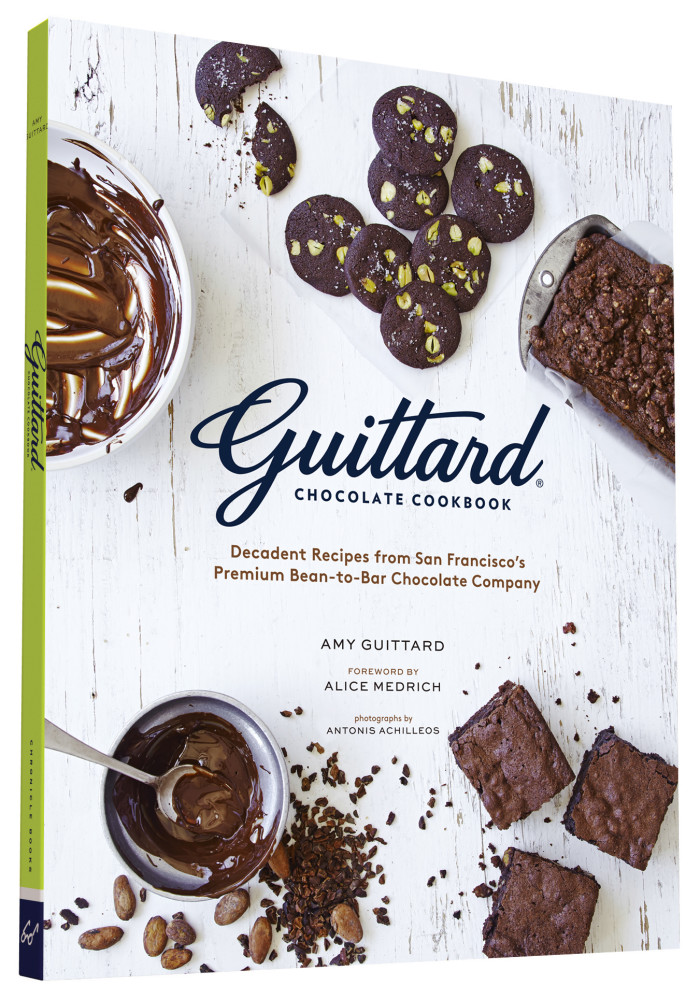 Guittard
Amy Guittard
September 1, Chronicle
Five generations and 150 years of chocolate making are packed into 60 decadent recipes. Amy Guittard shares her family favorites, such as the easy-to-follow five ingredient Flourless Chocolate Cake and more involved confections like the Roasted Banana Marmalade Chocolate Tart. The book is so full of cakes, bonbons, cookies and other delectable sweets, we don't know where to start. 
He won the title of World's Best Pastry Chef last year. His El Celler de Can Roca in Girona, Spain — which he co-owns with his two brothers — won the title of World's Best Restaurant this year. Wouldn't you want to make his artistic confections at home? Jordi Roca's 80 recipes, which exhibit whirls of daring and boldness while maintaining a certain level of simplicity, take readers on a journey through the seasons, and from pineapple, mango and passion fruit soup to sweet potato with tangerine granita.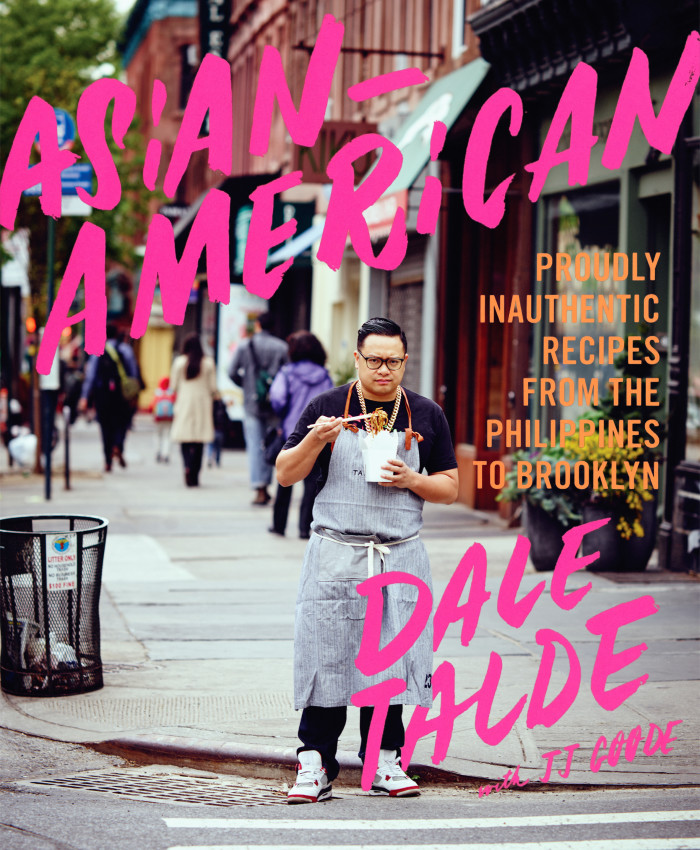 Dale Talde is one of our favorite chefs to cover here at Food Republic. Born in Chicago to Filipino parents, Talde works to intertwine his family's culinary heritage with American staples when it comes to the food served at his ever-popular namesake Brooklyn restaurant. In his first cookbook, the Top Chef alum reveals the inspiration — and recipes — behind his best-known Asian-American dishes (think pretzel pork and chive dumplings and crispy oyster and bacon pad Thai).
The Food Lab
J. Kenji Lopez-Alt


September 21

, W. W. Norton
The Food Lab is the new comprehensive home-cooking bible. Serious Eats' recipe developer extraordinaire J. Kenji Lopez-Alt's comprehensive, phone book-sized tome (named for his eponymous James Beard Award–winning column) addresses the home cook's extended repertoire with the intent of turning decent omelet flippers into masters of brunch, grudging Thanksgiving sides-donors into turkey wizards and searers of steak into chemistry geniuses. Kenji doesn't just cook his food; he interrogates it, then befriends it. Admire more than 1,000 photos while you hone your skills (and learn why you're honing them) and clear out about three books you don't read anymore to make space for this giant.
Dedicated to accessibility, James Beard Award–winning chef John Besh really is trying to make New Orleans classics like gumbo and po'boys easy for the home cook. Jambalayas are made with less than ten ingredients but still produce classic Nola flavor. With 101 recipes at hand, there's no reason to not bring the French Quarter home with you.
As if an open kitchen weren't enough for Claire Ptak to share her baked goods with London, the bakery's owner is now sharing her recipes with the world. In this design-forward book, beautiful sweet and savory fruit preserves, snacks, cakes and breakfasts made with whole grain flours and seasonal fruits play star. Before moving to London, Ptak worked under Alice Waters as a pastry chef, so you know she knows her stuff.
The Four Seasons of Pasta
Nancy Harmon Jenkins and Sara Jenkins


October 6

, Penguin
Traditionally, the making-from-scratch and consumption of pasta was a family affair. Renowned culinary author Nancy Harmon Jenkins and her daughter, chef Sara Jenkins of NYC's Porsena, keep this tradition going strong with their new cookbook, Four Seasons of Pasta, an ode to Italian cuisine the way it was intended to be created and served. Invest in a pasta roller (seriously, right now, you need one anyway) and hit the ground running with this extensive collection of authentic pasta recipes interspersed with detailed stories and master tips from their family, restaurant experiences and travels. As long as you've got that roller you just bought, you're in the best of hands.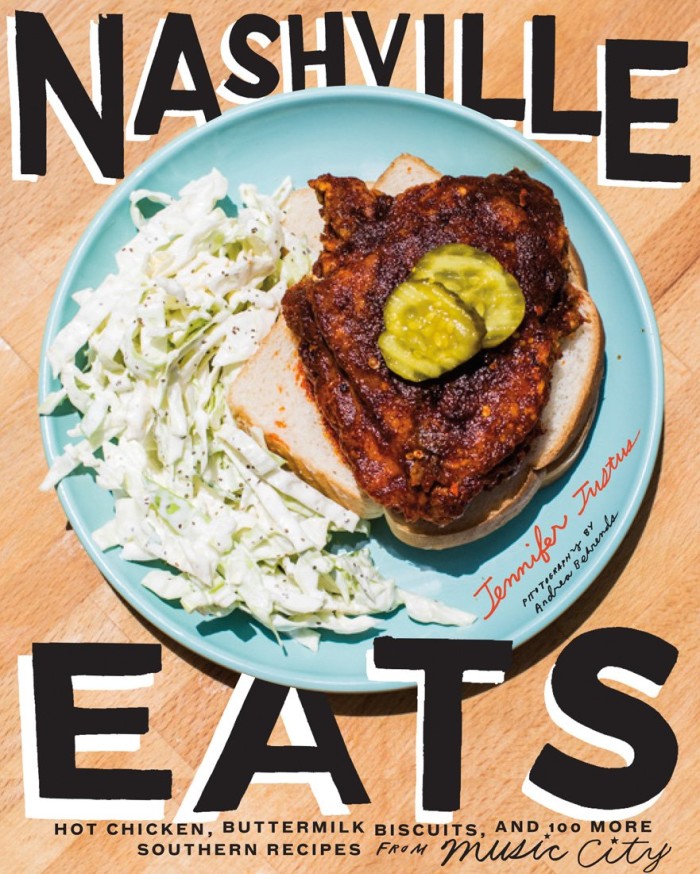 Nashville Eats
Jennifer Justus
October 6, Stewart, Tabori & Chang
The city of Nashville pops up seemingly everywhere these days. And as hot as the music scene is, the food scene is now even hotter. Literally. Learn how to make Music City's famous hot chicken at home, along with regional dishes like buttermilk biscuits, pulled pork sandwiches, fried green tomatoes and chess pie. Alongside 100 Nashville recipes, author Jennifer Justus shares her personal stories of the city — the people, music, history and food that make the city so special.
Crossroads
Tal Ronnen
October 6, Artisan
As a cuisine that comes with extreme political and environmental opinions, and sometimes a studded denim vest, vegan food can be hit or miss. Chef Tal Ronnen, however, made butter- and bacon fat–loving Michael Voltaggio into a "vegan wannabe." The book, dedicated to the dishes found at Ronnen's L.A. restaurant, is full of recipes for calamari, oysters, pâté, Bolognese and other meatless variations of the foods the chef once ate as a child.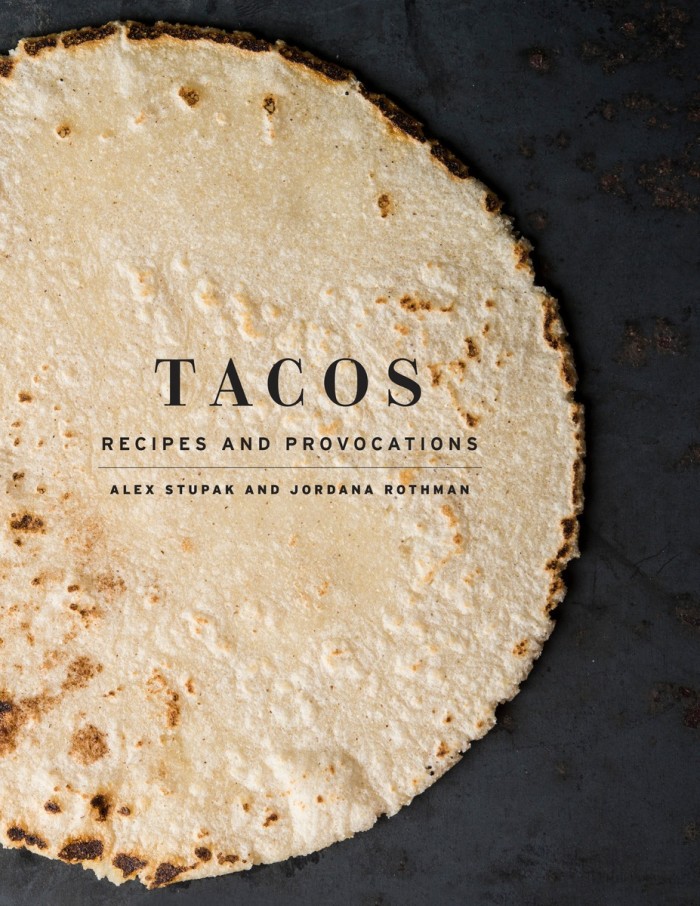 Empellón Taqueria is the best thing to happen to NYC's Mexican food scene since tacos trucks, and chef Alex Stupak is one of its great champions. His new book, coauthored with food-writing veteran Jordana Rothman, is more than aptly named. This man invented the Scotch egg taco, and it only gets more provocative from there. Grind and cure your own corn flour (or pick up a sack of masa harina) because these tortillas are exclusively made by hand, then filled with the creamy, briny combination of sea urchin and guacamole, toothsome finely shredded pastrami and onions or silky hand-chopped smoked salmon for a wholly satisfying experience. Carnitas and chopped cilantro will still be there when you return from your adventure.
NOPI: The Cookbook
Yotam Ottolenghi and Ramael Scully


October 20

, Ten Speed Press
Any cookbook from renowned chef, restaurant owner and author Yotam Ottolenghi is guaranteed to be a winner. NOPI, a collaboration with head chef Ramael Scully of his eponymous London fine-dining outpost, is a collection of Asian-influenced recipes in Ottolenghi's inimitable vegetable-forward style. You'll encounter ever-versatile ingredients like Koji rice, wasabi, kaffir lime, miso and a wealth of Asian chilies, spices, mushrooms and sauces the authors blend seamlessly into signature, classic and updated Mediterranean and Middle Eastern fare.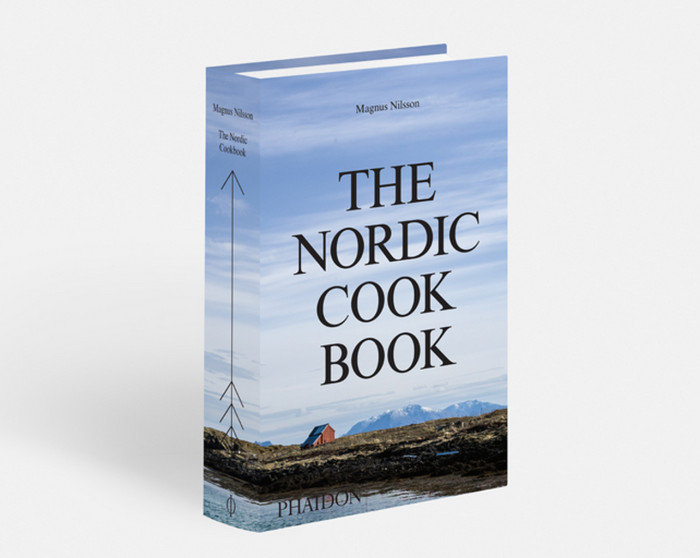 Amazon's #1-ranked new release in Scandinavian cooking, food and wine is The Nordic Cookbook by renowned chef Magnus Nilsson. Nilsson is head chef at Fäviken, a World's 50 Best Restaurants–ranked restaurant boasting a Michelin star, situated on a large estate in rural central Sweden. From Mind of a Chef to Chef's Table, Nilsson leads the way in the ongoing influence of Scandinavian cuisine, and The Nordic Cookbook is mandatory reading for lovers of seasonal menus by chefs who work exclusively and intuitively with the ingredients in their natural environments. Rich with stories, facts and illustrations detailing both known and lesser-known aspects of Nordic cuisine (think home-brewed juniper beer instead of yet another gravlax recipe), this impressively thick volume belongs on your shelf. And for the record, the gravlax recipe is pretty great, too.
Olympia Provisions
Elias Cairo
October 27, Ten Speed Press
Portland's first USDA-certified salumeria has been one of the driving forces behind the rapid rise of the city's food scene, growing into a mini-empire encompassing two restaurants and a wildly successful mail order business (the company distributes 700,000 pounds of cured pork products to 40 states annually). Founder Elias Cairo discusses in detail his charcuterie offerings, providing recipes for confits, pâtés, sausages, salumi, frankfurters and more, as well as offering an in-depth, often comical look at the unconventional yet inspiring journey that has brought him — and the brand — to where it is today.
When he isn't chowing down on some weeds freshly picked off the sidewalks of Oakland, the best-selling author and New York Times columnist is busy figuring out the many different ways you can cook with masa or watermelon. He does just that in Kitchen Matrix. He even includes recipe generators for paella, tartare, vinaigrette, sandwiches and more. The spoon does exist in this matrix, and we have it at the ready. 
Peter Meehan and the folks at Lucky Peach have rounded up their favorite inauthentic Asian dishes and put together an easy, introductory guide for you. The book is an extensive handbook to all things noodles, rice and pantry essentials (pass the shrimp chips, please) for the ultimate Asian dinner. Guest recipes include Chicken Adobo from Mission Chinese Food's Angela Dimayuga. There's even a recipe for "Mall Chicken," in case you wanted to make this variation of General Tso's and can't get to a food court. 
Slow Fires
Justin Smillie


November 3

, Clarkson Potter
With braising and roasting season comes Slow Fires, a new cookbook by Justin Smillie, NYC restaurant vet and Upland chef. These dishes are "meals you plan for, anticipate and, for the most part, tuck into on a weekend, when you have the luxury of time." With 52 meals for 52 food-focused weekends, Slow Fires boasts richly layered braising liquids, foolproof techniques for juicy roasts from the simple to the porchetta and all manners of sides, salads and other starters to pair with Smillie's meaty fare. In case you hadn't heard, it won't be summer forever.
Prison Ramen
Clifton Collins, Jr. and Gustavo Alvarez


November 3

, Workman Publishing
Love Orange Is the New Black? Love ramen? Add a foreword by Samuel L. Jackson to the mix, and you've got sustenance for days. Prison Ramen is a collection of stories and…well, sure, they can be recipes, from some of our favorite famous formerly incarcerated folks. No bowl cause you're in prison? No problem — the ramen wrapper itself will do in a pinch (it won't melt because you can't get the water hot enough with your janky battery-rigged thing anyway). Also, bricks of damp ramen make okay bread. Contributors include Danny Trejo, Slash, OITNB's Taryn Manning and Shia LeBeouf, among others, and serve as a stark, salty reminder to walk the straight and narrow or face your choice of options, like Long Sentence Soup, State Issue Soup, Blanket Call Ramen and Sloppy Ramen Joes. Ever had ramen chowder? Don't.
Where classic French cuisine meets the scientific aspects of modernist styles, Dominique Crenn outlines a day in her life at her Michelin star-studded restaurant. The book is sectioned off into geographical parts land and sea and metaphysical groups dream and craft. This book isn't for the home cook who is just starting out, and Crenn makes that clear in her introduction, writing "this book reflects how we really do things at Atelier." If Hannibal Lecter wrote a human-free cookbook, it'd probably look as artfully laid out as Atelier.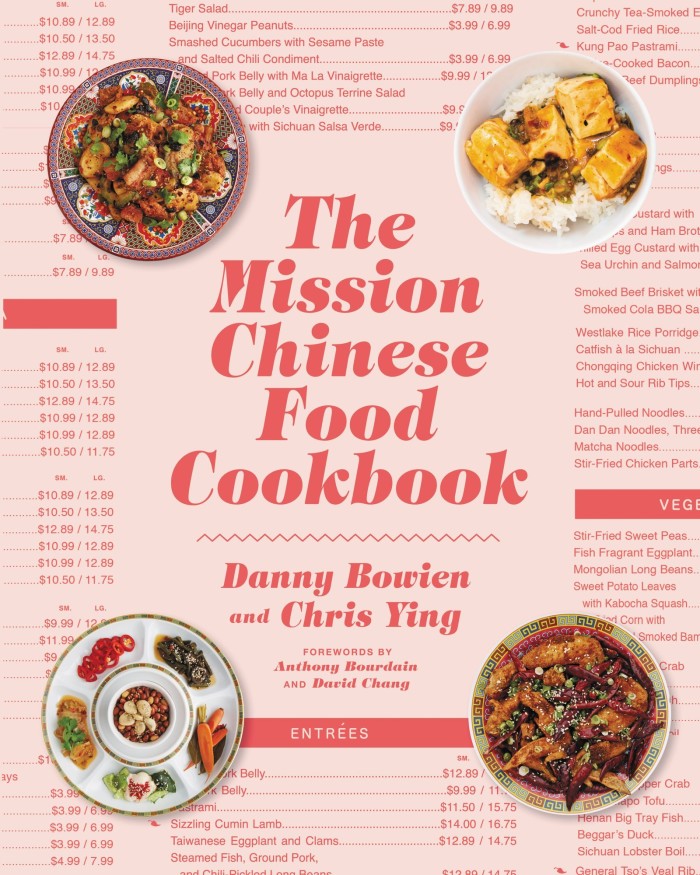 Danny Bowien transformed a late-night food truck into a pop-up and a pop-up into two of the hottest restaurants to grace San Francisco and New York City. His radically reimagined, inventive "Chinese food" dishes have diners queuing up for hours on both coasts, waiting to enjoy unique delights such as kung pao pastrami, Sichuan chicken wings and thrice-cooked bacon. The young culinary star chronicles his unconventional rise in a "cookbook in conversations" that combines raucous storytelling with his addictive — and often surprisingly simple — recipes.