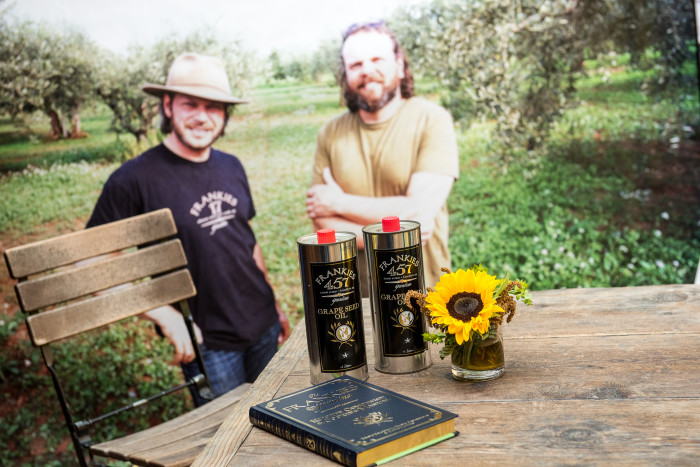 Hometown heroes Frank Castronovo and Frank Falcinelli have long established classic Italian greatness at Frankies Spuntino with the help of their unfiltered extra-virgin olive oil. Sourced from olives grown in Trapani, Sicily, the oil is packaged in coated steel cans to protect it from heat and sunlight. The Franks' unsung hero, however, is their grape seed oil.
The grape seed oil comes from the same farm as their olive oil in Sicily, is a by-product of winemaking, making the oil an environmentally helpful one. Seeds from wine grapes, which are in abundance according to Castronovo, are extracted from the fruits and pressed for their oil.
"It's a good, healthy oil," he says.
The neutral, high-heat oil is a healthy alternative to canola oil that offers a clean, light taste. It's often used in aioli and salad dressings at their Manhattan and Brooklyn locations. They'll also sometimes blend grape seed and olive oils because the taste of the latter can prove to be "too overpowering." The grape seed oil is the only other oil used at Frankies Spuntino and is also one of Castronovo's go-tos when cooking at home. He first learned about grape seed oil when he was working under Daniel Boulud and discovered it was as much a cooking staple as sea salt and olive oil.
"I always have cans of olive and grape seed oil in the kitchen," he says.
As an alternative to canola oil, grape seed oil provides a high smoke point, meaning the oil can be heated to a high temperature before burning, making deep-frying and sautéing faster and easier. It's also full of antioxidants, boosts the amount of high-density lipoprotein (good cholesterol) in the body while reducing the amount of low-density lipoprotein (you guessed it, bad cholesterol), according to Castronovo. Why you would ever use canola oil again is beyond us.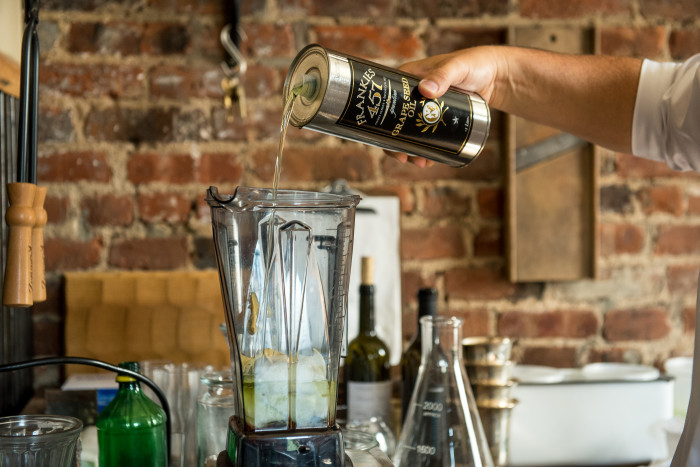 Although the Franks' grape seed oil may not garner as much attention as their olive oil, it's been around since Spuntino opened more than a decade ago. It's available in stores in the same beautiful steel cans.
Frankies Red Wine Vinaigrette
Ingredients
2 tablespoons Dijon mustard
2 tablespoons red wine vinegar
1/4 cup hot tap water
1/4 cup grape seed oil
5 turns white pepper
Large pinch of fine sea salt
Tiniest drip of honey
2 tablespoons olive oil
Directions
Combine all the ingredients in a blender and puree until emulsified. The color of the dressing should be uniform and the texture silky-smooth.
Check the seasoning and adjust as necessary.
Use immediately or keep, covered, in the fridge for as short a time as possible (and no longer than 24 hours).