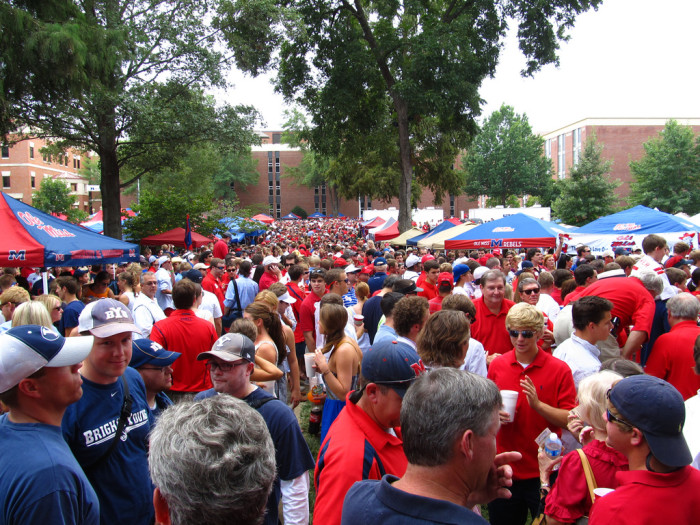 If there's anything that Southerners care about more than their regional cuisine, it's gotta be SEC football! To celebrate the official kickoff of the 2015-16 college football season this weekend, Food Republic is launching a new series, SEC FoodBall. Each week, we'll profile a Southeastern Conference town, and more importantly tell you where you should eat and drink if you're fortunate enough to attend a game there. We'll also solicit advice from some locals to make sure you have the benefit of home team advantage.
Week 1: University of Tennessee-Martin at University of Mississippi, Oxford, Mississippi; Sept. 5
Let's get the biscuit rolling with what many people think is the prototypical SEC town: Oxford, Mississippi. A pregame tailgate in the Grove is a rite of passage for many football fans, with elaborate food and drink displays laid out under circus-size tents and waves of well-dressed alumni and students sharing fellowship. Saturdays this season should be no different.
Nobody expects a competitive game out of the hometown Rebels' first opponent, UT-Martin, as this is the equivalent of a preseason game for Ole Miss. Vegas isn't even offering odds on what should turn out to be a glorified practice for the Rebels, but that just means fans should be able to duck out of Vaught-Hemingway Stadium by halftime and get an early start on the postgame eating and drinking. We asked a local for some advice on where they should be heading.
Kelly English is best known for his two Memphis eateries, Restaurant Iris and the Second Line, but as a proud and active Ole Miss grad, Oxford is near and dear to his heart. In fact, he just recently opened the second location of the Second Line right off the town square, and locals are already lining up for English's casual New Orleans–inspired menu, which includes meat pies, crawfish hush puppies and drip-down-your-forearms roast beef po'boys.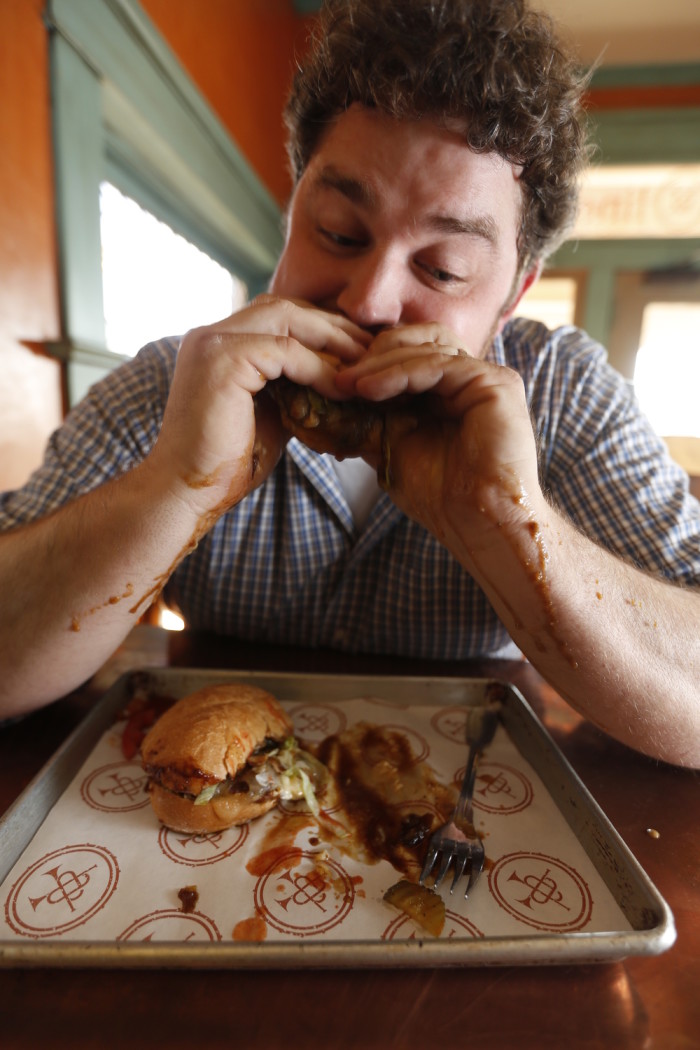 Here's where he sends his friends when they visit from out of town:
Cheap Eats
Even if you spent most of your bankroll on 50-yard-line seats, it's still possible to eat well in Oxford. English spent plenty of time dining on a college budget, so he knows of what he speaks. His first tip is the Double Cheeseburger at Handy Andy, an old-school grocery that serves up burgers and barbecue to cash-poor students. English says the cheeseburger still haunts him years later: "We all chase that burger. It's so simple and just the textbook flattop burger." Served hot off the griddle oozing with melted yellow American cheese that you'll want to lick off the wax paper, it's ultimately satisfying when paired with a sack of crinkle-cut fries. Handy Andy, 800 North Lamar Boulevard, Oxford, MS 38655; 662-234-4621
Splurge
For bigger budgets, English points visitors to the flagship restaurant of the unquestioned king of the Oxford dining scene, John Currence. The Big Bad Chef runs several restaurants in town, but City Grocery is doubtlessly the jewel of the crown. The bar upstairs is an iconic gathering spot for everyone from Ole Miss students and professors discussing Faulkner to the cognoscenti of the Oxford-based Southern Foodways Alliance meeting to discuss the past and future of the food and culture of the region. (Seriously, SFA holds its annual membership meetings in the City Grocery bar each fall as part of the organization's annual symposium.) Currence combines comfort with elegance at City Grocery with an ambience created by exposed brick walls and ancient hardwood floors accented by white linen and romantic candlelight. The cuisine features inventive Southern dishes with plenty of international twists to pique the taste buds. English is a fan: "City Grocery is such an important restaurant; it could never be mentioned enough!" City Grocery, 152 Courthouse Sq., Oxford, MS 38655; 662-232-8080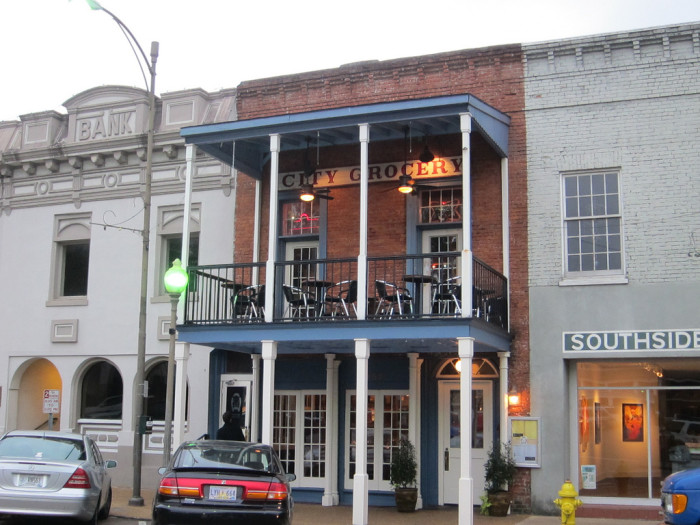 Eat Like a Local
Another of Currence's restaurants receives English's praise when considering spots for visitors to really get the full Oxford experience. Currence refers to the cuisine at his French bistro/North Mississippi café hybrid, Snackbar, as "Bubba Brasserie," and Vishwesh Bhatt oversees the kitchen with great deftness. In addition to crazy charcuterie dishes like smoked catfish rillettes, there's a great raw bar featuring the best of Gulf seafood. Frankly, it's enough to make another chef a little angry. Says English, "Vish's food makes it one of those restaurants that makes you mad because it's so damned good!" Snackbar, 721 N. Lamar Blvd., Oxford, MS 38655; 662-236-6363
BBQ
No visit to SEC territory is complete without seeking out the best barbecue in the immediate area, and it's no surprise that Currence is also involved with English's favorite smoked meat emporium. Lamar Lounge was originally built and owned by the folks behind Fat Possum Records, the independent record label started by two Ole Miss students that popularized original Mississippi blues music acts like R.L. Burnside and Junior Kimbrough and then hit the mainstream with releases by the Black Keys and Iggy and the Stooges. When the Fat Possum folks decided to get out of the club business, they left their excellent sound system, bar and restaurant to Currence, who now operates the barbecue pit under a novel nonprofit operating system. The small restaurant seats about 50 indoors and 30 more outside by the custom barbecue pit, where patrons can interact with pitmasters practicing the arcane arts of whole hog cookery. Profits are donated to local Oxford charitable organizations such as Good Food for Oxford Schools. As warm and fuzzy as all that generosity makes English feel, that's not what brings him to the Lamar Lounge on game days. It's the "tot-chos," nachos made using tater tots instead of chips, covered in barbecued meat, jalapeños and all the other usual nacho accoutrements. "The stupid ridiculous tater tot and BBQ dish at Lamar Lounge makes me want to be back in college, if you know what I mean." Oh, we know. Lamar Lounge, 1309 N. Lamar Blvd., Oxford, MS 38655; 662-513-6197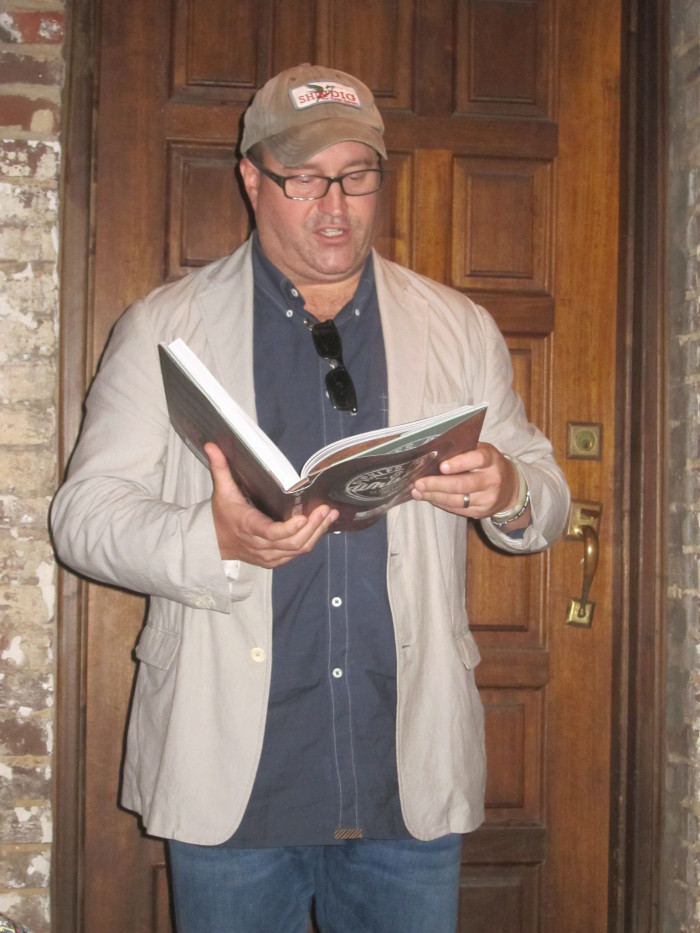 As a final tip, English suggests that you never leave town without partaking in one other Oxford food ritual: chicken on a stick. Exactly like it sounds, this local tradition is simply a large fried tender made even more convenient thanks to the addition of a wooden skewer. Rarely consumed before midnight (or sober), chicken on a stick is available at gas stations all around town, but everybody seems to have their preferred purveyor of portable poultry. English is no exception. "You gotta go to the Chevron on the corner of Lamar and University next to the square," he says. "If you are particularly inebriated, a pizza roll ain't a bad idea, either."
As they say down in Oxford, Hotty Toddy!