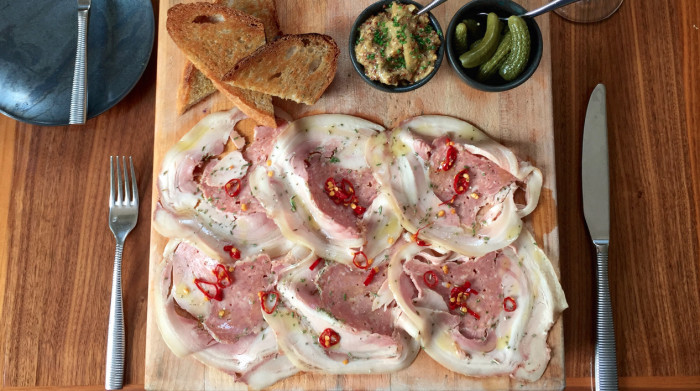 In Charcuterie Board Elements, we deconstruct the best cured meat spreads in the world and zero in on one incredible component. We hit Jockey Hollow Bar & Kitchen in Morristown, New Jersey, to see how executive chef Kevin Sippel is turning whole local pigs (fed on the same fare as the diners) into giant cured, stuffed porchettas.
When was the last time you dined in a historic mansion? It's been a while, yes? Just a hop, skip and a jump from New York City lies Vail Mansion. Built in 1918 by Theodore Vail, president of the American Telephone and Telegraph Company and chief architect of the Bell System, the mansion now serves as private residences. Its dining room was transformed into Jockey Hollow Bar & Kitchen, a world-class restaurant helmed by Kevin Sippel that showcases New Jersey's renowned bounty of local produce and responsibly raised livestock.
Cured meat dots the menu — you'll find house-cured country ham, prosciutto, guanciale and bone marrow infusing dishes with their various meaty goodnesses — but Jockey Hollow's charcuterie board itself is a force to be reckoned with. Sippel sources heritage pigs from a local small-scale farm (125 CSA members strong!) and stuffs, cures and ages them into some of the best charcuterie in the Garden State. Thanks to Sippel, a polished wooden slab featuring thinly sliced whole stuffed porchetta is the new standard.
Where does it come from? 
We use whole suckling pigs grown with our partners at Ralston Farms in Mendham, New Jersey. The pig is a cross between Berkshire and Glouchestershire Old Spot and is, of course, raised humanely. I use these pigs to make what I like to call "the Jockey Hollow porchetta cut."
How do you do it? 
We debone the whole pig, then stuff it with spiced ground meat from the testa (head). The porchetta cures for about three months before serving.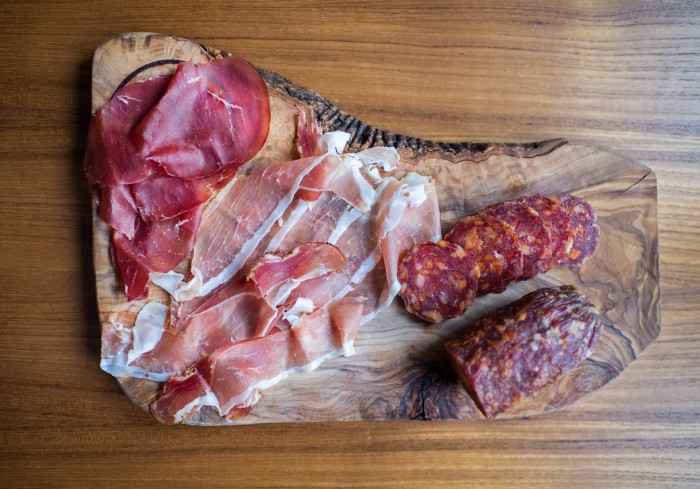 Why do you love making it?
I came up with this one night while staring at whole pigs sitting in the kitchen. I had the idea of turning one into a massive zampone (stuffed trotter) of sorts, served charcuterie-style. The texture is similar to ham, but a little thicker cut. We use rosemary, garlic and Calabrian chilies to enhance that distinct pork flavor and serve it with pickled eggplant.
When is it "in season"?
Right now. Since these are raised by our boys over at Ralston, I like to use the pigs around this time because they're being fed what's in season: tomatoes, fennel, oyster shells, etc. So the flavor of the pig changes, and it's really delicious. All our pigs from Ralston Farms are fed with the compost from Jockey Hollow Bar & Kitchen.