Banana Ketchup: The Philippines' Answer To A Lack Of Tomatoes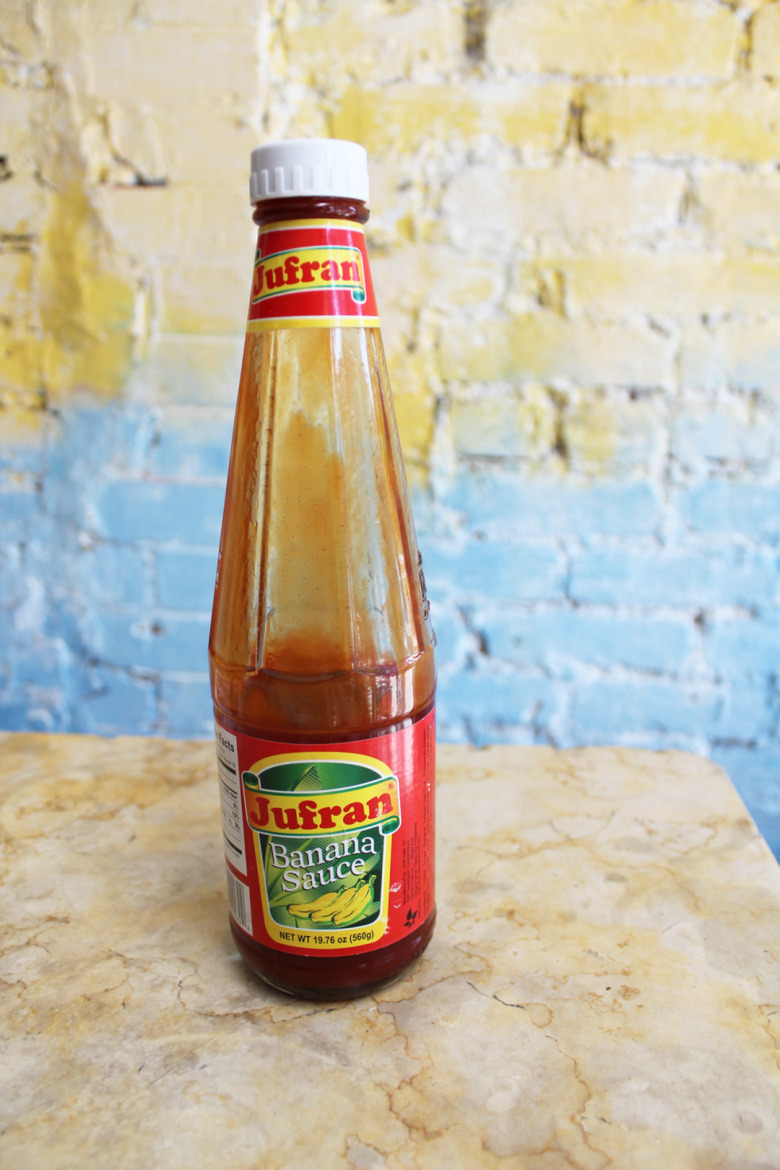 A staple in Filipino cuisine, bananas replace tomatoes in this sweet sauce. (Photos: Tiffany Do.
Ketchup, traditional partner in crime for fries, hot dogs, meatloaf, eggs and more, has long been a staple on the counters of diners and burger joints. In Filipino cuisine, however, there's a popular thick red sauce that also goes by the name ketchup. This much sweeter, less tangy red sauce is banana-based, with food coloring providing its ketchup-y hue. Banana ketchup also offers a contrast to the salty foods it's served with, like chicken wings and fried foods.
Nicole Ponseca, owner of Maharlika, a modern Filipino restaurant in New York City, describes the origins of banana ketchup as a topic of folklore. "We always say when the U.S. came to the Philippines, they introduced us to canned goods, condiments, ketchup. We didn't have a plethora of tomatoes, but what we did have was a lot of bananas, so it became de facto ketchup," Ponseca says. "Do I think that it completely originated from tomato ketchup? No. I think we probably had something called banana sauce."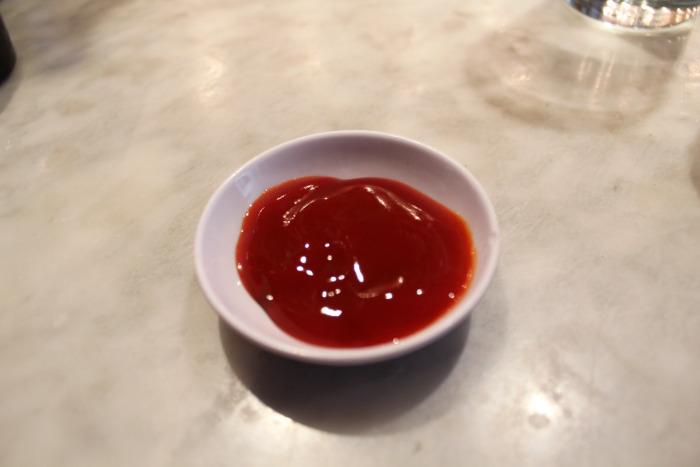 Tomato or banana? You could have fooled us.[/caption]
According to Ponseca, Jufran, a popular brand of the sweet, tomato-less ketchup, isn't even advertised as a ketchup, but rather "banana sauce." Despite this, the condiment is popularly known as banana ketchup. Ponseca suggests this is partially due to the longstanding connection that many Filipinos feel to the U.S. "And we also have this cultural ambassador thing where we always try to relate things to other people," she notes.
Philadelphia chef Lou Boquila makes his own version of banana ketchup with tomato paste at his pop-up restaurant Pelago and has served it with a fried version of tortang talong, an eggplant omelet from his childhood. Boquila says the omelet evokes his childhood method of making the dish more appealing.
"Growing up, as a kid, I didn't like vegetables," Boquila says. "You put some banana ketchup on it and it sort of masks the flavors. It's just like eating a [regular] omelet."
Ponseca also has fond memories of banana ketchup accompanying childhood breakfasts of Spam silog, a traditional Filipino dish of garlic rice, fried egg and fried Spam.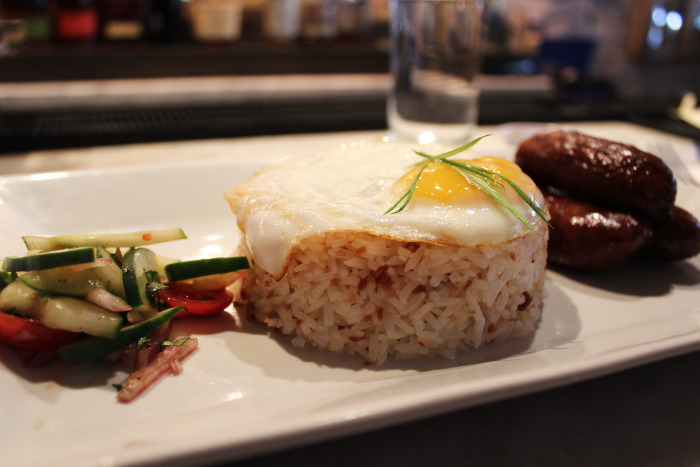 Maharlika's longsilog: garlic rice topped with a fried egg, served with sweet garlic pork sausage and relish.[/caption]
"Banana ketchup is always good on rice," she says. "From observing what the guests do and from my own experience, people really like to incorporate it into the rice."
At brunch, bottles of Jufran banana ketchup sit on Maharlika's tables to accompany the various silogs on the menu.
Ponseca tells us that banana ketchup isn't traditionally incorporated into meals as an ingredient, other than in Filipino spaghetti: spaghetti, banana ketchup and cut-up hot dogs. Maharlika chef Miguel Trinidad also works the ketchup into the restaurant's barbecued ribs and a sweet and sour dipping sauce. Maharlika's sister restaurant, Jeepney, serves up a homemade spicy banana ketchup (recipe below).
Ponseca says she sees banana ketchup as a "kitschy" condiment that pulls on the strings of nostalgia for many Filipinos but is also a great introduction to people not familiar with the cuisine.
"When you see people like the desserts at Milk Bar and they use cereal milk or people use cereal in their desserts, it isn't so much that they love Twinkies or that they love cornflakes. It's more that they love the feeling of what they had when they were a kid. I think that's what banana ketchup really does," she says. "If you're getting to know Filipino food, banana ketchup is a great introduction to the beginning of a world of flavor."
Pelago's House-Made Banana Ketchup
Ingredients
1 tablespoon chopped garlic
1 tablespoon chopped shallot
1 tablespoon chopped ginger
2 ounces tomato paste
4 bananas (Saba if possible)
2 ounces white vinegar
2 ounces water
4 ounces brown sugar
Salt and pepper to taste
Directions
Sweat garlic, shallot and ginger for 5 minutes.
Add tomato paste and cook for another minute.
Deglaze with vinegar and water.
Add brown sugar and bananas; cook for 10 minutes.
Puree mixture until smooth, and adjust seasoning with salt and pepper.