A fixture in English country homes for years, AGA cast-iron ranges are now finding their place in North American home kitchens as well. AGAs are unique in that they contain at least two consistently heated ovens: one for high-temperature roasting and one for slow cooking. Temperature-controlled iron plates surround the food with heat from all sides for even cooking, not just from the bottom as in a typical oven. While these hulking cast-iron beauties make an impressive statement in the kitchen, their energy inefficiency, high price and slow cooking make them less attractive to city-dwelling cooks with full-time jobs, i.e. "the rest of us."
The AGA range was patented in 1922 by Swedish Nobel laureate Gustav Dalén, who, according to the brand's North American distributor, was "appalled that his wife and their maid had to constantly tend to their old-fashioned range," so Dalén set out "to design a modern range that would look after itself."
The AGA is a quintessential symbol of wealth and Britishness. These expensive ranges (think $5,000 to $20,000) are often found in the homes of descendants of England's landed gentry. "In the U.K., owning an AGA suggests wealthy country living, homeliness and a sense of tradition," say Lalle Pursglove and Vince Lamprey in an email; the Welsh couple is currently in the process of selling an AGA that they inherited. "We live in a Victorian terrace in South East London. Not the natural home for an AGA! The previous owner had a country farmhouse-type kitchen, with an AGA to match. Which would be great…if the house was in the countryside and if the kitchen was big enough for it not to be overwhelmingly hot on a daily basis."
The kicker is that you never turn your AGA off. Not the classic models anyway. (Newer models offer more control and can be shut-off.) The basic principal is to constantly heat large iron plates that are configured into four small compartments or "ovens." The top of the AGA has two round cast-iron plates that resemble a typical stove. You can boil water, fry eggs and even toast bread with these custom tennis-racket-looking contraptions. Older models run on coal or oil, but newer models hook up to a gas line or are entirely electric; some U.K. models even boast instant temperature control with an iPhone.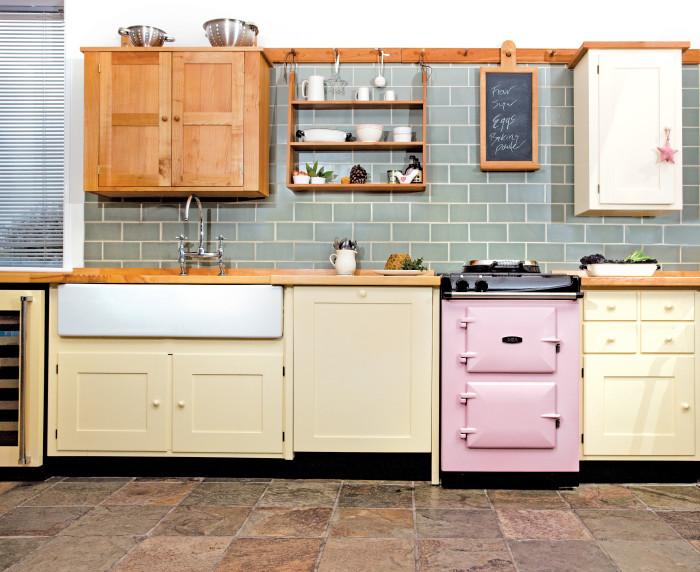 AGAs have received criticism for being hugely inefficient, but dealers insist that AGAs help defer energy costs as the heating source for the whole house. "It's hot. Oh so hot. Great in the winter but unbearable in the summer. As it is always on, the gas it consumes is expensive, not to mention environmentally unfriendly. According to the gas company, our gas bill is 50 percent higher than the average," note Lamprey and Pursglove. North Carolina resident Bonnie Fleming, proud owner of two AGA cast-iron ranges (one at her condo in Charlotte and one in her mountain cabin in Linville), suggests otherwise. "A lot of people say it's too hot, and it really isn't. It dehumidifies," says Fleming. "You can have people over for dinner and you don't have to hurry them because the potatoes are getting cold." Fleming is referring to the fact that with AGA's multiple ovens set at different temperatures, the potatoes can be transferred from the hottest "roasting oven" to the coolest "warming oven" once done and sit comfortably without drying out. The consistent heat produced in the ovens makes for perfectly even cooking, but learning the ways of an AGA takes dedication. "Mastering how to cook was a bit of challenge," says Pursglove. "I've had a few disasters along the way."
In 1985, a more practical electric AGA model was introduced that didn't require the use of polluting coal or other burning fuel, and AGA saw a healthy increase in sales. Around this time, the term "AGA Saga" was coined to describe the novels of Joanna Trollope, which are usually set in idyllic British villages and revolve around female characters often sitting in the kitchen gossiping. It's not exactly a complimentary term. In fact, it's meant to be derogatory.
You may not have heard of an AGA until now, but that will likely change. This past June, the Guardian reported that Illinois-based company Middleby had offered to purchase the heritage British brand for £129 million. And just this week, Michigan-based Whirlpool Corp. made its own bid to acquire the British oven maker. AGA shareholders are scheduled to vote on the Middleby purchase later this month. "The new generation of cast-iron AGA ranges have increased in sales across the U.S. mainly because the new line no longer requires the AGA to be 'built' on site as it comes fully assembled," says Diane Devereaux, brand manager for AGA Marvel in North America. "Many think you have to relearn how to cook with an AGA. I say you soon learn how cooking was intended once you've cooked on an AGA."
Seeing a light pink AGA range nestled in a spacious kitchen is enough to make any cook or interior designer swoon and was in fact featured in a BBC 20th century design retrospective as one of the top three design icons (the others were the Coca-Cola contour bottle and the VW Bug). But the realities of owning an AGA seem best suited for the upper class. There's no denying it: AGAs are gorgeous. The gleaming enamel finish comes in many colors, from pretty pastel peppermint to pure white. But they take time and care and might just upend your conventional notions about cooking.
Just ask Fleming, who insists that risotto is surprisingly easier to make using AGA's simmering oven than by the conventional stovetop method alone: "With the old school stove, I had to stay there and stir for 30 minutes, and with this, I just get the rice started, pour in my stock and stick it in the simmering oven."
This article has been updated to reflect breaking news as well as a few technical clarifications from the manufacturer.