The U.S. Open, which runs from August 31 to September 13 this year, is the world's highest-attended sporting event — attracting a ridiculous 700,000 fans over the course of the two-week tournament. In this food-obsessed era, when jeers about a team's crappy stadium food can overshadow even poor play, it is essential to the Open planners that they get concessions right. A mix of acclaimed chefs, including Masaharu Morimoto, Michael White, Tony Mantuano and Ed Brown, and up-and-comers will ensure that there is no shortage of inspiring food and drink available at this year's tourney.
A major theme of the offerings this year is undoubtedly local fare, as an increasing percentage of all produce (now more than 40 percent) is sourced from the region, primarily upstate New York, Long Island and New Jersey. "It's something that we have been growing in, and every year we get a little bit more [local produce]," says U.S. Open executive chef Jim Abbey. "I don't want California green beans that are in a warehouse and shipped on a truck. I want green beans from Long Island, shipped here overnight and prepared here the next day." Here is a rundown of what you can expect to eat and drink in Flushing, as this editor learned playing hooky from the office during the annual Open food-preview event last week.
Food Village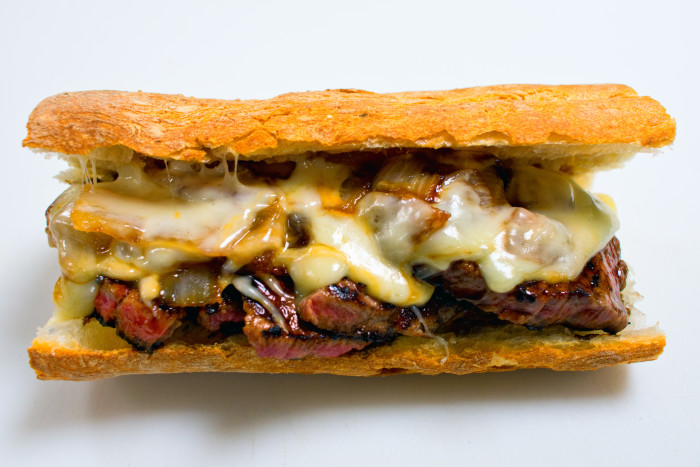 The large majority of eating options are housed in the outdoor Food Village, which operates with an expansive concession stand–style setup and is accessible to all visitors. Renowned local meat purveyor Pat LaFrieda is on hand with his signature steak sandwich, made with hand-cut, 100 percent black angus seared filet mignon, Monterey Jack cheese, sweet caramelized onions and a secret au jus on a toasted French baguette, alongside shoestring fries and milkshakes. Other favorites among the 20 or so options are local imports Carnegie Deli, Hill Country Barbecue and Maya, which serves up modern Mexican fare from Richard Sandoval's flagship NYC restaurant. Morris Grilled Cheese Food Truck will once again circle the grounds to dish out variations on the American classic, including one with truffle cheese, truffle butter and caramelized shallots.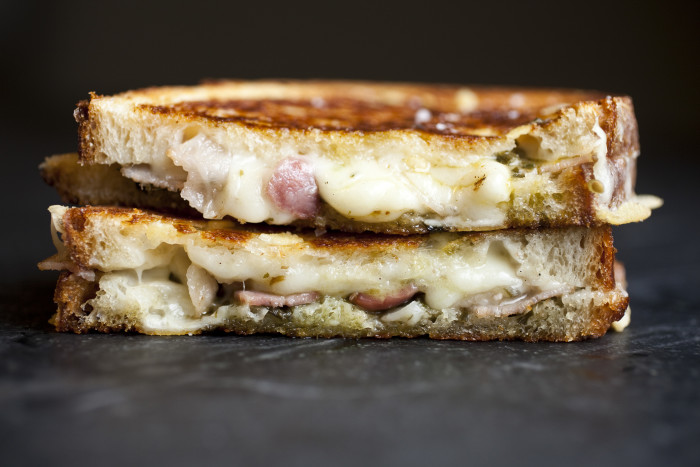 What's New This Year: New York City's famed Sweet Chili Food Truck will make its debut at the Food Village. Led by chef Lisa Fernandes, the Thai and Vietnamese food truck serves some of its classic dishes, including sweet chili chicken and honey chili pork. New dishes from existing vendors include seared Baja fish tacos (Maya), fresh shrimp cocktail (Fulton Seafood), baked pretzel braid (Franks N Fries), praline (Hill Country Barbecue) and Asian noodle salad (South Plaza Café). For the health-conscious, look out for Juice Press smoothies.
Restaurants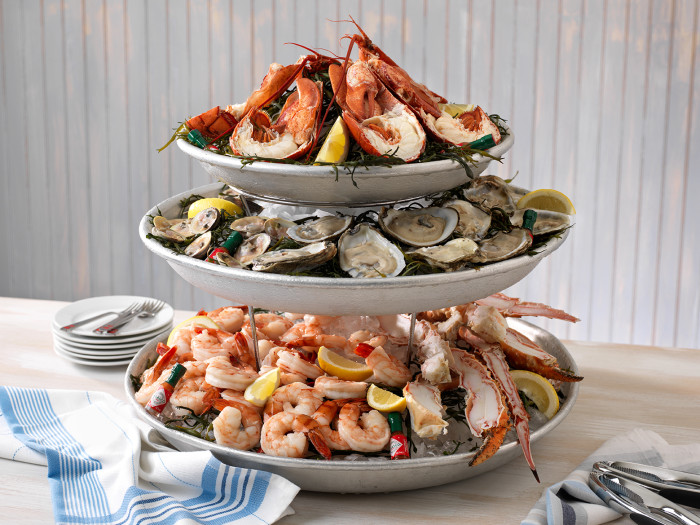 We love food, don't get us wrong. But we've never been the type of fan to head out to Arthur Ashe specifically for an omakase dinner from Masaharu Morimoto or a prix fixe meal from Michael White before casually taking in the final games of a match from our seats. We go ­— and hope you go — to the U.S. Open to watch tennis. That said, what better way to spend some extra time on site (or during far-too-frequent rain delays) than to eat a gourmet meal? Found on the Club Level of Arthur Ashe Stadium (and accessible only to those with courtside or luxury suite tickets), Aces combines vaulted ceilings and vibrant colors with an elegant wine, seafood and sushi bar from chef Morimoto. Located on the same level is Champions Bar & Grill, a modern take on the traditional clubhouse atmosphere, offering steaks, chops, seafood, salads and a variety of wines. Both sit-down spots accept reservations.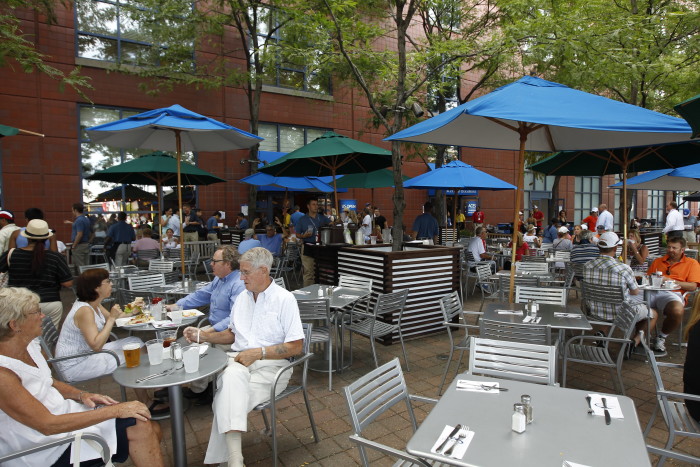 More casual venues, available to all ticket holders, include Patio Café, Mojito Restaurant & Bar and Heineken House. Fan favorite Wine Bar Food features paired wine selections and tasty small plates — including the trademark flaming ouzo shrimp — from Chicago chef Tony Mantuano.
What's New This Year: Lots! New Jersey chef Ed Brown of Lincoln Center Kitchen fame is joining Morimoto in the kitchen this year at Aces. He will introduce contemporary flavors to fresh seafood entrées, like a Maine lobster BLT, chargrilled tuna and smoked salmon flatbread, as well as jumbo lump crab cakes and Skuna Bay salmon crudo.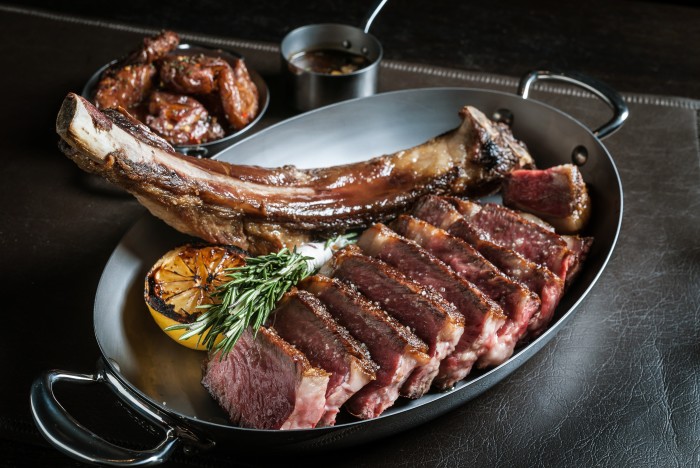 Over at Champions Bar & Grill, chef Michael White is getting in on the action. The contemporary Italian steakhouse menu will include the signature 40-ounce dry-aged tomahawk rib eye steak from his lush SoHo steakhouse Costata, along with homemade pastas (try the Cassarecci: squid ink pasta with shrimp, scallops and squid), beef tartare and a whole roasted lobster from his restaurants Ai Fiori and Marea.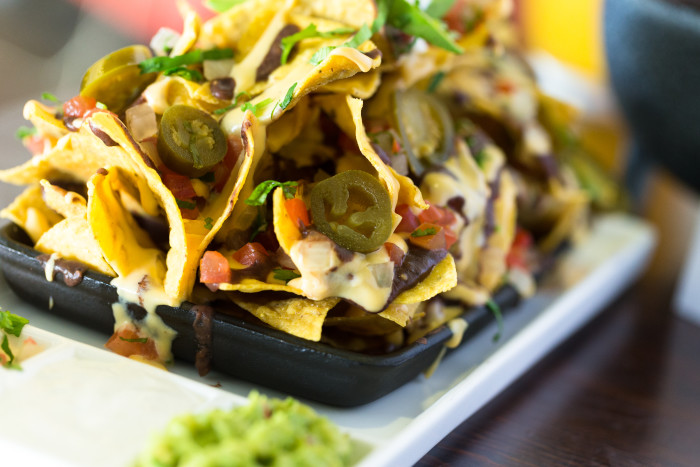 Elsewhere, Wine Bar Food has a couple of new menu items, including avocado toast and tomato bread with Serrano ham and Manchego cheese. Hill Country Barbecue and Maya will have stands within Arthur Ashe for the first time, and the former will introduce a smoked beef shoulder sandwich topped with queso and fried onions that executive pitmaster Charles Grund Jr. nicknames a "Texas cheesesteak" and promises cannot be found at any other Hill Country location. Additionally, both Lavazza coffee and Jacob's Creek wines will be integrated into the on-site food and beverage experience.