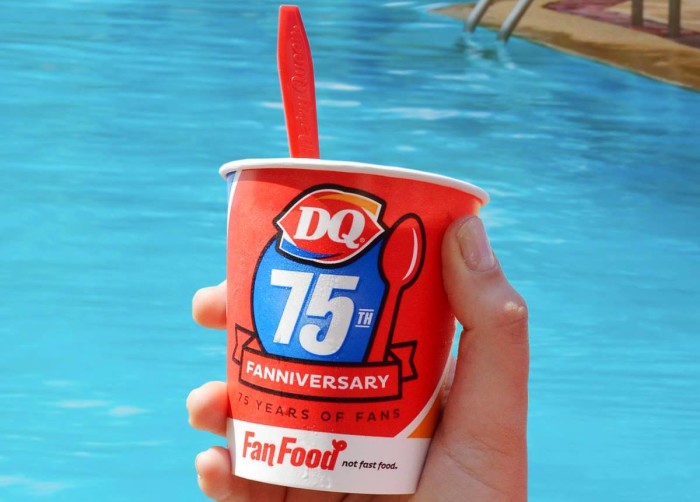 If you grew up in the Midwest or Southern U.S., you might have developed a certain affinity for Dairy Queen. But not just any Dairy Queen — specifically and perhaps exclusively the Dairy Queen in your own hometown. And for good reason.
Sure, every DQ serves basically the same consistent soft-serve style of ice cream, the same gut-busting Peanut Buster Parfait, the same thick and creamy Blizzard desserts chock-full of chunks of whatever mass-market cookie or candy bar your little sugar-spiked heart desires (and presented in the same customary gravity-defying upside down position as advertised). But the rest of the menu can differ wildly, depending on the location.
Ask someone from the Dallas/Ft. Worth area, and they'll tell you that a true Dairy Queen experience is not complete without one thing: steak fingers — that's right, crispy, finger-friendly strips of Texas-style country-fried steak, served with a side of gravy for dipping. Elsewhere in Texas, I'm told, DQ has a surprisingly good reputation for its tacos.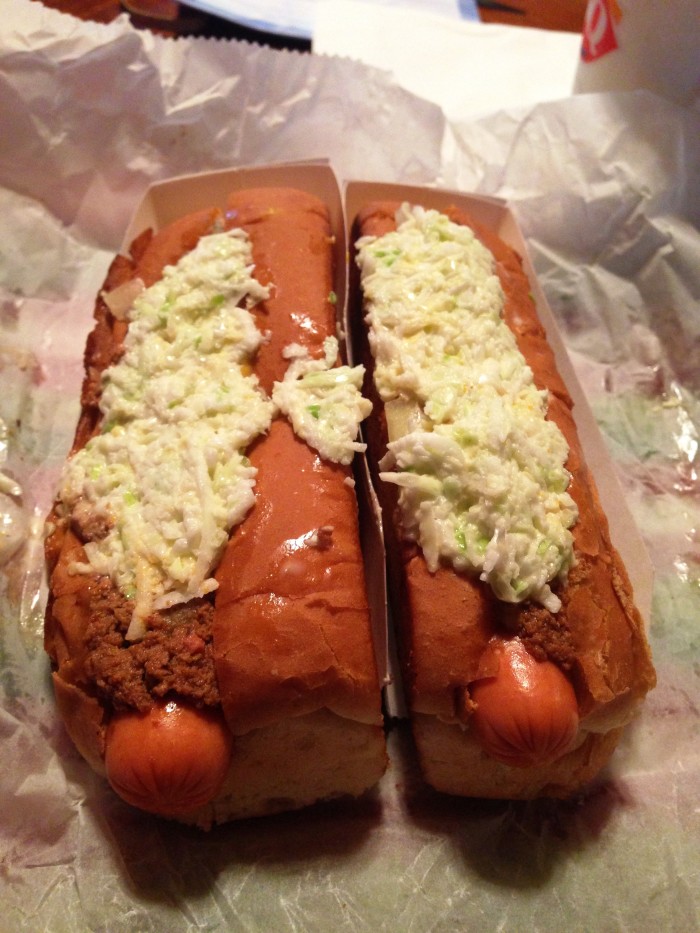 In my hometown of Bluefield, West Virginia, Dairy Queen meant something else: hot dogs, particularly one specific type — the slaw dog, a regional specialty (sometimes also associated with the Carolinas). Hot dog snobs in the Mountain State may not be as numerous or vociferous as, say, the die-hard frankfurter aficionados of Chicago, but they can be just as persnickety about their toppings: chili, mustard, chopped onions and cole slaw, in this case. In my hometown, Dairy Queen does this style of hot dog better than anyone. The frank is plump and juicy, the bun is buttery and nicely toasted ("the way they used to make them at Howard Johnson's," my mother routinely tells me) and the chili is a storied local recipe dating back decades. For such a hearty item, these special hot dogs are strikingly light and airy. And like a hot, fresh Krispy Kreme doughnut, you are liable to eat far too many of them if you're not careful.
But you won't find slaw dogs like these — or Texas-style steak fingers, for that matter — at Dairy Queens pretty much anywhere else in world (some 6,000 locations). As the Minnesota-based company explains on its website: "The majority of DQ® restaurants throughout the United States are individually owned and operated franchises. While there are some products that you can find in every DQ® location, some DQ® locations carry regional specific…products…regional variations…optional menu items…"
That's why the recent arrival of Dairy Queen in New York City is such a setup for major disappointment. Earlier this month, DQ opened its first location in Brooklyn. Following the launch of its equally seminal Manhattan store last year, the chain now boasts at least one local branch in all five boroughs of the city. Only a few years ago, there were none.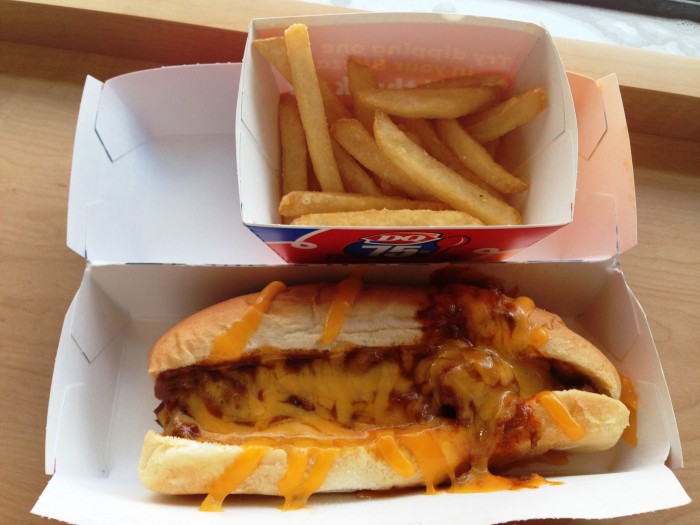 For small-town folks who made the jump to the big city, the appearance of an iconic Main Street USA brand like Dairy Queen would normally stoke the flames of childhood nostalgia, if not for the immediate realization that these New York City–area Dairy Queens are basically just higher-rent, lower-quality imitations of the quaint neighborhood institutions they know back home.
Scanning the menu on a recent visit to the shiny new DQ in Brooklyn, for example, the closest thing to a "regional" specialty you'll find is a trio of "artisan-style sandwiches," which turn out to be available at locations nationwide. This being Brooklyn, of course, you can find a hundred better places serving "artisan-style" everything. So I order the hot dog instead. The unfortunate tubesteak that arrives has the look and texture of an inflated Slim Jim. Its cold squishy bun is entirely unremarkable. Ditto for the skimpy chili and cheese topping. Frankly, you can get a juicier hot dog from any number of street vendors throughout the city.
On the flip side: At least the Blizzard doesn't suck.