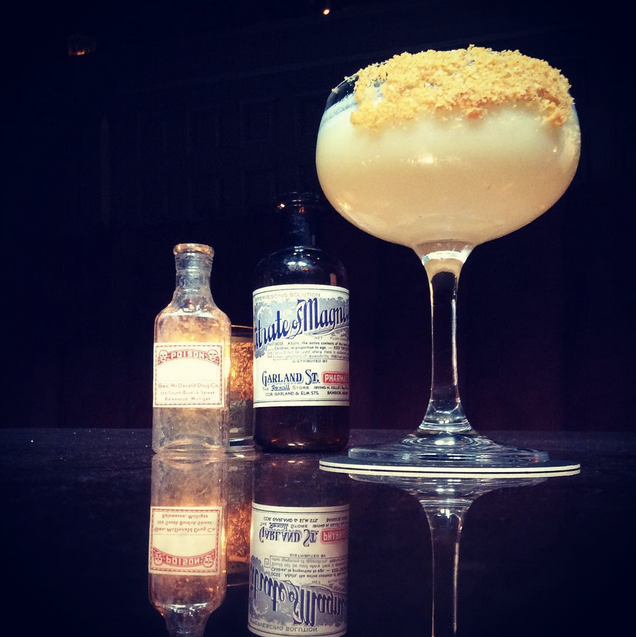 In Hungry Concierge, we travel the world to spot hotels that operate with their guests' food and drink needs squarely in mind — hotels, both big and small, that are located in neighborhoods rich with bar and restaurant options. Because there's nothing worse than having your trip derailed by crummy room service.
It's not typical for a hotel bar to be one of the coolest cocktail dens in town, but the newly opened Constantine at the Luxury Collection's Hotel Ivy in downtown Minneapolis is just that. The subterranean sipping space has a dark cathedral theme complete with a pulpit hostess stand, organ pipes adorning one wall and portraits of historic religious reformers hung on another — which is only appropriate, given the hotel's origins as a church. The ground floor's three-month-old Italian seafood restaurant, Monello, is already topping "where to eat" lists in the Twin Cities, and Hotel Ivy itself just rolled out a multimillion-dollar redesign. No wonder the Rolling Stones opted to stay here on a recent jaunt through town.
Speaking of Monello, I had an excellent dinner there one night, paired with impressive wines from the deep Italian selection. Chef Michael DeCamp spent years at high-end spot La Belle Vie, where he earned a cult following and a nickname: "YC," or "young chef," a career DeCamp started when he was just 17. On his tasting menu, I especially loved the fresh pea tortelloni topped with a creamy nub of foie gras, and of course, this being Minnesota, a beautiful piece of seared rib eye. The drinks program is equally impressive here, with outliers likes orange wines, and house-made Meyer limoncello on tap to finish a meal.
In fact, I ate well everywhere I sat for a repast at the Ivy, from my room, where I devoured a turkey sandwich on thick toast one deadline day, to Constantine, where the creative bar menu (created by DeCamp) includes better-than-the-real-thing house-made Pop-Tarts, foie gras nachos and mortadella hot dogs — great for soaking up the top-notch cocktails by esteemed local barman Jesse Held.
If I'd been more ambitious, I could've worked it off at the hotel's enormous gym, part of the 17,000-square-foot spa complex. Instead, I just got a great massage with some hot Minnesota river stones, then sweated out the foie gras in the Jacuzzi and adjoining steam room. That counts, right?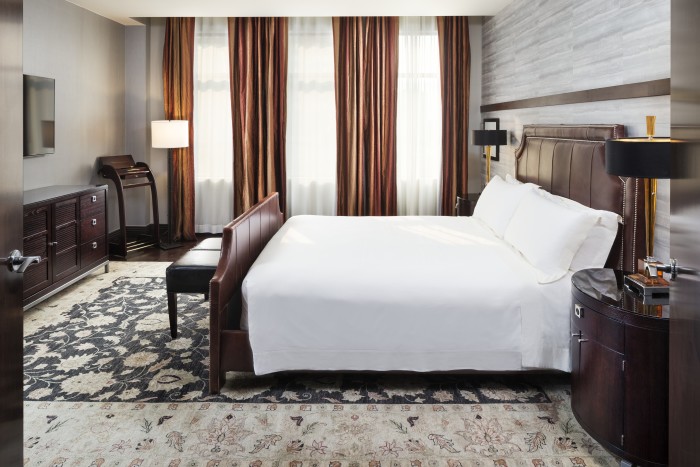 The Rooms
I was sold on my room the minute I eased my plane-tired limbs into the bathroom's deep soaking tub, with a window overlooking the city center 18 stories below. Bath salts swirled around me as some jams from my iPhone played, courtesy of Bluetooth from the Tivoli radio each room provides. Later, I crawled under the sheets to catch up on Orange Is the New Black via the Netflix-equipped smart TV. If I'd felt like a nightcap, I could've enjoyed a Lonely Blonde ale, made in Minneapolis and conveniently offered in the minibar.
The Look
Built as a Christian Science house of worship, the Ivy's exterior features dramatic Ziggurat-style architecture, with stair steps receding into the original tower, which now houses the suites. (The rest of the building is a newer addition.) An extensive interior renovation was completed this year, with a newly designed lobby lounge and café, Venetia, outfitted with plush banquettes and high bar tables for versatile options like coffee, drinks and small plates. Throughout the hotel, luxe fabric wallpaper, chic new carpeting and other high-end touches create a stylish layered effect.
The Neighborhood
Smack downtown, the Hotel Ivy is convenient to the convention center and business district. But leisure travelers will have fun, too. For a pint and an afternoon of lawn bowling, I popped over to Brit's Pub, which offers the laid-back team sport on its second-floor roof deck. Afterward, for a more sophisticated tipple, I hoofed it to elegant Cafe Lurcat, next to Loring Park, with an Old World vibe thanks to chandeliers and black-and-white palazzo-style floor tiles. The burgeoning North Loop neighborhood, home to dining hot spots such as Spoon and Stable and the Bachelor Farmer, is just a ten-minute cab ride away. And a Minneapolis classic, the Juicy Lucy, a hamburger whose rightfully juicy beef patty ooozes a molten cheese center, is said to have been invented at Matt's Bar, an easy stop on the way to or from the airport. Life's not all luxury — be sure you get that burger.

Hotel Ivy
201 S. 11th St., Minneapolis, Minnesota
thehotelivy.com
Rooms from $149