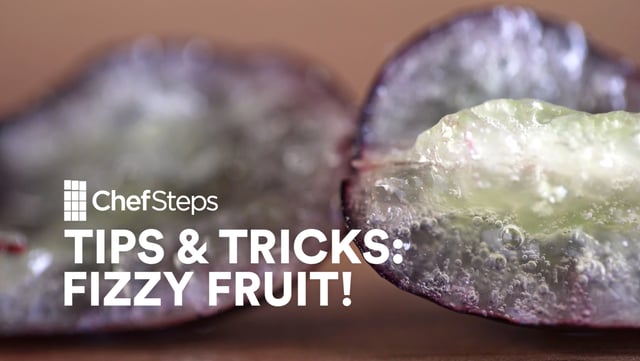 Hosting people this weekend? How about for Labor Day? You could throw together some pigs in a blanket and beef sliders, per usual. But why not change it up this time and serve a bunch of carbonated oranges, raspberries and grapes? Watch as they start snacking — thinking they're eating plain old fruit — only to realize it's amazing fizzy fruit. Best of all, the only things needed are your favorite produce, some plastic wrap and a little dry ice.
Our friends at ChefSteps wrote in this week with this inventive yet simple trick sure to surprise even the most well-traveled of guests. Just arrange dry ice, a towel and fruit in a container with a cover, wrap in plastic and chill for 12 hours. That's it! Simple, fun and way healthier than a can of soda. Take a look at the quick instructional video below for more.
ChefSteps comprises a team of award-winning chefs, filmmakers, scientists, designers and engineers focused on revolutionizing the way people cook by inspiring creativity and encouraging expertise in the kitchen. The site is currently offering free online classes called Cooking Sous Vide: Getting Started and Burgers, as well as a $10 class called Cooking Sous Vide: Beyond the Basics.