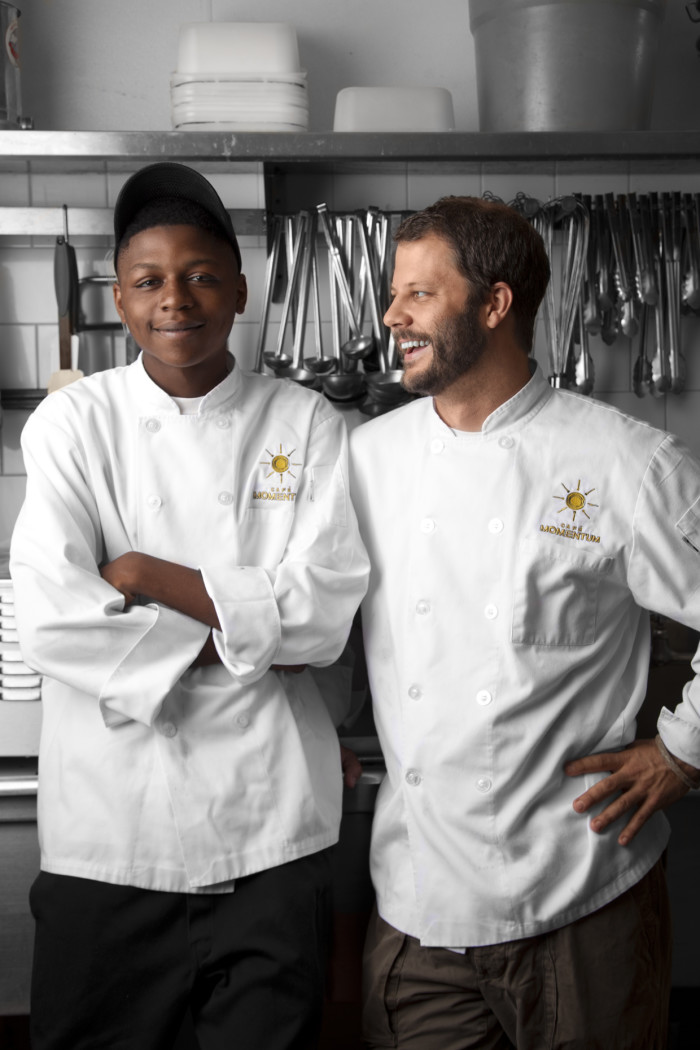 Dallas chef Chad Houser was helping his fellow board members of the Dallas Farmers Market Friends group organize an ice cream competition for culinary students when he came face to face with a challenge of his own: teaching eight kids from juvenile detention how to make ice cream. The board had just brought on an individual who organizes events inside juvenile detention, and when he presented the idea to the board to include these at-risk youths in the contest, the team immediately volunteered Houser to coach them through it.
"I didn't realize I had stereotyped these kids," he said. Soon enough, though, Houser realized he was wrong. "As we sat and made ice cream, it was clear just how eager these kids were to learn and how enthusiastic they were to do things they could be proud of," he says. After one of the boys won the contest, another one raced up to Houser with an epiphany: "He said, 'Sir, I just love to cook — I just love to make food, give it to people and put a smile on their faces.'" Houser, a lifelong food lover and former chef-partner of neighborhood bistro Parigi, had no trouble relating to the statement. "I was like, "I understand — I really get it," he recalls. "I thought to myself, 'How dare you ever stereotype this sweet boy.'"
At that moment, Houser realized he was invested. "I had every right to pat myself on the back and say, 'You made these kids feel good for a day' — but if I meant anything I said to them, I would figure out a way to make them feel good for the rest of their lives," he says. After two years of learning about the juvenile detention system, its population and their needs, Houser discovered that whatever he did, it would need to be committed to two aspects: consistency and stability.
With no brick-and-mortar space, Houser and his youthful crew began doing monthly pop-up dinners at well-respected restaurants around town. The menus were carried out by the restaurant's chef and culinary team, and Houser would bring in eight kids from juvenile detention to help serve the dishes to attendees. After the first dinner, all 68 guests either hugged Houser or shook his hand, with several saying five words that would forever stick with him: "This could be my son."
"It told me immediately that we had broken through the stereotype," says Houser. The following few dinners sold out in less than 24 hours, and by December 2011, Houser and his team had doubled the price to $100 per seat and saw tickets sell out in 15 minutes. A few months later, those seats were being snapped up within 15 seconds.
After three and a half years and 41 pop-up dinners of similar success, people encouraged Houser to keep it up, forgoing the original brick-and-mortar plan. But in keeping with the two pillars of his to-be program, Houser was intent on giving the kids a place they could frequent. "These kids need a place they can go five days a week, not one day a month," he says.
---
"These kids are defined in their own lives by the neighborhood they come from, and in our restaurant, they're surrounded by 150 people per night who come from everywhere but their neighborhood. When they feel confident in that environment, they begin to identify themselves as a citizen of Dallas, Texas, and not as a citizen of the neighborhood or the street that they grew up on."
---
Thanks to a series of incoming grants, Houser signed a lease in downtown Dallas last summer and, after a cumbersome build-out, opened Cafe Momentum this January with an internship program that lasts approximately 12 months. The ambiguous timing is intentional. "We have some kids who are on more of a curve than others, and we're not going to just kick them out," explains Houser.
There are six stations within the internship that kids cycle through: dishwashing, three kitchen sections, bussing tables and serving tables. Each one has its own curriculum attached to it that provides life and social lessons, from disagreeing appropriately to looking people in the eye when you speak with them. Houser acknowledges that overlap and repetition may come strongly into play among the stations, but that's the point. "Our philosophy is that if you do something seven times, it'll become a habit."
The goal for 2015 was to work with a total of 50 students on an ongoing basis, recognizing that as some new ones would begin, some would be leaving, and some would be staying. Seven months in, the team has already surpassed that goal by 25 individuals, and once they're able to acquire more funding through grants to hire more case managers, they're hoping to cap that number at 100.
When an intern arrives at the restaurant, he or she meets with a case manager who categorizes their needs into three divisions: basic urgent needs, basic other needs and long-term needs. The manager then calls upon the partnerships Cafe Momentum has created within the community to address such needs, whether it's family health care from Parkland Hospital, financial literacy training with Plains Capital Bank, parenting classes with Texas Infant Mental Health Association, or a full ride at El Centro College, thanks to a recent partnership with Falcon Realty Advisors.
"It's not about training kids to be the next great chef, and it's not about just keeping them out of a jail — it's about helping them to achieve their full potential," explains Houser.
Still, Houser recognizes that the restaurant environment works particularly well in the formula. At one of the pop-up dinners, the chef polled the diners, asking them who had previously worked in restaurants or catering. Roughly 80 percent of attendees raised their hands. He then asked who still works in restaurants. Though everyone's hand went down within a sea of laughter, it proved Houser's point, so he continued with a final question: How many people had learned a valuable life skill in that job that had helped them achieve enough success to be sitting in a $100 seat for dinner? Everyone's hand was back up. "Restaurants provide skills for your entire life," affirms Houser.
Beyond that, he credits the immense amount of interaction that only a restaurant setting can provide for the life-changing perspective it so often yields.
"A minimum of 500 people per week tell these kids, 'I believe in you, I'm proud of you, you're great, you can do it, I'm here for you,' and those are words they have never heard," explains Houser. "These kids are defined in their own lives by the neighborhood they come from, and in our restaurant, they're surrounded by 150 people per night who come from everywhere but their neighborhood. When they feel confident in that environment, they begin to identify themselves as a citizen of Dallas, Texas, and not as a citizen of the neighborhood or the street that they grew up on."