Taking The Pulse Of The Detroit Dining Scene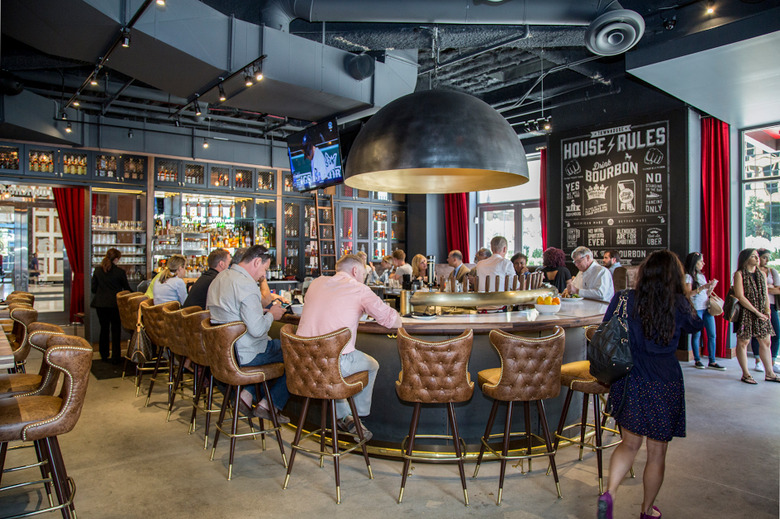 A quiet street in Southwest Detroi
Perhaps you've read a few rosy accounts of the culinary renaissance in Detroit. This isn't going to be another one of those. Sure, I visited tons of restaurants when I was in town in July and ate well at all of them. Nothing blew my mind, but I wasn't looking for culinary fireworks — that isn't what the town does best, anyway. Detroit at the moment simply isn't the kind place where you can dash off a list of the top ten spots to eat and leave it at that, because you'd be missing most of the story. What's more fascinating is how this city in flux came to be what it currently is, and where it's going. Restaurants are one lens onto that.
First, let's set the scene. The image that sticks out in my mind is the beauty, on a summer day, of riding bikes through an industrial urban area that's astonishingly quiet and overgrown. Amid warehouses, chain link fences and maybe a few run-down houses, tall weeds sprout unchecked in sidewalk cracks and vacant lots. I hear birds chirping but see no humans, and sometimes no cars either. I'm overcome by the surreal beauty of it, disoriented by the hushed prairie vibe of this inner-city landscape. It's glorious in a way and surely won't last — and I can't imagine a similar scene anywhere else in the U.S. "That's why I wanted to move here," says my friend, who first visited three years ago and got to town a month and a half earlier. "It's like the country inside the city."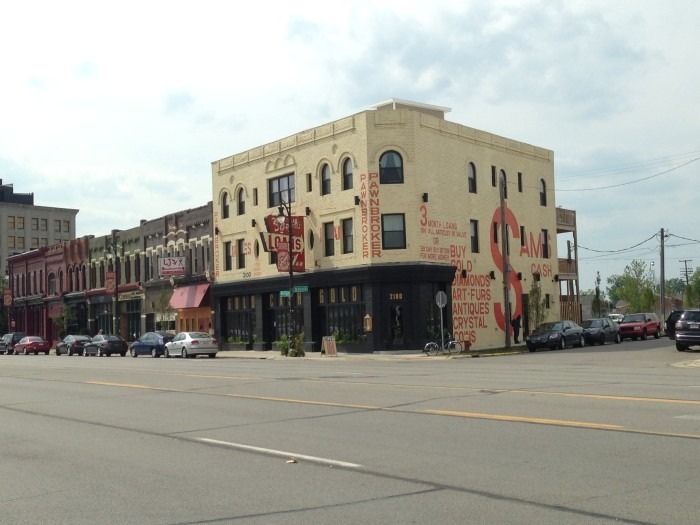 Michigan Avenue, the main drag in up-and-coming Corktown
Of course, Detroit isn't all like this. It's a city of neighborhoods, from slick Midtown, home to everyone's favorite new restaurant, Selden Standard, to the mansions of Indian Village to up-and-coming Corktown, which Slows Bar BQ helped put on the map when it opened 10 years ago. Geographically, this is an enormous place: Urban Detroit (not counting the suburbs) could encompass Boston, San Francisco and Manhattan with room to spare. At the city's mid-20th-century height, several million people lived here; now it's just 700,000. That leaves room for the in-between spaces I've described, where the weeds grow high.
But let's get to the restaurants. I rolled into town just as a glitzy newcomer did: Townhouse, the sequel to Jeremy Sasson's popular eatery in the upscale suburb of Birmingham, had bowed on the ground floor of One Detroit Center over the weekend. The sprawling downtown space has a horseshoe-shaped bar at the entrance, with a whiskey room offering 300 pours behind that. The main dining room is an indoor-outdoor space with a retractable roof, and there's plenty of al fresco seating along Congress Street and Woodward Avenue. Townhouse staff wear aprons locally crafted by Detroit Denim Co., and the restaurant sources some of its produce from urban garden RecoveryPark Farms. On the menu, you'll find a $19 dry-aged burger, comfort food like mac and cheese and truffle fries, and even creative sushi. When my friend and I tasted the latter and found it to be solid, she celebrated the coming of good raw fish to Detroit.
If this place opened in New York, it would be another clubby spot for the bridge-and-tunnel or finance crowd, but here it's significant. There just aren't many restaurants like this in central Detroit: somewhere to dress up and make an evening of dinner out, or to head to after an event for drinks and late-night snacks. While noshing, we ran into a venture capitalist pal of my friend's, who pronounced the restaurant "the new power-broker spot."
That's appropriate, since Townhouse is part of the Bedrock Real Estate empire, an arm of Dan Gilbert's Quicken Loans. Gilbert, the billionaire majority owner of the Cleveland Cavaliers, was born in Detroit and grew up north of the city. Since 2011, Bedrock has purchased more than 75 buildings in the area, spending $1.8 billion. We're talking entire abandoned skyscrapers. A recent acquisition, the striking, 35-story David Stott building, still looms grand and empty over the shiny new places.
The Gilbert factor is hard to ignore when discussing Detroit's revival. Yet some people I spoke with expressed a certain amount of resentment over the tycoon's laser focus on downtown, or they dismissed the newly revitalized area as a playground for suburbanites who come into the city, then leave. References to Gilbert are often guarded, and they generally begin with, "Well, I guess I'm glad for the revitalization he's done, but..." A few people, after a few drinks, went so far as to paint the man as a sort of megalomaniacal Big Brother watching from a video-camera-equipped control room — a portrait that's painted in part by local media.
That camera room, located in the Chase Tower, is a routine stop on the tours Bedrock gives many times a week to new employees and anyone else who's interested. I took a modified version geared toward showing off food and drink outposts. We scoped out food trucks in Cadillac Square near revitalized Campus Martius Park; passed by Central Kitchen + Bar, a spacious gastropub in the First National Building that was preparing for its August 10 opening; and checked out Bon Bon Bon, a shop selling beautiful chocolates, many of which are made with local ingredients. We didn't quite have time to make it to Wright & Co., up Woodward Avenue, a sophisticated year-old place whose chef, Marc Djozlija, received a James Beard nomination for Best Chef: Great Lakes.
Almost every restaurateur I spoke to in Detroit seemed to have something on the horizon. Sasson may have just opened Townhouse days earlier, but he was already telling me about Rhype, the grocery store and quick-service spot he plans to open later this year. It will offer fresh, healthy foods for breakfast, lunch and "early supper," with pop-up chef dinners on weekends.
The team behind Green Dot Stables, a casual two-year-old spot that usually has crowds lined up for its $2 to $3 sliders and $3 cocktails, is also planning another venture, to follow on the tail of Asian spot Johnny Noodle King, which they rolled out last October. When Huron Room debuts in Mexicantown next month, it will serve fried lake perch, a local specialty, alongside Michigan beers and wines.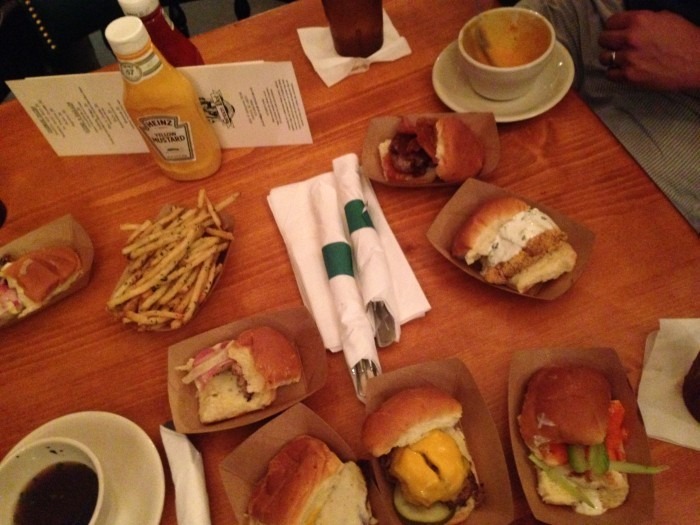 A slider spread at Green Dot Stables
"When we first opened, we knew everyone and every place," recounts chef-partner Les Molnar. "[Green Dot] shot off like a rocket: It's food people are familiar with, and we opened at the right time." Johnny Noodle King has been slower, he said. Though the guys traveled to Tokyo to research ramen and are making a legit bowl of tonkatsu, as this ramen obsessive confirmed — boiling their broth for 18 hours and sourcing noodles from New Jersey mecca Sun Noodle — they're not yet as busy as they'd like. Part of it is the out-of-the-way industrial location, Molnar says, but part of it is also the unfamiliar menu, which also offers curry, pho and bulgogi. "It's the Midwest," he says. "There aren't a lot of adventurous eaters here."
And however much some Detroiters sneer, suburban customers also can't be ignored here the way they could be in, say, Brooklyn or Portland. As Phillip Cooley of Slows says, "We're a region of 4.5 million people, and we're a city of 700,000. So to be able to operate your business, you need the region. A lot of the restaurants that I go to, whether it's small diners or fine dining, at least 70 percent of their customers are from the suburbs."
There are enough adventurous eaters to have made Katoi's "Thai-inspired" food truck a hit, so much that the owners are planning a much-anticipated brick-and-mortar operation for Corktown, scheduled to roll out in October. Meanwhile, the owners of popular Mexican-Italian mash-up El Barzon are getting close to opening La Noria Bistro, a pizzeria-taqueria, and Dave Mancini of slice hot spot Supino Pizza is working on a follow-up, La Rondinella. And that's by no means a complete list.
A few successful concepts have even been exported. Married couple Phillip Cooley and Kate Bordine of Slows Bar BQ, the 10-year-old restaurant that's often mentioned as a poster child for the new Detroit dining scene, just rolled out a Grand Rapids location this month. Green Dot Stables opened a branch in Kuala Lumpur, Malaysia, in April (yes, you read that correctly), after a businessman there read about the restaurant and convinced the owners to collaborate on the project.
Chef James Rigato of the Root, a well-loved seasonal restaurant in the far-out suburb of White Lake, is planning Mabel Gray for close-in Hazel Park. At the new, smaller place, he plans to delve even deeper into his signature style of cooking, which is focused on whole animals and local ingredients, handmade pasta and charcuterie, and reflects what he calls Detroit's "hodgepodge" of flavors — everything from Middle Eastern to Polish and Italian. When I chatted with Rigato recently, he said he was "into Michigan as an emerging destination," as well as "Michigan resources": meat, produce, dairy, lake fish, honey, grains.
It's this local bounty that's the inspiration for some of the city's most popular new restaurants. Several industry types gave shout-outs to Chartreuse Kitchen & Cocktails, which opened this spring in Midtown with an ambitious menu that roves from lamb poke with mango and avocado to Michigan shrimp with mussels and chorizo in a white wine broth. Everyone's favorite fine dining–ish spot seems to be Selden Standard, the Detroit Free Press 2015 restaurant of the year, which debuted late last year. The summer menu here offers everything from vegetable carpaccio to sweet corn agnolotti to duck congee, served in a spare, contemporary Midtown space.
Selden chef Andy Hollyday, another 2015 James Beard Award nominee for Best Chef: Great Lakes, got his start in Detroit at celebrity chef Michael Symon's Roast steakhouse, which opened in 2008. That's an example of something Detroit needs more of, says Rigato: strong restaurants producing strong chefs who can go on to open new places. "Roast has done a great job," he says. "Michael invested in Detroit and did it right. The cocktail program at Roast really started cocktails in Detroit. He's spewing out talented chefs. He threw money at the city when not a lot of people were doing that — he took a risk and was rewarded for it."
Regarding risks, there's still room to take some in Detroit. Sure, it's no longer 2011, when the city was practically giving away real estate. Many of the beautiful, boarded-up houses and blighted buildings you see around town are already owned by somebody, who's probably waiting around for the right moment to sell. That's the case with the iconic Michigan Central Station, the once-grand, now decrepit train depot that has served as a symbol of Detroit's problems. A wealthy family owns the building, and several people I spoke to complained bitterly about their refusal to fix the place up.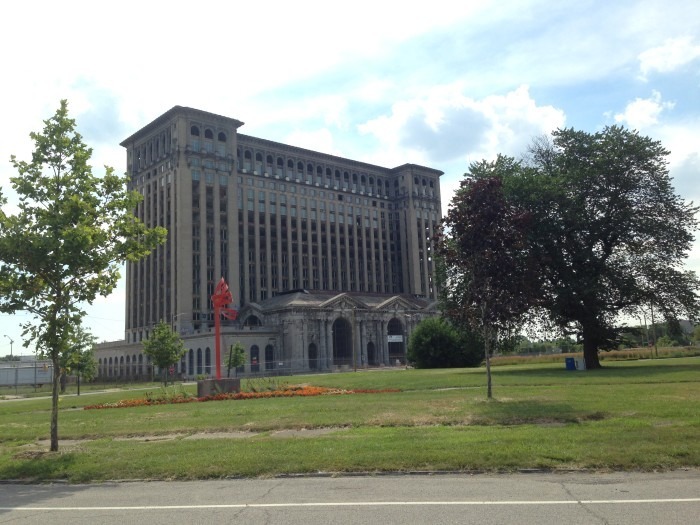 The long-abandoned Michigan Central Station
While I was in town, however, new windows started to appear in the vacant building, to many people's surprise and astonishment. One late night as we glided through the deserted streets, we drove right by the station, whose ground floor was lit from inside (presumably because of the construction), with the ornate interior molding and vaulted ceiling gorgeously illuminated. The sight delighted but also startled my Detroit friends, as though a long-lost ghost had emerged from the past in opera finery.
For some, there's a feeling that the era of opportunity in Detroit has already passed, but not for the group of fresh-faced Harvard Business School graduates whose barbecue I crashed one night. These young people, mostly transplants and recent arrivals, spoke quickly and excitedly, describing their real estate ventures with an intensity that contrasted with the laid-back Midwesterners I'd been chatting with until then.
Molnar, the Green Dot stables chef, contends that opportunity still abounds. "Detroit is one of the last cities where the American Dream is still alive," he says. "If you want to grow beets or start a screen press, it will still take a lot of hard work, but you can do it here." That seemed true for a number of people I met around town, though most of them had already been here a few years.
One night outside Bucharest Grill, we chatted with a guy who was growing grapes in vacant lots around the city, hiring and training local residents to tend them, with the intention of selling Detroit wines. Among the group for my late-night pilgrimage to Duly's Place was a chef, Corktown Jesse, as he's known, who stages pop-ups all over town that fearlessly rove through international flavors. His regular brunch at Detroit City Distillery might include a curry scramble, and his occasional Chicken & Stuff dinners could include yogurt-brined "Delhi-style" birds. As you'd expect for a city with a lot of empty space, the pop-up scene is robust in Detroit, which hopefully heralds creative brick-and-mortar establishments to come. I also swung by Tires, a former auto shop and current occasional bar hosting techno parties, which was being rented as practice space for a local circus group the evening I popped in.
Still, this kind of entrepreneurship often has to be pulled off creatively, since one of the great ironies in a city with so much vacant real estate is that mortgages and financing can be extremely difficult to come by. Cooley describes how it took a team effort to open his latest restaurant, nine-month-old Gold Cash Gold, down the street from Slows on Michigan Avenue. "All of our friends with full-time jobs were willing to show up and start cleaning or sanding and still go to their 9-to-5's," he says.
Neighboring Corktown business Astro Coffee managed to open in 2011 with friends and family fronting money and pitching in, Cooley says. He himself helped with the cabinetry, and a bartender from Slows came in to do the epoxy work. "I don't want to say it takes a village to raise a coffee shop, but that's kind of the reality of how things were around here," he says. "It wasn't going to happen with traditional budgets and lending. It had to happen with all of us getting dirty."