Can An Insanely Good Scotch And Soda Bring Back The Highball?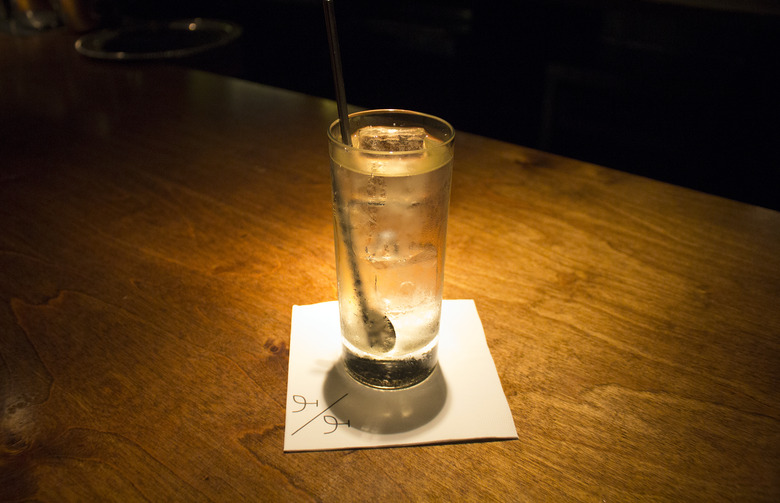 Well-made variations of this old, simple classic make a case for its reviv
Barely a cocktail to some, the highball — or scotch and soda, as it was originally known in the U.K. — is likely regarded as a member of the least exciting family of drinks, thanks to decades of bastardization throughout the 20th century. Before it became popular in the 1800s, watered-down whisky or any other spirit would have likely been shunned unless it served a purpose, such as a dose of quinine in tonic water. Though the gin and tonic has never really lost its foothold, even in craft cocktail bars, why has the straightforward nature of a well-crafted whisky highball received so little attention?
For head barman Chaim Dauermann at Greenwich Village's The Up & Up, the scotch and soda has always been an old standby, so much so that he's thrown his own variation onto the Shift Drinks section of the menu opposite an array of intriguing and complex originals. Almost completely clear, the marriage of Bruichladdich Islay Barley, orange bitters and seltzer seems rather boring at first, given our disposition toward explosive flavors in cocktails today, but as the drink evolves, its nuanced simplicity takes hold. Though some of the "terroir" of this higher-end Bruichladdich single malt scotch might get lost, at 100 proof, it fits well in the drink, and the soda gently carries its creamy notes of vanilla, barley and citrus overtones.
While this take on an "insanely good scotch and soda" isn't likely to cause a revolution, I hope to see more bars offering up their takes on this classic. Certainly, the highball is still big in Japan, where Suntory even bottles highballs in cans for younger drinkers, but many in the U.S. who prefer their fine scotch with just the slightest touch of ice water wouldn't dare to order a proper scotch and soda with their favorite spirit. However, drinks like this one, when made well, make me think that perhaps it's not such a crazy idea after all.
Classic Highball
Servings: 1 cocktail
Ingredients
2 ounces Scotch whisky
2-4 ounces club soda
Directions:
In a chilled collins glass, add several cubes of clear ice.
Pour in whisky and stir several times, then top with soda. Add a straw.
Insanely Good Scotch and Soda
Servings: 1 cocktail
Ingredients
1 1/2 ounces Bruichladdich Islay Barley Scotch Whisky
1 dash Regan's Orange BittersClub soda
Directions:
Fill a 10-ounce highball glass with ice.
Add scotch and bitters, and top with club soda.
Add a straw and no garnish.
Prep time: 1 minute
Difficulty: Easy