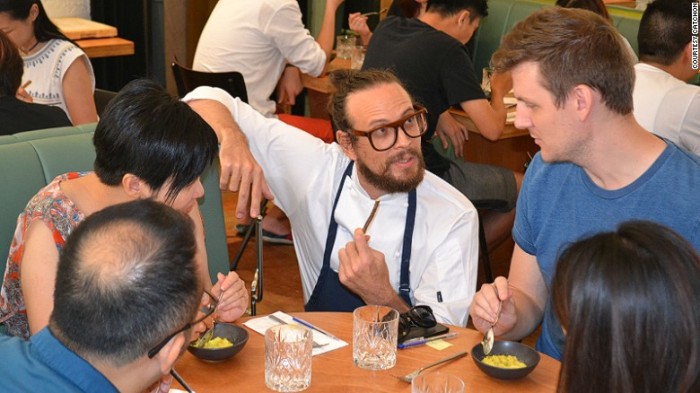 In a world that appears to be saturated with celebrity chefs, are our taste buds more easily fooled than ever? Can simply being at these chefs' restaurants alter the way you experience food, no matter what ingredients are used? Say, for example, David Chang were to serve you a bowl of instant ramen. Would this dish undoubtedly be the best instant ramen you've ever consumed?
CatchOn, a strategic consultancy that specializes in hospitality and is based in Hong Kong, decided to find out. The firm used diners at Serge et Le Phoque, a French restaurant in the city, as its unsuspecting guinea pigs, according to CNN.
The diners tasted two versions of a risotto dish, one made with homemade chicken stock and the other with bouillon powder and tap water. The latter was presented by the restaurant's co-owner, Charles Pelletier, who — armed with whites and a French accent — posed as the chef, recounting a tale of how the dish was inspired by his fairytale childhood. The former was accompanied by no such fanfare.
CNN reports that CatchOn asked diners to rate each version of the dish and, to no surprise, found that 77 percent deemed the bouillon risotto the better of the two dishes. The diners preferred this risotto across all possible aspects, including quality, overall taste, aesthetics, smell and portion size (the two dishes were, in fact, portioned identically).
This experiment is the latest in a long tradition of fooling people into consuming a product they assume to be something else. In a famous 2001 study, professors Frédéric Brochet and Denis Dubourdieu tricked wine experts into thinking dyed white wines were actually red, despite their smelling like white wines.
"We got you, we got everyone!" Pelletier reportedly proclaimed at the end of his night of experimentation. We're inclined to imagine his uttering this phrase excitedly while going around pointing and laughing at diners' faces as he tore off his chef's whites costume.