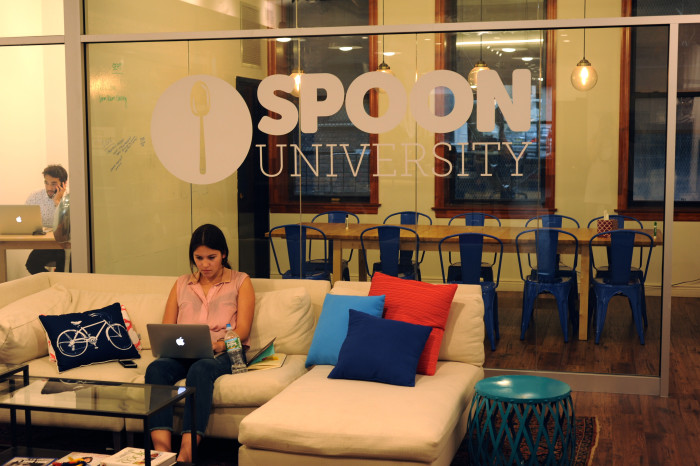 At 6 p.m. on a recent Tuesday, nine office workers are gathered around a single jar of salsa. The specific recipe is unclear but essentially consists of maybe a handful of chopped tomatoes and what tastes like half a bottle of cheap tequila.
In this room, not a soul is over 30. "Come try this," says Mackenzie Barth, beckoning her coworkers over to the company kitchen, which consists of a refrigerator, counter space and a sink, almost like a dorm room as portrayed in an Ikea catalog. Everyone is invited to sample the boozy salsa and suggest improvements. "It needs pepper," says Barth, as she reaches for the black pepper and garlic powder and adds a few shakes of each.
While it may seem like a bunch of college kids making small talk over late-night drunk food, here at the New York City headquarters of Spoon University, this is serious business. The spiked salsa is being tested ahead of tomorrow's video shoot for the recurring cocktail series "5 o'clock Fridays," hosted by Spoon U. managing editor Brooke Hamroff, who adds, "Wow! That's strong."
Founded in 2012, Spoon University is a growing network of digital food magazines with affiliates on college campuses nationwide. Some 3,000 students actively contribute to the site, writing recipes, restaurant reviews and kitchen tips aimed specifically at their peers: college students, a demographic that, by and large, could really use a little help in the kitchen, particularly in cases where there is no actual kitchen.
It's a situation that Barth, Spoon's 24-year-old CEO, knows quite well. "I would Google a recipe and find out halfway through that I needed a food processor," says Barth, who cofounded Spoon University with her friend Sarah Adler back in 2012 when the two were both students at Northwestern University. What started as a small print food zine is now a burgeoning digital brand with chapters at more than 80 schools and counting. Another 30 colleges and universities are expected to join the already lively mealtime discussion this fall. "Spoon became what it is today because there wasn't that resource for college kids to go to for recipes when they have no tools, money or experience," says Barth.
The site is impressively easy to navigate. SEO-friendly headlines like "11 Ways to Pimp Your Instant Ramen" and "Why You Eat Everything When You're Drunk, According to Science" are the norm. Click on the "Make" tab of the homepage and you'll find yourself confronted with the options "I'm a Noob," "I'm High," "I'm Hungover" and "I'm Tryna Be Healthy," to name a few.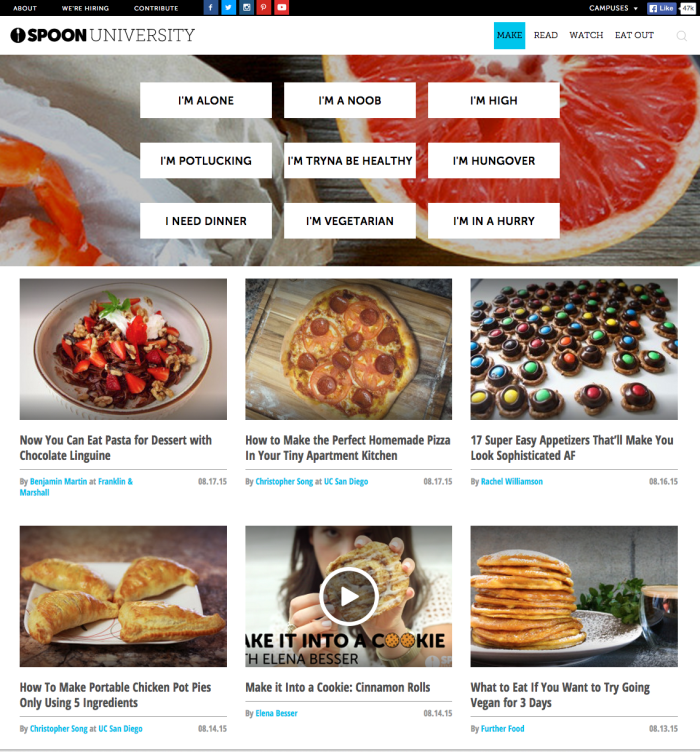 If you're wondering what millennials are eating and drinking, this is place to find out. And that is precisely what attracts advertisers and investors to Spoon University.
Flush with $2 million in venture capital funding raised just this past spring, the site seems well positioned to generate more sponsorship, particularly from brands that have struggled to connect with the ever-coveted millennial market. "We could help those conversations happen in a more authentic and more effective way that would not only better meet brand goals because they could actually get their messages across, but better meet the user's goals, too, because they don't want to be annoyed by advertising," says cofounder Adler, now Spoon's chief technology officer.
Investment firms began lining up shortly following Barth and Adler's graduation in April from Techstars, a startup incubator that provides office space, mentorships and networks to promising tech companies in exchange for a small (usually 7 to 10 percent) equity share. Getting that funding "felt surreal," says Adler. "For so long you're working so hard and trying so hard and putting your soul into it, and so many people don't believe that it will be a real thing. So many people laugh at you. So many people say no. And you spend so long convincing yourself that it's OK. And then, finally, it's really empowering to have people believe in you enough to do that."
The financing has helped Spoon University to establish its own modest campus right in midtown Manhattan. Walking around the new digs feels like the promised land of liberal arts degrees, the place of steady employment that one expects is all but guaranteed with the high price of a private university's tuition. It's an office built for collaboration. A single long room holds a row of dining-table-sized desks where the employees sit with Apple laptops. There is only one separate office and a conference room, but the walls are made of glass. A glossy white backdrop emblazoned with the Spoon University logo, like one you'd find on a red carpet, is the first thing you see as you step off the elevator. It's not glamorous, but it's a hip, bright space and sort of messy in a way that indicates these bright young tech stars are too busy building something to worry about keeping a tidy office.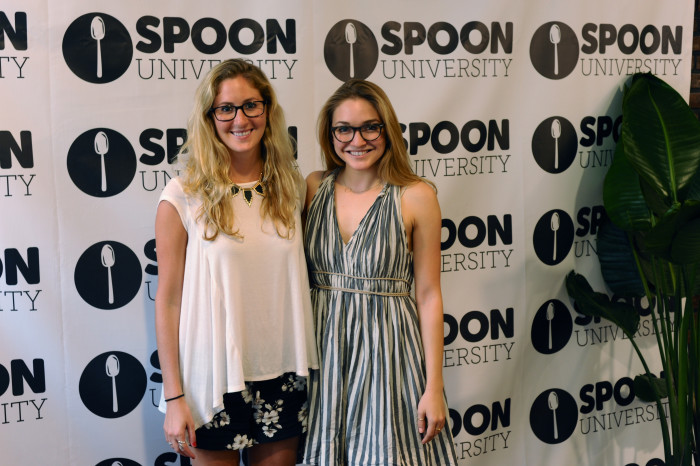 As the chiefs of this millennial techie tribe, Barth and Adler exude an impressive confidence that is still a little wide-eyed. "We say that there is no one Spoon voice and rather, it's a collection of all the voices of this generation," says Barth during an interview in the startup's glassy conference room.
Each college chapter is run by an editor with a team of contributors who all report to the central office. "Running Spoon at Tulane, especially launching it, was basically a part-time job," says Lena Grossman, a recent graduate of Tulane University and founder of the Spoon University chapter there. "They expect a lot and only the highest quality, which can be hard when a lot of writers think of this as just a hobby, but it's a great experience and opportunity to get published and build a voice."
While contributors are not paid, nor are meal receipts or ingredients reimbursed, there are tangible benefits for writers. Widespread exposure for their writing and the technical training that is a requirement to write or edit for Spoon are two of them. With content partners like Huffington Post and BuzzFeed, Spoon University stories are shared with a national audience, reaching far beyond the individual chapters on each campus. Mastering the site's publishing platform, dubbed "Secret Sauce," offers more on-the-job training than one could learn in a summer internship: how to write copy, how to use a content management system, how to maximize search engine results, how to write a recipe and how to interpret data.
Besides, not every Spoon U. contributor is of the stereotypical penny-pinching ramen-noodle-every-night variety. Take this restaurant review from the Emory University site, which begins, "To be honest, I go out for dinner about five times per week. I am definitely not a meal-plan kind of girl." Some readers might find this sort of privileged commentary aloof and out of touch. Barth and Adler see it as a sign of brand diversity. "Certainly there's varying socioeconomic status at every school, and some people go out to eat expensive meals and some people don't," Barth says. "But the idea is that we can have the full spectrum." Adds Adler: "The idea is that they are making what they usually make to feed themselves, and they are sharing that with others. Since we're not giving people money to go to restaurants, it all has to be authentic."
Even if they don't get to eat for free, contributors may acquire an even greater benefit from the Spoon University experience: confidence in their abilities as they enter the terrifying job market, plus, perhaps, a little of that good old-fashioned entrepreneurial spirit.
"Leading Spoon also helped me realize that I am really interested in digital media and publishing, which is what I am currently pursuing," says recent Tulane graduate Grossman. "It's listed on my résumé, and it helps because Spoon has recently gained such great name recognition, which makes me really proud, even though I was only involved with it for a semester."