Hot dogs and tacos. That's what I found myself digging into on a recent weeknight at one of New York City's hottest restaurants, where each and every table is packed nightly and reservations are regularly made several weeks, if not months, in advance. But these were not just any old hot dogs and tacos. The former were made of broccoli that had been smoked, grilled and sautéed, then served on homemade Japanese milk bread buns and topped with broccoli kraut. The latter dish was composed of sizzling Brussels sprouts and plated alongside smoked avocado, pickled red onion, cotija cheese, radishes, crispy Brussels sprout leaves, pickled jalapeños and salsa verde. That's right — there was absolutely no meat to be found anywhere during the meal.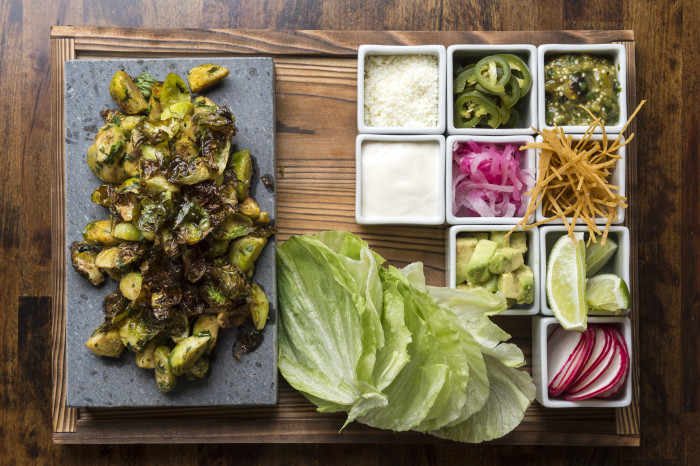 This dinner I enjoyed at chef Amanda Cohen's Dirt Candy on the Lower East Side highlights the growing trend of vegetable-forward cuisine making some noise in the Big Apple. Sure, there have always been a handful of vegetarian and vegan establishments scattered throughout the city, but not until somewhat recently would any of them be classified as true dining destinations. The options available at these places were, for the most part, unappealing to non-vegetarians. It was unlikely for the omnivore crowd — even those adhering to healthy diets — to actively seek out these types of restaurants. Until now.
There are a few factors that have contributed to a rise in the popularity of vegetarian food in New York City. For one thing, chefs are using simple, recognizable dishes (e.g. hot dogs and tacos) as vehicles to introduce novel, veggie-friendly preparations. Then there's the involvement of some big-name chefs. Take Brooks Headley, for instance. Del Posto's executive pastry chef left his flashy gig earlier this year to open Superiority Burger, an understated, tiny, takeout-encouraging space in the East Village (coincidentally Dirt Candy's old digs) serving grain-based veggie burgers and a few other vegetarian — and "accidentally vegan" — eats, including a take on the iconic sloppy joe. The line of people waiting to sample from the six menu items at Headley's passion project routinely runs out the door and stretches down the block.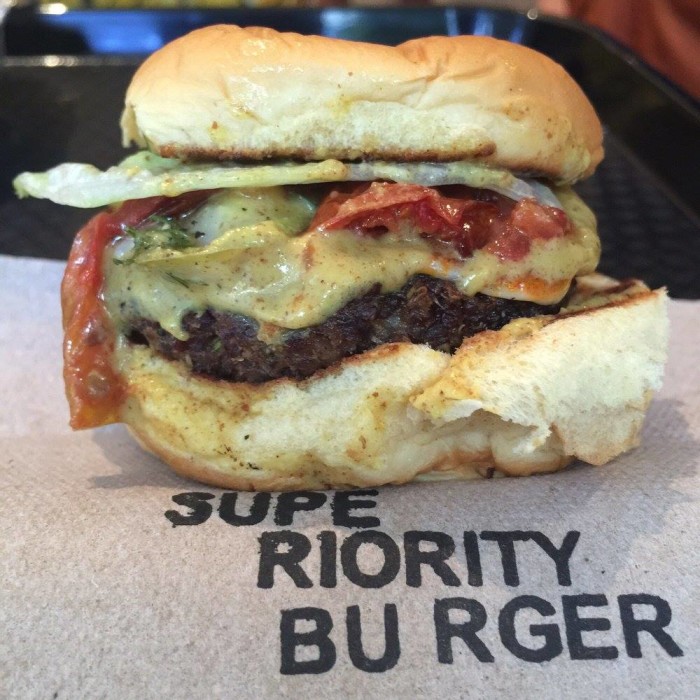 Elsewhere in the city, restaurants are infusing vegetarianism with the unique and the hip. Wassail, New York City's first cider bar, opened on the Lower East Side in early 2015, pairing its 90-plus draught and bottled cider selections with a variety of seasonally driven, vegetable-focused snacks and small plates. Chef Chloe Coscarelli — known as the first vegan chef to win a culinary competition on television — just unveiled her first restaurant, By Chloe, in Greenwich Village. Meanwhile, best-selling vegetable dishes are generating a ton of attention for even non-vegetarian restaurants, like the carrots Wellington at Narcissa.
As the general trend toward healthy eating and seasonal cooking continues, there is much reason to believe in a sustainable and successful future for vegetarian and vegan dining in New York City. We're not quite ready to proclaim that we "could totally be vegetarian!" like the diners seated at a neighboring table at Dirt Candy did, if only just because that would be a little too cliché.