In The Heart Of Bourbon Country, Joe Heron Is Barreling Brandy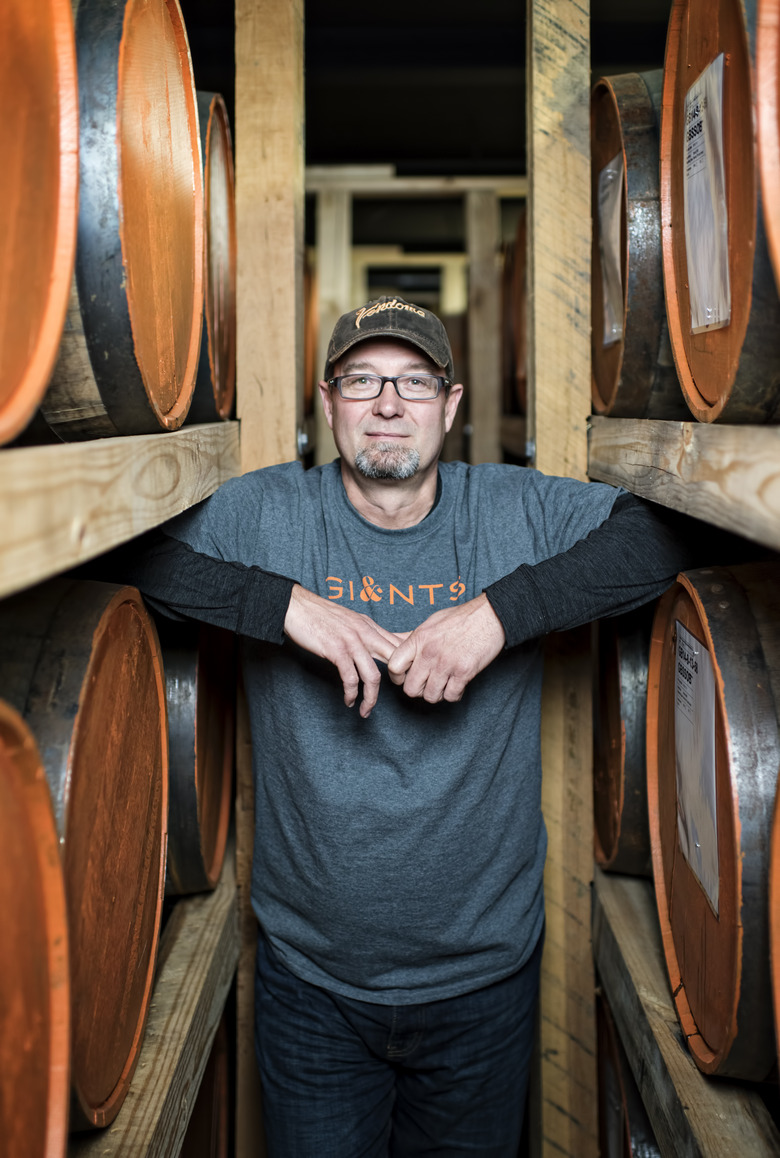 Joe Heron among his brandy "babies." (Photo: Andy Hyslo
South African beverage entrepreneur Joe Heron knows his niches. As the energy drink boom was taking off in the early part of this century, he founded Ardea Beverage Co. and introduced Nutrisoda, a bubbly low-calorie drink with the benefit of added nutrients. Beverage giant PepsiCo. took notice of the brand's rapid growth and purchased it from Heron within four years of its launch. Heron followed up that boon with the launch of Crispin Hard Cider, one of the first premium ciders in the U.S. that was designed to be served over ice like the traditional presentation in the U.K. MillerCoors acquired that company to add to its beer portfolio in 2012 at a price that was never disclosed but doubtless included several commas.
Never one to rest on his laurels — or his newly acquired Scrooge McDuck–esque stack of cash — Heron began to look for the new next big thing. Along with his wife, Lesley, Heron relocated to Louisville, Kentucky, with the intention of revitalizing the American brandy industry smack dab in the middle of bourbon country. He officially opened Copper & Kings in the Butchertown neighborhood of Derby City in 2014, and he claims that he's in this one for the long haul.
The facility is located in a beautiful modern building that was designed as a visitor destination to take advantage of the recent boom in whiskey tourism in Kentucky. Nods to sustainability and technological advancement are visible throughout the complex. Visitors enter through a garden specifically designed to serve as a way station for migrating monarch butterflies during their yearly journey to the Sierra Madre Mountains of Mexico. The garden is planted with milkweed to fuel the insects for the trip south. Repurposed shipping containers are stacked in front of the building to function as a welcome center and retail space for Copper & Kings to sell its wares. Solar panels cover the roof of the building, and Heron has convinced many of his neighboring businesses to join him in the solar revolution.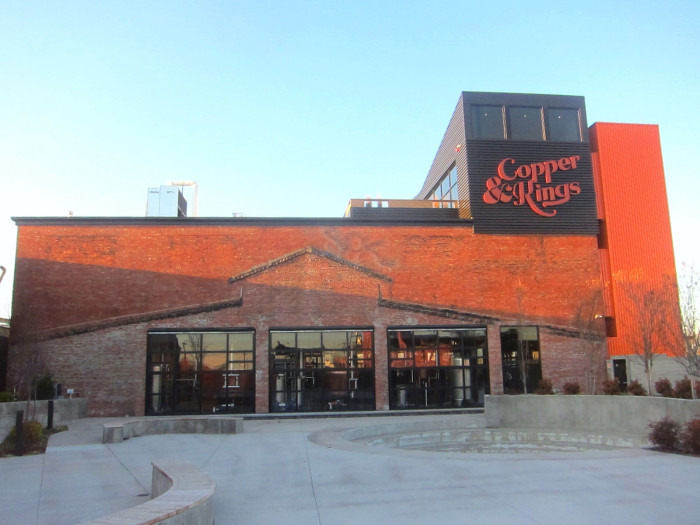 Copper & Kings' eye-catching facility. (Photo: Chris Chamberlain.)
The paint scheme of the distillery features bright eye-catching orange accents, but most of the production areas are covered in white paint and illuminated with bright lights to emphasize cleanliness. "Bad things happen in dark places," Heron explains.
His choice of Louisville as the home for the distillery was a very conscious one. "We didn't go where the grapes are — we went where the wood is," he says. Barrel aging is a crucial element in the production of fine brandy, and Kentucky is rife with suppliers of used barrels. Ninety percent of Copper & Kings' production is resting in used oak that previously held bourbon, primarily from Woodford Reserve and Willett. The remaining distillate is part of experimental efforts using other woods and barrels that were originally containers for port, sherry and cognac. Even old tequila barrels now house apple brandy. "We're total wood sluts around here," jokes Heron.
Currently, Copper & Kings is just a distillery with no actual fermentation taking place on site. Heron hired Brandon O'Daniel as his head distiller, despite the fact that the Kentucky native had no previous distilling experience. What he did have was years working as a vintner, as well as a master's degree in oenology, and his time spent making wine has been invaluable in the process of producing brandy. "You have to have great wine to make great brandy," explains O'Daniel. It didn't hurt that O'Daniel comes from a bloodline of four generations of Kentucky distillers.
Oh, Mighty Isis! (Photo: Chris Chamberlain.)
One thing that visitors notice about Copper & Kings is how music is interwoven through almost every aspect of the business. Heron is a huge music fan and has decorated the facility with art and prints from old album covers and shots of his favorite bands. The name of the company was intended to sound like a band name, and Heron even named his three gleaming copper alembic stills after women mentioned in Bob Dylan songs: "Sarah" is a tiny 50-gallon still used for experimental batches and special runs of distillation, "Magdalena" is a much larger 500-gallon production still, and "Isis" is the 1,000-gallon queen of the castle. (The latter got its name about a month before Heron and O'Daniel had ever heard of the similar-named Islamic militant group presently making international headlines; they are sticking with the Dylan reference nonetheless.)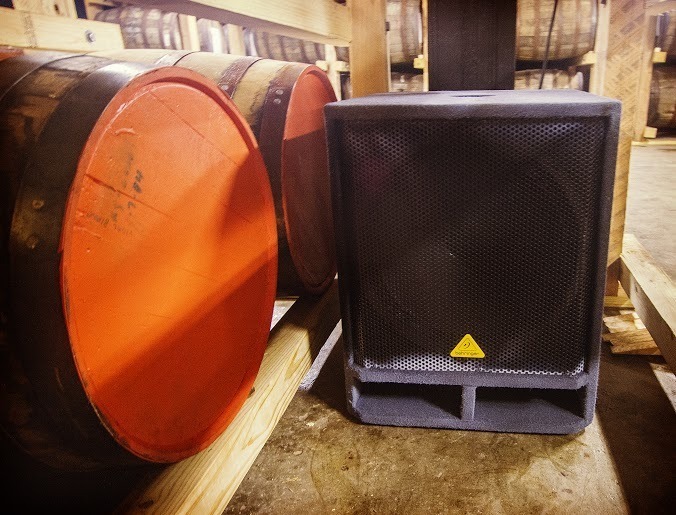 Subwoofers pump up the jams. (Photo: Copper & Kings.)
In the depths of the distillery, barrels lie in repose in wooden racks that conceal a sound system designed by nightclub engineers. Five massive subwoofers pump music through the aging room to vibrate the distillate in and out of the oak in a process that Heron labels "sonic aging."
Since wine needs to be distilled and aged in oak for at least two years to be called brandy, Copper & Kings has started out using purchased wine and aged brandy to stock its initial inventory. Heron and O'Daniel have sourced juice from across the country to establish what they are calling their "DNA base." O'Daniel explains: "We traveled the country and purchased from just about anybody with a good pot still. Then we tasted and blended them all before putting them into barrels to age. We feel like we've created a snapshot of the current state of American brandy."
Most of the brandy aging in Copper & Kings' contract warehouse in Bardstown, Kentucky, is between eight and nine years old, but some is as old as 14 years. Now that the producers are actually distilling in their own facility and laying clear distillate down in barrels, the plan is to integrate their own products with the DNA base over the next six years or so until all of the bottles they release are filled with product made in Louisville.
Copper & Kings is primarily using the typical brandy grape varietals for its products — Colombard, Muscat and Chenin Blanc — and each adds something unique to the mix. Heron explains jokingly, "Muscat is the girl that dances on the bar, and Chenin Blanc is the girl in the black dress who you want to go home with."
To allow the characters of the individual grapes to shine through, Copper & Kings does not chill-filter its brandy, resulting in a spirit that retains the flavor oils and is appropriate to be sipped straight up, over ice or as part of a cocktail. Currently, the distillery has three main products in release, plus a wide range of specialty spirits that are only available for purchase in the company's retail shop.
Craft Distilled Brandy is the company's flagship product, made from its DNA base and aged at least two years. Unlike some European brandies, Copper & Kings does not add artificial flavors, chemicals or colorants such as caramel. The lack of filtration may result in some cloudiness at lower temperatures, but don't worry a bit about that. The Immature Brandy is Copper & Kings' unaged product, twice distilled in its own stills and bottled at 90 proof. The tropical fruit notes of the unaged brandy play nicely with a bit of citrus oil, so just serve it chilled over a single cube with an expressed orange peel to bring out the oilier notes of the brandy.
The distillery's final broad release product is a Swiss-style Absinthe Blanche. This isn't the Green Fairy of legend, since that would require adding some color to it post-distillation. Heron introduces traditional absinthe botanicals, such as wormwood, anise, fennel and hyssop, along with other accent flavors, to the Muscat low wine in a gin basket for 18 hours prior to distillation. With no added post-distillation sugars or colorants, Absinthe Blanche is a unique representation of the spirit that has really taken off with the mixology crowd. Heron is not a fan of the elaborate traditional French ritual of dripping water over a sugar cube set in a spoon above a snifter of absinthe to create the milky louche effect in the spirit. He calls that "an abomination" and suggests adding a simple citrus twist or creating a modern julep with crushed ice and fresh mint. Don't argue with him.
The experimental releases from Copper & Kings include three other variations of absinthe that add vapor-distilled ingredients to the mix. So far, the producers have played with lavender, citrus peels and ginger as flavor additions to great effect. Other novel products feature brandies made from Michigan apples and single varietal grapes, including Colombard and locally grown Vidal Blanc.
Brandy distillation is a very seasonal business, and Copper & Kings is still working out its production schedule. Employees will spend August through October on the West Coast sourcing grapes and assisting in making wines. Distillery staffers will be hard at work during February and March distilling the wines into their own brandy for aging and then turn their attention to apples from April until June 1. Since it's too hot to distill in Louisville during the summer, they will spend the time aerating their brandy stock in the aging room to introduce new aromatics and improve the eventual mouthfeel through oxygenation.
With a rapidly expanding distribution base and the production facility already piped for the addition of three new stills, Copper & Kings is poised for growth. "The U.S. has lost its taste for brandy," says O'Daniel. "Traditional cognac is sweet on the front end, but we want to make a product that is smooth on the front end with a spicy, rambunctious mid-palate and a honey finish. We're creating brandy for bourbon drinkers." He concludes, "Brandy has a long history, but it's been a long time since anybody did anything cool with it!"