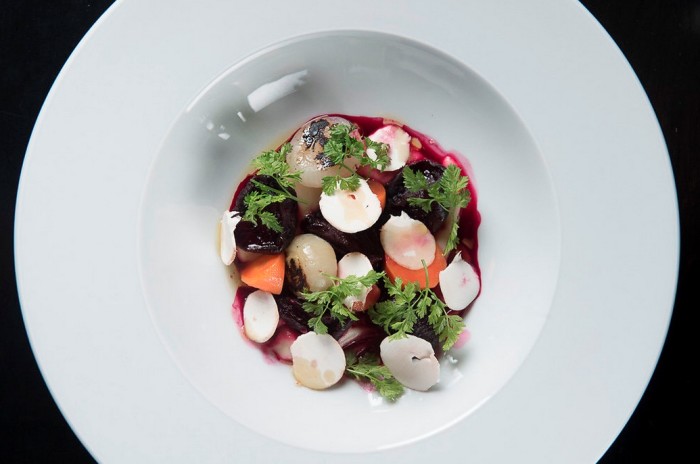 We see it happen in cocktails all the time — classic libations being respun with unconventional substitutions to suit the constantly changing curiosities of today's drinker. Now, chefs across the nation are applying a similar practice to the most classic French dishes with one bottom line in mind: zero parts meat, all parts vegetable. That's right: Privy to the dish-heightening qualities of vegetables when it comes to flavor, texture and aesthetics, but perennially enamored with the culinary school classics, chefs are going sans viande to rewrite the old reliables, from pot roast to pâté. You can bet that the results will be as well done as ever.

Chef Jon DuBois was no stranger to making traditional pâtés, but such an approach wouldn't fly at his vegetarian restaurant, Green Zebra, in Chicago's West Town. Free from the constraints of working with liver, DuBois and his team created a pâté of port wine, eggs, cream and a puree of maiitake mushrooms that has been on the menu since 2010. Realizing the dish required a vegetable that could evoke the meatier nuances of the traditional French preparation, DuBois found mushrooms to be the natural choice. "Mushrooms, in the vegetarian world, are the closest thing to meat," he says. "One of the hallmarks of pâté is this really earthy, creamy and smooth texture, and mushrooms can do that the best." While the pâté calls for predominantly maiitake mushrooms, the team has scored, seared and butter-poached abalones in the past for a dish that so greatly suggested foie gras that one longtime vegetarian server was afraid to touch it. "She was really convinced it was meat because she'd never had a mushroom with that sort of texture," recalls DuBois.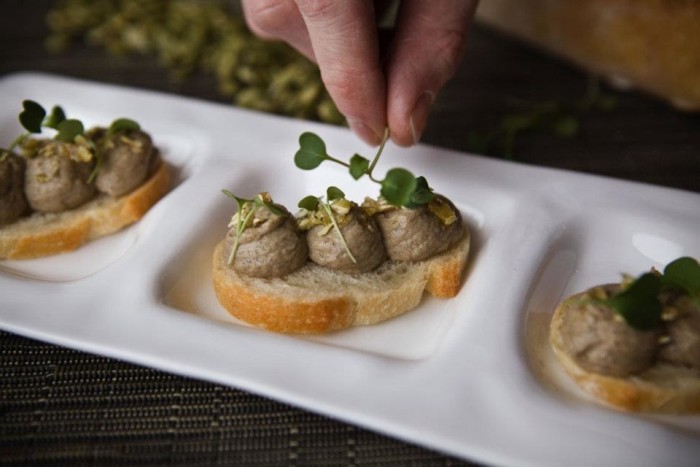 Chef Jonathan Wu bypassed fungi entirely for the foie-like terrine at New York's Fung Tu, opting instead for one of his favorite legumes: fava beans. After trial and error indicated that traditional tofu couldn't be accomplished with the broad beans, Wu began applying the principles of goma tofu — otherwise known as sesame tofu — to them. He coupled the Japanese technique with his prowess making panisse, Provençal-style chickpea cakes, which he honed during his time at Thomas Keller's acclaimed Per Se. While Wu never intended for the appetizer to be entirely vegetarian (it's topped with bacon, after all), the team is happy to tweak it for meat-averse diners.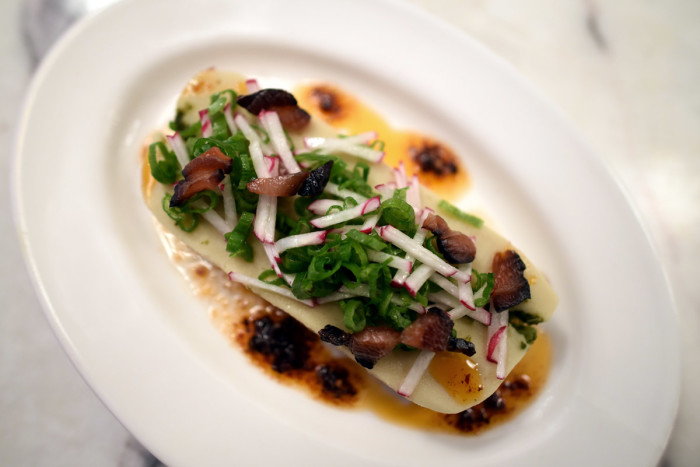 It was important for chef Daniel Eddy to provide a vegetarian option for each course at New York's wine-centric Rebelle, but he wanted to plan that dish thoughtfully. "I wanted something rooted in classic French cuisine, so I thought, 'What are the most recognizable French dishes?'" he says. "I immediately thought 'beef bourguignon,' and I then asked myself how I could turn that into a vegetarian dish." Recognizing beets and beef share a similar color (and three letters), he depended on the same techniques for making a bourguignon sauce — swapping beef stock in favor of beet juice. Wine played a big role as well. The team went through six options, including varietals from both France and California, before landing on an unexpected winner for the Burgundy-rooted plate: an American Pinot Noir. Removing lardons from the classic recipe led Eddy to find smoky and meaty flavors in a burnt butter instead, which he folded into a celery root puree. Compelled to treat the beets similarly to meat, he salt-roasted and dehydrated them to evoke a chewy, beef-like texture. Still, he wasn't out to fool anyone. "The texture wasn't to make people believe they were eating beef," Eddy explains. "It was just about us taking the same principles and techniques of making beef bourguignon and applying those to vegetables."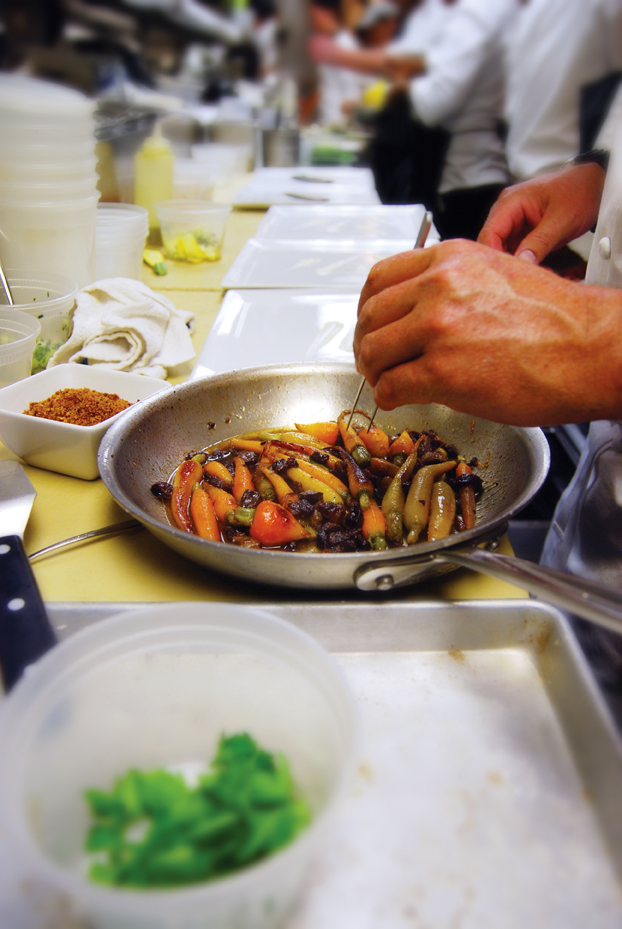 Diners may feel a little nostalgic when they taste chef Trey Foshee's dry-aged carrots at George's on the Cove in San Diego. "It hits home for everybody because everybody knows what those vegetables that are cooked under a roast taste like," Foshee says. "It brings back these memories of your mom's pot roast — and you're actually just eating carrots." The dish was conceived of when Foshee had cooked a dry-aged piece of steak at home and realized it was the mirepoix, not the meat, that was on his mind post-meal. "The dry-aged meat is a dry-aged meat, whereas the carrots tasted like carrots, but with dry-aged flavor," he explains. To score such results, he roasts the root vegetables with half-inch pieces of beef scraps for 20 to 30 minutes before adding shallots and garlic and continuing to cook them until tender. When it's not flavors of pot roast he's after, it's whole roasted chicken, which Foshee and his team have mimicked with whole cauliflower that they stud with black truffles and slice tableside.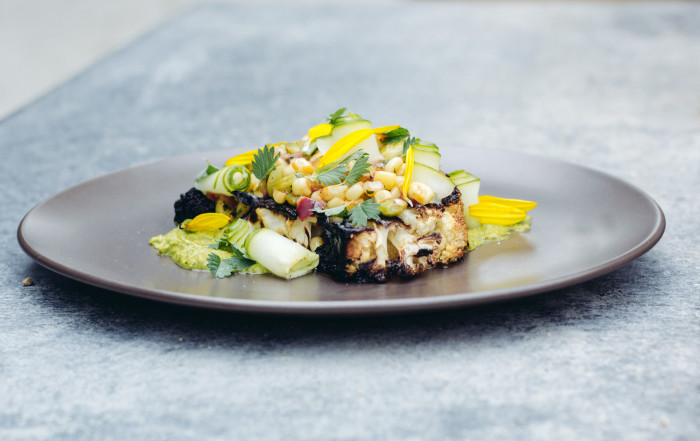 Cauliflower takes on even meatier forms at Superba Snack Bar in Los Angeles, where chef Bryan Weaver cuts the white vegetable across the center to reference a T-bone steak. Before it meets the knife, the cauliflower is covered in olive oil, salt and pepper and roasted whole for two hours. Once cut, the top is charred in a salamander oven and served with corn succotash, lime-marinated cucumber and salsa verde. Weaver and his team reach for vegetables to make dishes that tread into dessert territory, as well. Take, for example, a brûléed custard with a burnt-sugar top that may look familiar enough, but with a different makeup of squash, Parmesan cheese, bay leaf milk and fried sage that sets it far apart from any crème brûlée you know.
Green Zebra, 1460 W. Chicago Ave., Chicago, IL 60642, 312-243-7100; greenzebrachicago.com
Fung Tu, 22 Orchard St., New York, NY 10002; 212-219-8785; fungtu.com
Rebelle, 218 Bowery, New York, NY 10012; 917-639-3880; rebellenyc.com
George's at the Cove, 1250 Prospect St., La Jolla, CA 92037; 858-454-4244; georgesatthecove.com
Superba Snack Bar, 533 Rose Ave., Venice, CA 90291; 310-399-6400; superbasnackbar.com