In Hungry Concierge, we travel the world to spot hotels that operate with their guests' food and drink needs squarely in mind — hotels, both big and small, that are located in neighborhoods rich with bar and restaurant options. Because there's nothing worse than having your trip derailed by crummy room service.
When Milan was selected to host this year's World Expo (named "Feeding the Planet, Energy for Life"), Italy's second-largest city became more than a finance and fashion destination. Because the food-themed Expo — which kicked off in May and runs through October — is expected to attract a whopping 20 million visitors, local hotels had to step up their game in order to stand out and appeal to even the most discriminating traveler and epicurean.
This is where Carlton Hotel Baglioni Milan, a classic boutique property housed in a former mansion, enters the picture. It's a member of the prestigious Leading Hotels of the World, a collection of some 400 luxurious, independently owned properties in more than 80 countries. What makes this group especially notable is that each hotel must apply for admission, then undergo a rigorous evaluation (inspections are based on more than 800 criteria). In the end, each LHW member must meet the collection's exacting standards in service, style and, of course, cuisine, in addition to offering guests what's described as a "remarkably uncommon" experience.
To achieve just that, Carlton Hotel Baglioni Milan bundled an enticing package for Expo visitors. Not only does it grant entry to the exhibition (a 20-minute taxi ride from the hotel); it also includes a private tour of the University of Gastronomic Sciences in Pollenzo and exclusive access to its famed Bank of Wine. In the morning, guests can indulge in a bountiful yet healthful breakfast buffet at the hotel. Thoughtfully curated by the university, it features items based on the principles of slow food, from breads made with whole cereal grains to pancetta produced from local pigs.
Even if you're not in town for the Expo, there are other good reasons to consider the Carlton. Located in the heart of Milan's Quadrilatero, the city's famed fashion district, it's the only hotel in the city with direct access, via a discreet back door, to the famed Via della Spiga. Since this is a street reserved for pedestrians, you never have to worry about looking both ways and can fully immerse yourself in some of shopping's brightest names, such as Hermès, Fornasetti and Bulgari. Cultural landmarks like the Duomo, Milan's most famous cathedral — climb to the top for breathtaking views of Milan — and Santa Maria delle Grazie, home of Leonardo Da Vinci's famous Last Supper painting, are also a quick jaunt away.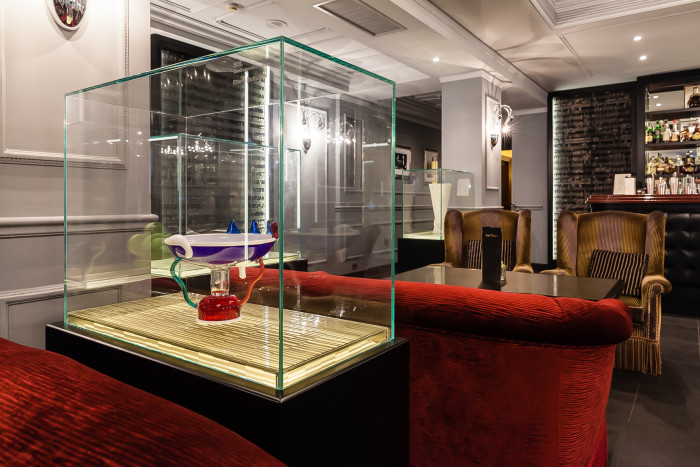 On the ground floor, you'll find the hotel's handsome restaurant, Il Baretto, a beloved institution specializing in classic, hearty Milanese fare like osso buco and risotto Milanese. (It also happens to be a favorite of designer Miuccia Prada.) And just a few steps away there's Caffè Baglioni, which was newly redesigned by local design collaborative. It's a sophisticated yet discreet spot to kick off your day over breakfast or cap your evening with a perfectly shaken martini.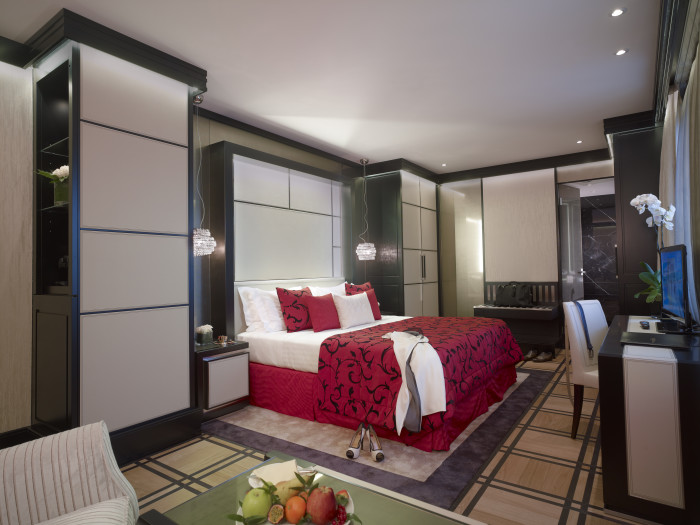 The Rooms: As one would expect with any five-star property, the 87 suites and rooms are sumptuously appointed with fastidious attention to detail. Brocade, silk, velvet and other plush fabrics lend an unexpected but sophisticated touch to each room's furnishings and even the walls. The Murano glass in the chandeliers and wall fixtures give a strong sense of place, along with being a distinctive design element. The black marble bathrooms, parquet flooring, lacquered desk and jewel-tone palette lend the rooms a modern Art Deco feel. Even the toiletries from Sicilian perfume house Ortigia impress, with their heady fig and cedar scent called Fico d'India.
The Look: Whether you enter the hotel through the front doors or the back, from Via della Spiga, you'll have an immediate sense of what the Carlton Baglioni is all about: classic, timeless luxury. The lobby, for example, is decked out in beige and black, lots of marble, oil paintings and chesterfield sofas. While these individual elements are undoubtedly spendy, they collectively exude a surprisingly restrained and comfortable vibe, which extends throughout the entire property.
The Neighborhood: You're in the middle of it all, especially if you're looking for easy access to some of Milan's best dining. Since opening last year, Tartufi & Friends has been the swanky spot to see and be seen. Chef Marco Fossati perfumes every dish on the menu, even the desserts, with truffle. The charming and cozy Al Girarrosto da Cesarina is where locals beeline for dependable Milanese dishes like costoletta di vitello alla Milanese, a massive, deep-fried veal cutlet. Larte — imagine a chic restaurant, café, and gallery under one roof — sets the tone for a refined respite from the city's hustle and bustle. It's also home to one of the city's best espressos. For a picturesque al fresco lunch, request a table on the veranda at Caruso at fellow LHW property, Grand Hotel et de Milan. To partake in two local traditions, aperitivo and people watching, look no further than Swiss Corner, a trendy lounge facing Indro Montanelli Gardens, Milan's first public park.
Carlton Hotel Baglioni
Via Senato, 5, Milan
Rooms start at $320 per night