It's the best hard-to-find seafood specialty since Brazilian fish ribs: crab butter, better known as tomalley, or "guts and roe." You won't see a lot of seafood places serving it, but Anthony Bourdain is a fan, and when you come upon that knowledge, you don't argue. You just eat it and nod sagely with enlightenment as you chew.
"Bourdain loves it, and every time he comes to town he goes to Oyster Depot and asks for it," says Melissa Perfit, executive chef at Bar Crudo in San Francisco. She decided she'd discarded enough crab innards for one lifetime and added a shell full of sweet, savory, briny crab roe as a supplement to Bar Crudo's shellfish platters. Predictably, it's been a breakaway hit, and once you've tried it her way, all other shellfish platters seem oddly naked (even with the decorative seaweed).
"It's a beautiful thing because it prepares itself, essentially," says Perfit. "It's the guts of the crab — it's super-fatty and kind of mustard-yellow. I looked at other preparations or ways to spruce it up a little, but the fact is, people who like crab fat like it for what it is and don't want it messed with."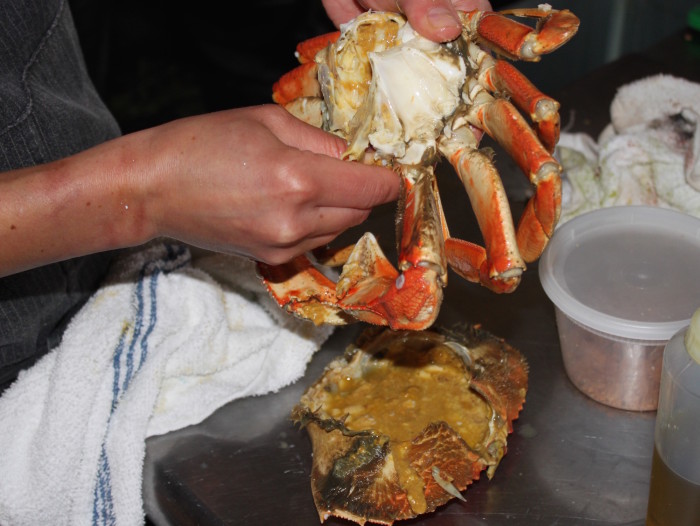 So where have we been on this trend, exactly? Any shellfish fan, uni fiend or lobsterficionado should be raring to go, baguette in hand, lemon wedges at the ready. But wait, it gets even better, as a friend of Perfit reported upon returning from Vietnam.
"They pull bread apart, soak it in crab fat, spice it, then bake it in the oven. It's like bread pudding with crab fat."
The soupy substance is no one-trick pony, either. While delicious soaked into sourdough, Perfit has plans. "I might make a pan sauce from the fat and maybe have a piece of seared fish with it so you still have the really strong, unctuous crab flavor," says the chef. "Take it out of the shell, make a pan sauce and serve it over cobia. It would still be the star of the dish."