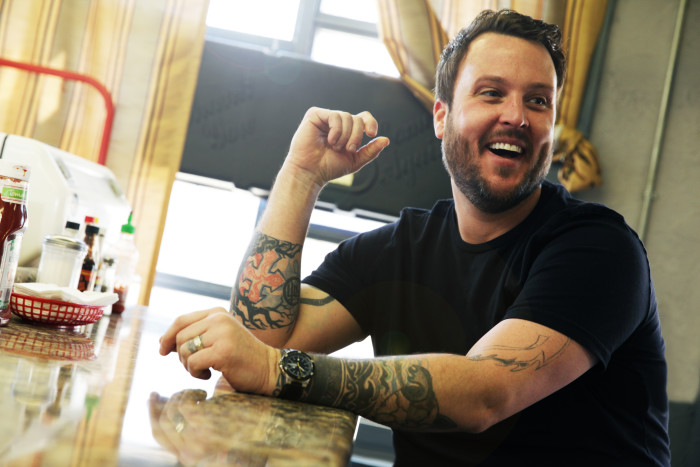 Ben Vaughn is perhaps best known as the host of the Food Network series Food Inspectors, in which he helped small restaurants prepare for looming health inspections in episodes with such ominous titles as "Rats in the Cellar" and "Slugs in the Walk-in." Perhaps because it sounded more like Billy the Exterminator than a cooking show, the series only aired seven times before going on permanent hiatus.
But Vaughn is more than just a nitpicker with a penlight; he's got serious cooking chops as well. Raised in Florida, he has worked in kitchens and opened restaurants across the South over the course of a distinguished career. To further immerse himself in the cooking culture of his native region, Vaughn undertook a yearlong journey around ten Southern states to discover the secret ingredients and recipes behind iconic dishes from some of the South's best hidden kitchens.
The results of his research will be shared in an upcoming book, Southern Routes: Secret Recipes From the Best Down-Home Joints in the South, to be published this fall. The trip was a massive undertaking. "I bit off more than I could chew," Vaughn admits. "But it was a blast, and I made a lot of new friends. I used what was left of my advance to buy a new treadmill. I needed it after that trip!"
Once the manuscript was turned in, Vaughn set his sights on a new enterprise: bringing genuine Southern food to Las Vegas, a city he had first visited a few years ago as one of the hosts of the World Food Championships. "When I went out there four years ago for the WFC, it was my first experience in the city as an adult," Vaughn recalls. "I saw a few Southern things going on, but it was more like what I'd call the Epcot version of Southern food. Chefs were mimicking their interpretation of what they thought Southern food was, but they weren't capturing the love and simplicity of the cuisine."
Vaughn understands that Vegas kitchens are preparing food for the masses and that you can't capture the South in a jar (even if it is a Mason jar). He realizes that educating his new audience may be a long process, but he embraces the slog, saying, "In the Southern kitchen, we take our time because we want to appreciate the food. So I'm starting slowly with a food truck and pop-ups so that I can really talk to people and share the recipes and the experience. I can't sell culture over an email."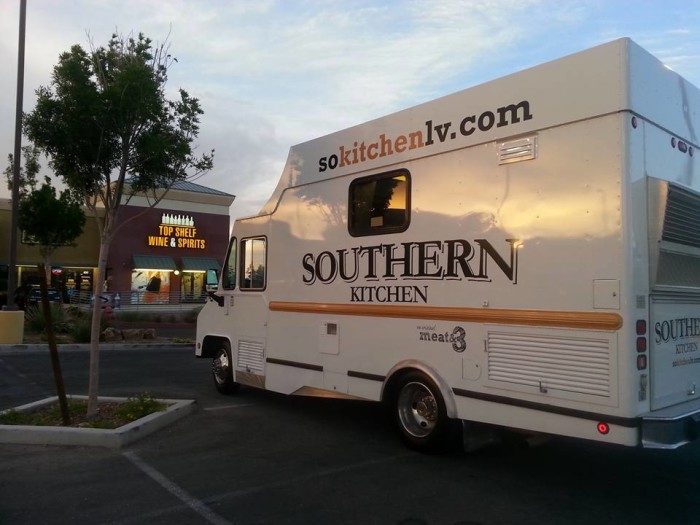 His Southern Kitchen food truck launched in June with executive chef John Courtney on board. "He's a good one," Vaughn says of Courtney. "I stole him from [famed chef Mario] Batali." Operating about five days a week in various locations around the city, Vaughn's truck targets locals rather than tourists. "We love tourists — they built this city," Vaughn says. "But Southern food is about sustainability, and so is our business. We partner with bars and other establishments to park our truck and serve dishes that are approachable and relatively inexpensive because of the low cost of traditional Southern ingredients."
Fortunately, Vaughn is encountering little difficulty sourcing traditional Southern ingredients, despite his precarious new perch out in the Nevada desert. "Thanks to the celebrity-chef boom in Vegas, everybody is selling everything, and it's all just a FedEx flight away," he says. However, working in a food truck during the Vegas summer has been problematic. "Think about cooking over a fryer in a metal coffin when it's 110 degrees," he says. "The locals say, 'But it's a dry heat.' Yeah, right!"
Popular dishes on the Southern Kitchen menu include Southern Fish 'n Chips made with fried Delta catfish; Vaughn's take on the iconic Nashville-style hot chicken sandwich served on Pullman bread with house-made pickles; and a fusion-style Grilled Meatloaf Bánh Mì topped with collard green kimchi.
Several pop-ups at local restaurants have offered some respite from the hotbox and the opportunity to expose his cooking to a new set of potential customers. "Truck life can wear on your creativity," Vaughn explains. "The pop-ups are a chance to flex our muscles on foods we don't cook on the truck. We don't make any money on them, but we consider it a community service."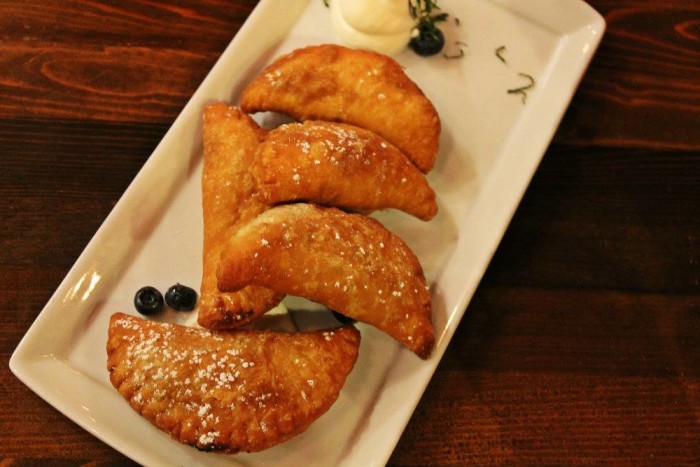 A bona fide brick-and-mortar restaurant is part of his plan for the near future, and Vaughn has already looked at several potential locations. "Business in Vegas pretty much falls apart from January 2 until the beginning of February. So if we can't be open in time for Christmas this year, we'll definitely be there by February 1, come hell or high water," he says.
Vaughn already has his eye on further expansion, both with a new specialized concept in Las Vegas and somewhere else on the West Coast that could use his brand of Southern-fried goodness. "As amazing as the restaurant scene in L.A. is, there's a chunk missing, and it's Southern food," he says. "I'm not talking about high-end cuisine like Sean Brock does. I'm thinking of a menu that's more like a potluck supper where everybody brings their absolute favorite dish."
As if opening multiple restaurant concepts weren't difficult enough, Vaughn continues to take it upon himself to educate every customer he can about what makes his ingredients and meals special. But he hopes he won't have to do that forever. "It's a slow progression to convince people that this is exactly what it tastes like, that this is real Southern food as opposed to what they may have been presented in the past," he says. "But we want to get to the point that I don't have to put on a seminar every time we open the truck or put on a pop-up dinner."
If Vaughn can keep his enthusiasm and dedication at the level he has demonstrated since first opening Southern Kitchen, people will catch on soon enough.