Get Drunk Through Your Eyeballs — And Spare Your Liver — At This London Bar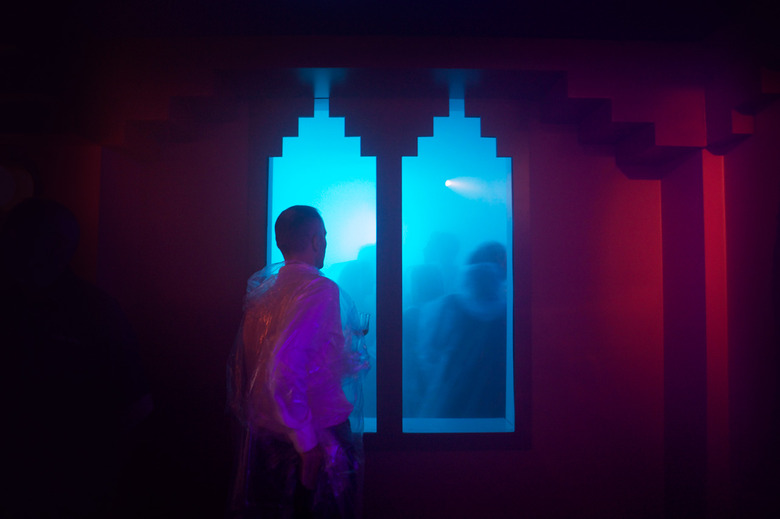 Want to get drunk without drinking? Head to London's Alcoholic Architecture bar. (Photo: Co.Exist.
London's latest addition to the bar scene sounds like one of Stefon's go-to places: A room within the bar Alcoholic Architecture — located in the city's Borough Market — allows visitors to breathe their alcohol while wearing stylish foul-weather gear. But this room is actually real.
All bar-goers need to do is stand in the foggy room — called the Cloud — while wearing a plastic rain poncho and inhale and then exhale, according to Co.Exist.
For £10 ($15.50), you can spend one hour in the Cloud (40 minutes is apparently equivalent to a "large drink" or a shot) and "breathe responsibly." The room is sectioned off and set to 140 percent humidity with alcoholic mist pumped through the air. If you're thinking this sounds like a sweaty, uncomfortable mess, we're right there with you.
There are, of course, some purported advantages to imbibing via the Cloud. You won't have to worry about looking your best with boozy fog shrouding everyone's vision, for one. Calories and future headaches are also reduced due to the fact that the alcohol is absorbed via the lungs and eyes (yes, through your eyeballs) and won't make it to the liver.
For those who prefer to get soused the old-fashioned way, fear not. Alcoholic beverages in liquid form (aka the normal kind) are also available at the bar.