Why You Should Be Cooking With Honey Powder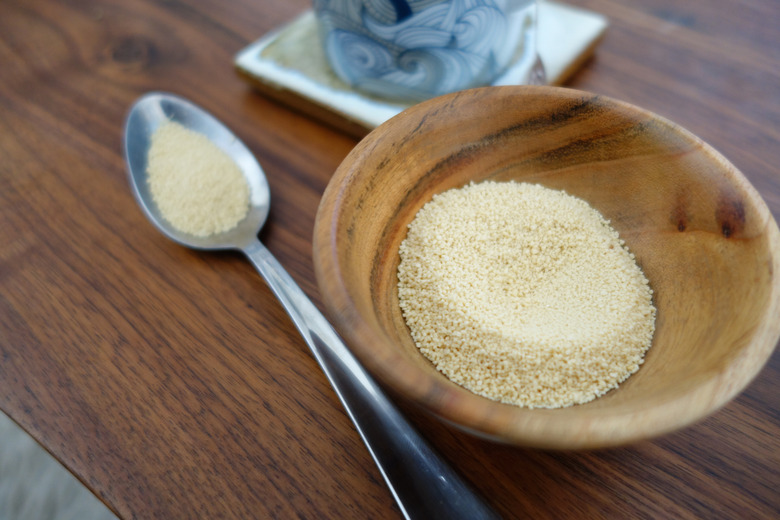 Add a spoonful of fluffy, granulated honey powder wherever you'd use the sticky stuff. Save time on dishes. (Photo: Jess Kapadia.
No longer do you have to struggle with sticky spoons in order to get that sweet honey flavor. At least, not when you have honey powder on hand. "Real honey can make ingredients all gooey," says Stephanie Izard, chef-owner of Girl & the Goat and Little Goat Diner in Chicago. "The great part about honey powder is that it dissolves nicely and evenly, and it adds the flavor of honey without the texture." True, it's not a replacement for the raw stuff, but it does offer a mess-free alternative that works so well in cooking, you may wonder why you haven't used it before.
Where it's from
There is a lot going on in the tiny world of honey powder. The first thing to note: If you want a product made with real honey, avoid imposters. Namely, cactus honey powder. Though it sounds legit, it's not actually derived from bees. This substance is a "super-sugar" created from the agave plant. Granted, agave has its uses too, but it lacks the health benefits associated with honey derived from bees. True honey powder is made by dehydrating real honey until all the moisture has evaporated. From there, it's ground into a fine powder and often mixed with stabilizers like starch or sugar to keep it in fluffy dust form. You will also see honey in a granular form, which tends to have more sugar added to it but does offers a pleasing crunch.
While honey powder is fairly new to the American food market, it has been used in Korean kitchens for a long time. "In Korean cooking, honey powder is used as a sugar substitute," says Matt Rodbard, Food Republic contributing editor and author of the upcoming book Koreatown: A Cookbook. "In the book, we use it in our ddeukbokki [rice cakes] and dak dori tang [a sweet and spicy chicken stew]."
When it's in season
Since honey lasts forever, it's always honey powder season! But to be fair, bees tend to their queen in the winter and don't make honey.
What to look for
"I first noticed honey powder when I was in line at a local Asian market, Joong Boo," says Izard. "They had it in the checkout line on display, and I decided to buy a box." She never looked back and continues to purchase honey powder at that store. As for non-Chicago shoppers, look for this specialty item in your local spice shop or Asian market. Just make sure honey is at the very top of the ingredient list. Some brands list honey third or fourth under sugar and corn syrup. For the most part, producers like Augason Farms don't do much to their product, save for the addition of stabilizers.
How to store it
"The one we purchase comes in a resealable bag," says Izard. "Just like your spices, after opened, honey powder should be kept in a cool, dry place."
How to prepare it
You can put honey powder in just about anything. "I first used the powder in a dessert at Girl & the Goat," says Izard, adding that now she is thinking about adding honey powder as an option for the iced teas at Little Goat Diner. You can substitute it for sugar in some recipes, mix into meat or veggie marinade for the grill or whip it into ice cream for a sweet floral flavor. If you are a baker, try adding a little in your bread or sprinkled on top for a sweet kick. Or take advice from Izard and keep it simple. "We mostly use honey powder in yogurt," she says. "When you put it in yogurt, it stays crunchy for a minute, which is delicious."