A Catch-Your-Own-Fish Restaurant May Soon Open In NYC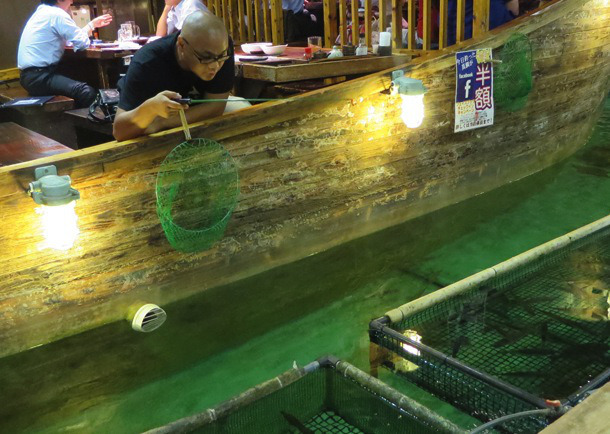 DJ Neil Armstrong visited Zauo in Tokyo during a trip last year.
Selecting a fish from a display over ice just doesn't suffice as being close enough to your dinner anymore.
Targeting our hunter-gatherer senses, Zauo, a Japanese chain of "fishing restaurants," is scoping out the New York City scene for a possible expansion Stateside, according to Grub Street. The tank-to-table concept allows diners to bait their own hooks — for a small fee — and catch their own dinner. The fish, which will come from a pool of assorted mackerel, flounder and sea bream, is then delivered to the kitchen for the preparation of your choosing: sashimi, grilled, boiled, deep-fried or sushi. One fish could even be cooked two different ways, according to Zauo's website.
The restaurant has a strict you-catch-it-you-buy-it policy, meaning there's no throwing back unwanted catches, like you might in the great outdoors. So if you land a fish that's bigger than you'd like to fry, tough luck. If you're not up for the gamble, you can also opt for the professionals to do the fishing for you. It should be noted that catching your own fish is cheaper than ordering straight off the menu.
The New York City expansion plans have been floating around since April with no word on significant developments. In the meantime, we'll sit patiently with our rods at the ready.