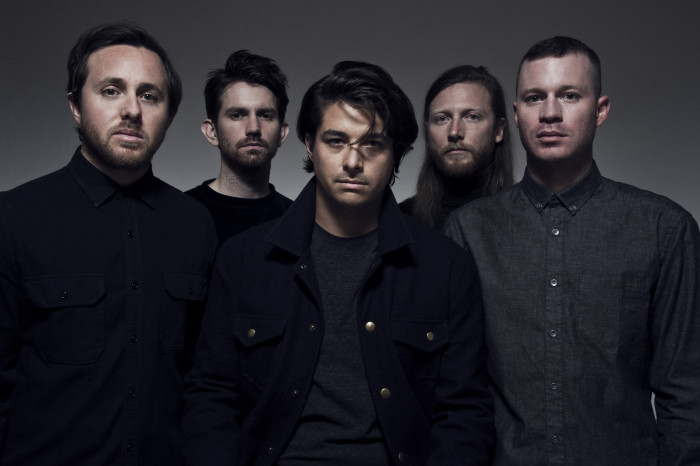 Indie rockers Delta Spirit may no longer be full-time residents of Brooklyn (where they recorded their latest album Into the Wide — a deluxe edition of which with new tracks debuted on June 29), but the band is back together again for their An Evening With Delta Spirit & Friends tour, which has taken them across the country since May. The group (including singer Matt Vasquez, bassist Jon Jameson, drummer Brandon Young, guitarist Will McLaren and multi-instrumentalist Kelly Winrich) will be stopping in Chicago this weekend for their fourth appearance at Lollapalooza and between sets are planning to visit some of their favorite spots, including the Girl & the Goat and Nellcôte. We caught up with San Diego native Jon Jameson as the band made its way to Grand Rapids to learn about his time working at Mast Brothers chocolate, the band's high and low Chicago hot dog experiences, and why restaurants need to stop closing shop on them.
What did you miss most about your usual home base of San Diego during your time in Brooklyn?
For one thing, the street Mexican food is so much better there, like the burritos and all the stuff you can get for $3. When I first moved to Brooklyn, there was a shitty Mexican place around the corner from my house, and I went in asking for a bean and cheese burrito. They were like, "That's $8," and I was like, "That's ridiculous." I walked out. So that's a bummer. I miss açai bowls a lot, too. I'm from Encinitas, which is a little surf spot in North County, San Diego, and there are a couple of spots there with the perfect açai bowl. We always joked about opening an açai bowl spot in Brooklyn. There are so many weird little places that do one thing really well, and I feel like that would've probably worked.
What were your favorite spots in Brooklyn?
I lived across the street from DuMont, which was amazing. Now it's defunct, sadly, but I really loved their burger. Paulie Gee's is so great. Greenpoint is where the studio was, so we'd go eat there a lot. My friends own Mast Brothers, and I worked there for a little while. Those guys are food nerds, and it was fun to get into that world with them. I worked in the back production part-time for a little while. I didn't know many people in NYC yet, so it was actually a really cool way to meet people and see how it all works.
What was the most surprising thing you learned there?
They're in the middle of being super-small and getting bigger. I think breweries face that too — having things be consistent but of high quality. That was interesting to me, that struggle of people making things and being a little different, but also trying to keep the quality high.
Did you talk about doing a chocolate bar for Delta Spirit? What would it entail?
We did! We almost did one for the last tour, but we didn't have enough time to put it all together. They used to do a sea salt and almond one, and now they do sea salt and almond separately. I feel like it was the best when it was both.
Any spots you've been able to discover on this tour?
We randomly had three days off in Ann Arbor, Michigan, which we'd never spent any time in before. It's a pretty small college town, but there's a lot of good stuff there. There's Jolly Pumpkin, which is a really great brewery. The beer is really amazing. Then there's Zingerman's, which is a pretty popular Jewish deli. And they have another James Beard Award–winning restaurant that was a block away from our weird hotel on the outskirts of town, so that was a big surprise. We've gotten to know Ann Arbor pretty well.
What city do you get amped about returning to for a restaurant?
We have more friends who are chefs or restaurant-connected in Chicago than anywhere else. Whenever we're there we eat really well, and it's always really fun. During our second or third time to Chicago, someone who we don't even know that well flew in to ride with us for a couple days and was like, "I've got to take you to this place Hot Doug's." We went there for the first time, and it literally blew our minds. Now it's sad that it closed. Back then we only waited about 10 minutes, but every time we'd come back after that, we were there too late and it was closed, or we were on a bus and couldn't get over there. One time we tweeted, "If you bring us Hot Doug's, you'll get into the show for free," and some crazy person actually did it. It was great.
Where are you definitely heading while in town?
Will, our guitarist, is a nerd about the Girl & the Goat. Every time, he has to go there. He loves it. When the reservations are too slammed, he'll just sit at the bar and make friends with all of the older single women. I've been to Little Goat, which is great. We have a friend who always connects us to Nellcôte and the oyster bar next door — those places are great.
Any favorite dining experiences here?
Back when the Graham Elliot team had the actual fine-dining restaurant — which I didn't realized had closed until recently — I was by this church, so I went in for evening prayer. It was just a nun and me in there, so I said evening prayer with her, and afterwards she came up to me and was like, "I'm so sorry, but you've missed the homeless meal." I have long hair and a beard, and it wasn't the first time someone thought I was homeless. It happened to be the day we were going to Graham Elliot for the tasting menu, and it was just this great irony of us getting such very fancy food that day. I was like, "It's all right — someone else is feeding me."
Where will you be drinking during Lollapalooza weekend?
I'm looking forward to checking out the Lagunitas brewery they just opened there. I've also heard that the bar at the Freehand, Broken Shaker, is great.
What'll it be during the show?
Brandon and I are serious beer guys. We're from Southern California, so we're pretty much all about the hop-forward IPA-styles. Matt and Kelly are the whiskey people — that's their vibe pretty much nonstop, except for when Matt randomly likes to drink nonalcoholic beer, which is just confusing for everyone. Will doesn't really drink, but when he does, he drinks only sake. He really likes the sake.
Who's the pickiest eater in the band?
Brandon is a very picky eater. He feels like they always screw up his order, but then he feels guilty telling the waiter they screwed up the meal. He tries to play it off like he'll eat anything, but he's hard to please.
What's something you guys don't leave home without?
The coffee setup is essential. Stumptown gave us a pound of coffee and some cold brews, which is amazing. We used to bring a Chemex, but it's way too cumbersome. So now we have a legit Bonavita auto drip and a good grinder. When you're on a bus — especially with about 10 people traveling with you — having a good coffee setup is great, so you don't have to find the one good coffee place in say, Grand Rapids, Michigan.
Any memorable late-night bites?
The one problem with tasting menus is that there isn't very much food, and if you drink a lot, then you're going to be really drunk. That happened the night of the Graham Elliot tasting menu. We were back at our hotel, and I was totally drunk and starving. We went over to 7-Eleven and got like, three hot dogs each. They were great, too. Thankfully, those are still available — unless they've shut down the hot dog program.