You Can Buy $40 Water At This Irish Hotel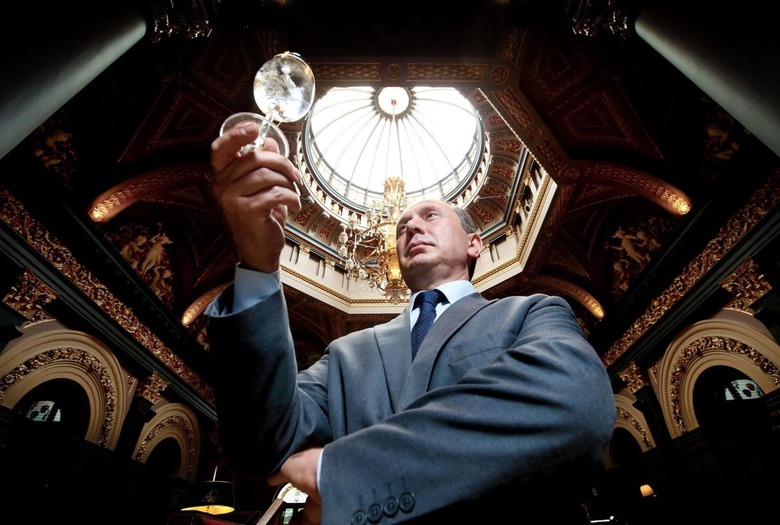 A water butler at the Merchant Hotel
Here's a question for you, dear Food Republic readers: Would you spend $40 for a 750-ml bottle of water? No? Not a chance? Not even if it was from the Canadian Arctic?
Just don't tell any of that to the Merchant Hotel in Belfast, Ireland, which just announced its new water menu featuring the $40 Iceberg and other H2O delicacies originating from volcanos and 15,000-year-old springs, according to The Belfast Telegraph. These waters — served, naturally, by water butlers — are treated like fine wines, each focused on source location, mouthfeel and flavor. We've reprinted some of the Merchant Hotel's menu below for your enjoyment.
This bottle of melted ice will cost you $40.
"It's all about giving customers a choice if they want it," states the Merchant Hotel's Facebook page. And here we were, thinking that sparkling and still were more than enough options.
"And of course, if you don't want to splash out we can still offer you a glass of 'Belfast water,' free of charge," the Facebook post continues. What a relief!
Should you not want to travel across the pond for your obscenely expensive iceberg water, Ray's and Stark in Los Angeles also has a full menu of high-end water, ranging from $8 to $20. And no, those are prices aren't affected by the drought.
The Merchant Hotel Water Menu
Iceberg, Still: Canadian Arctic Ice shelf Newfoundland – £26.45 ($41.29) 750 ml Btl
In the Canadian Arctic, the snow froze and compacted into enormous glacial walls, sheltered from all impurities from the outside world. Thousands of years later, the ice is considered to hold the purest water on earth. The water has the lowest mineral content of any bottled water, resulting in a smooth and neutral taste. TDS 9mg – Sodium 1.5mg – Magnesium 0.4mg – Calcium 0.7mg
De l'Aubier Maple Sap Water: Canada – £15.50 ($24.19) 750 ml Btl
This is the only water of its kind in the world. A still water of vegetal origin made from maple sap. Through the biological phenomenon of osmosis, it rises to the tree's branches during the night and flows back to the roots during the day. TDS 260mg – Sodium 2mg – Magnesium 2mg – Calcium 2mg
Borjomi, Sparkling: Georgia – £13.95 ($21.77) 500 ml Btl
This is the purest glacier water from the Bakuriani mountains and originally from the factory of Grand Duke Mikhail Nikolayevich Romanov in late 19th century. Due to unique mineral complex of volcanic origin found in Borjomi this naturally sparkling mineral water promotes immunity and aids the digestive system. TDS mg – Sodium mg – Magnesium 50mg – Calcium 100mg
Whitehole Springs, Still: UK Mendip Hills Somerset – £4.95 ($7.73) 750 ml Btl
At over 15,000 years old, Whitehole Springs are the only Tufa springs in Europe. Tufa, a coral-like substance, is formed from the high levels of calcium as the water flows from deep within the ancient Mendip Hills, Somerset. The still water is soft on the tongue and slightly sweet in taste. It is also very refreshing, just as a mineral water is expected to be. TDS 332mg – Sodium 6mg – Magnesium 6mg – Calcium 110mg