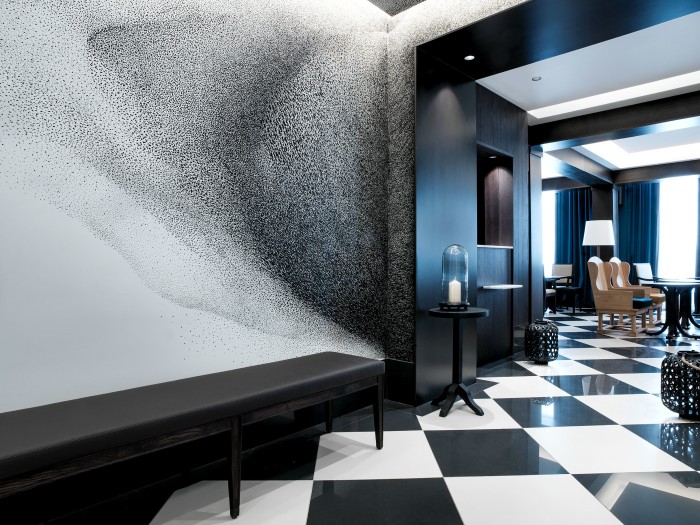 In Hungry Concierge, we travel the world to spot hotels that operate with their guests' food and drink needs squarely in mind — hotels, both big and small, that are located in neighborhoods rich with bar and restaurant options. Because there's nothing worse than having your trip derailed by crummy room service.
It's been said that in Paris, Old World luxury has and always will be available. Lately, the city's 9th Arrondissement has seen a breathtaking surge in hotel and restaurant openings seeking to satisfy the wishes of an increasingly demanding clientele. And traditional amenities — a restaurant here, a spa there — have been traded for superior design, intuitive service and better value. Few places understand this better than the Chess Hotel, where I stayed for a weekend in May as the city was heating up for summer.
The hotel is situated minutes from the city's thrumming Opera district, but its discreet address on Rue du Helder is part of the initial attraction. Having started life as a fort, the quiet street has been immortalized in the writings of both Balzac and Dumas. Now the street is a quiet haven from the crowds thronging the Opera and nearby Galeries Lafayette. Unusually, the hotel's lobby is found on the second floor, and upon entering, the scent of herbs and lavender breezes through the corridor toward an elevator that whisks you up to reception.
During check-in, the accoutrements of a high-end hotel are evident: curvaceous, handcrafted chairs, finely primped orchids and plush sofas. However, the interiors from design mavericks Patrick Gilles and Dorothée Boissier are a cut above. Having lent their expertise to NYC's Baccarat hotel, these designers are on something of a roll, and the Chess represents the first hotel in their hometown. Rigorous lines collide with spatial lightness, and despite the chic monochrome and surplus of sexy, dark timber, the visual effect is both welcoming and spacious.
While the hotel doesn't have its own restaurant, ample breakfasts are served in the mornings — think freshly baked breads and pastries, cured meats and chocolate beignets. Tipping a hat to the revival of afternoon tea across the English Channel, quiet afternoons are perfect for a selection of sweet treats and soothing Mariage Frères teas, ideal if you need to swing back to the hotel for a quick costume change and pick-me-up. Staff members are both charming and unfailingly helpful, and our desk concierge was more than happy to chat about his favorite neighborhoods as well as the best bars to watch soccer.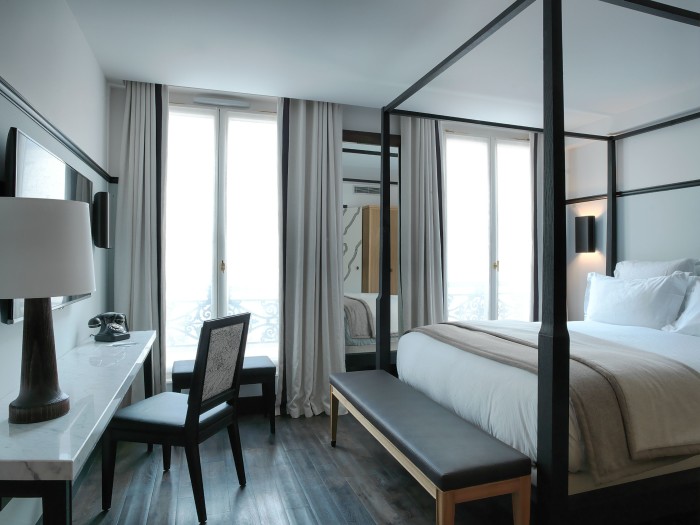 The Rooms
As with most boutique hotels, the rooms aren't large, but the execution and attention to detail means you'll be unlikely to care. I collapsed on my deluxe room's four-poster bed and was tempted to spend more time inside my room than out of it. Plush linens and a few thoughtfully chosen pieces of vintage furniture add lightness and offset dark, brooding woods. Cool, tactile materials like white Carrara marble emphasize the rooms' opulence, while bathrooms are equally stylish and feature a riot of tiles and patterns. Notably, the hotel's master suite offers evocative views of the neighborhood's rooftops, as well as the Opera Garnier.
The Look
The hotel's ownership, La Compagnie Hôtelière de Bagatelle, struck gold when it hired designers Gilles and Boissier to create the Chess's rooms and communal spaces. Given carte blanche, the duo imagined a beautifully understated space that's as inviting as it is gorgeous to behold. Contemporary details, from brass railings to the royal blue complementing the lobby's black and white, elevate the space, while murals from local artists reflect the creative spirit of the city. A striking owl makes a statement in the lobby, while gentle botanical line work adds a gentle lyricism to the hotel's bathrooms and courtyard.
The Neighborhood
The 9th is already known as a heavy hitter in terms of shopping and culture, and the area is also an outstanding location for a great night of eating and drinking. Of the numerous new bistros and other fashionable hangouts that have opened in the area, Juveniles stands out for its service and wine selections accompanying the tiny wine bar's accomplished plates of unfussy French dishes. Meanwhile, Gregory Marchand's Frenchie To Go serves premium takes on relaxed American and — gasp! — British comfort classics like Reuben sandwiches and fish and chips, offering a casual alternative to his always-slammed flagship. A brief walk up the hill to the rue des Martyrs offers simpler pleasures. Arnaud Delmontel reliably turns out one of the best baguettes in the city, and further up the road, the boutique of Sébastien Gaudard proffers artisanal-style pastries and a formidable lemon tart. For those insisting on a tasting menu without the fuss (or lines), Les Affranchis on rue Henri Monnier offers an excellent set menu that blends premium ingredients, creativity and lightness of touch in relaxed surroundings. The veal with pureed potatoes and a silky Bordeaux will stay with you long after you've left the easy charms of the 9th.
The Chess Hotel
6 Rue de Helder, 75009 Paris France
thechesshotel.com
Rooms start at $322