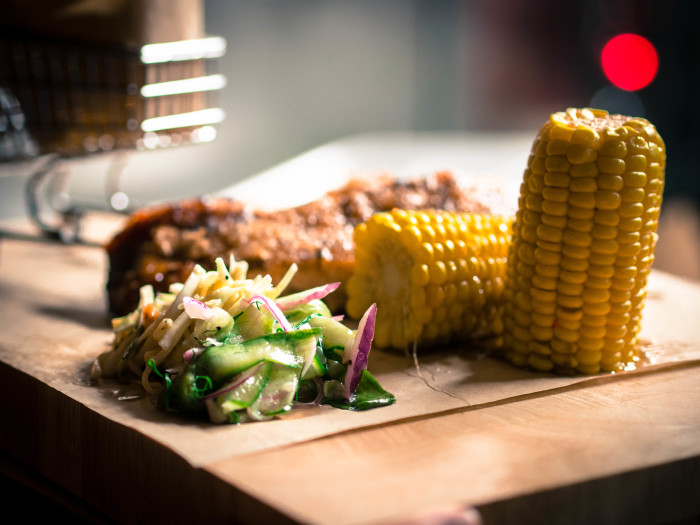 Near the old Jameson whiskey distillery in the northwest corner of Dublin, Ireland, a distinct aroma now permeates the condo-filled neighborhood of Smithfield. It's not a boozy odor — no actual distilling has taken place here since the 1970s. We're talking about the sweet, smoky scent of burning wood and the heady perfume of slow-cooked meats.
Just off the central square in Smithfield is My Meat Wagon, a cozy little rustic-looking restaurant, outfitted with wooden crates, burlap sacks, corrugated metal and an authentic American-made Ole Hickory smoker, which turns out some mighty fine dry-rubbed beef ribs and brisket. "The rub we use is rock salt, cracked black pepper, paprika, plus one or two other secret ingredients," says owner and pit master Donal Cahill.
It seems an unlikely setting for this sort of Texas-style barbecue, located nearly 5,000 miles from Austin, the capital of the Lone Star State (and, some would argue, the world capital of smoked meat in general). Then again, the American meat-smoking tradition has been spreading to some unlikely places in recent years, branching out from its traditional rural and Southern U.S. trappings to become a wholly American style of cuisine with defining regional differences — even establishing footholds in cosmopolitan centers like New York and Los Angeles.
Many major European cities, too, now offer their own odes to American-style barbecue, complete with the proper woodsy decor, bourbon-spiked drinks served in Mason jars and meat served on trays. In Paris, there's the Beast. In London, there's the Joint, as well as many others. It's a stunning reversal from the way that many esteemed Europeans used to look upon American cooking, such as it was — with disdain. For decades, American food was generally viewed as massive portions of heavily salted slop, made with canned, frozen or highly processed ingredients. Now it seems that Europe is in the throes of a barbecue-driven enlightenment, with the ancient and wholesome method of cooking fresh meat over a real fire making it OK for even the stodgiest Old World curmudgeon to finally accept food from the New World as legit. Some operators go so far as to emphasize the American influence in their marketing. The Smoke Ring in Rome bills itself as a "traditional American smokehouse." Likewise, Chicago Williams in Berlin trumpets its "American home cooking."
And now, with My Meat Wagon, this growing European infatuation with smoky American flavor has taken root in Dublin, a traditional meat-and-potatoes town — albeit not this particular kind of meat. "Nobody was really doing it," says chef Cahill. "There's something authentic about literally just cooking meat and giving it a nice rub and trying to cook it to the best of its ability."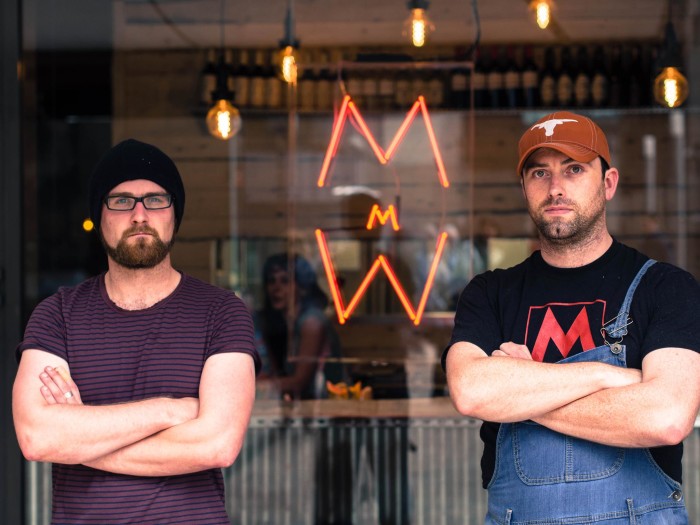 Born and raised in the Portmarnock area of Dublin, Cahill knew from age 14 that he wanted to have a restaurant of his own. He started as a dishwasher in restaurant kitchens, eventually attending culinary school at the Dublin Institute of Technology. After graduation, he cooked in kitchens in and around Dublin with a brief stint in New Zealand. It became clear that he wasn't going to save enough cash to open a place of his own on a chef's salary, so he took a job as an auto salesman for three years. To keep his kitchen skills sharp, he sold burgers out of a little van at weekend food markets and private events.
With some of the money he saved, Cahill went on an epic meat pilgrimage to unlock the secrets of American barbecue with friend and current pit master Cian Mchugh. "A lot of the inspiration came from places we saw on the road from Chicago down to Texas and New Orleans," he says. "From working in the different pits along the way, we came up with our own rub, took a little bit from everywhere." Among the many stops, Cahill visited critical favorite Franklin Barbecue in Austin, Texas, which he says is absolutely worth the hype and the long lines.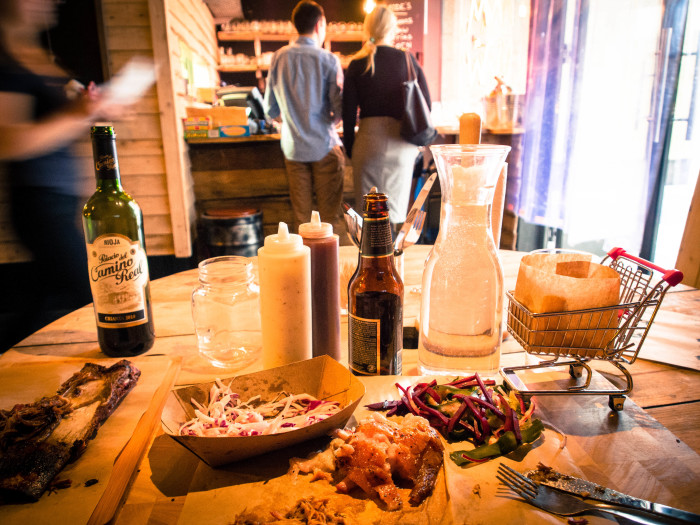 Smoking meats the American way might seem like a distinct departure from the beef-based stews and potato mashes commonly associated with Irish cooking. But Cahill's interpretation of American barbecue comes with a few local Irish accents as well. Like a true Texan, he smokes with oak, just not the traditional Texas post oak — it's Irish oak, grown in nearby County Wicklow. ("A friend of mine is a tree surgeon there," Cahill says.)
His baby back ribs, meanwhile, are brushed in a sticky, sweet sauce made with indigenous Jameson Irish Whiskey, and the mash at My Meat Wagon is phenomenal. Also, be sure to order the chips (French fries) because they come served in mini shopping carts, which are not only charming but are said to help aerate the taters and keep them crispy on the table longer.
Kitschy but useful — how fashionably American!
My Meat Wagon, Market Square, Smithfield, Dublin 7, +353 1 874 8172