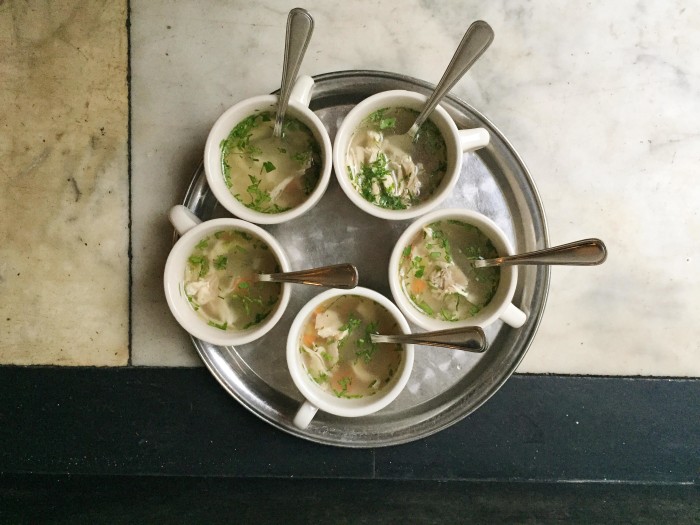 "Free" is a very enticing term, one that takes on a deeper meaning when you're out on the town. There's nothing better than drinks on the house when they're least expected — unless, of course, it's gratis grub. Luckily, night spots across the nation are keeping their kitchens open extra late for the cause, encouraging patrons to hang around a bit longer while they take the concept of hospitality a few steps further.
In Manhattan's West Village, Employees Only serves up the ultimate comfort dish at the time it's needed most: chicken soup at 3:45 a.m. The gesture was inspired by the co-owners' time in the Balkans, where a rustic bean and bacon soup is doled out to patrons after many hours of drinking. Chef Julia Jaksic lightens up her take a bit, creating a chicken soup with pulled poultry and mirepoix in a broth spiced with anise, cloves, cinnamon and cardamom. Though the team has been offering the dish since the place opened 10 years ago, Jaksic says that patrons still go moony for it. "These people have usually been at the bar drinking for two or three hours, so to watch their faces when the soup arrives is always amusing," she says. "They initially think they're getting another shot from the bar, and then it's very primal — like, 'Oh, my gosh, broth!'" The soup has become such an integral part of the operation that the crew never skips a night, and the nightcap nosh even made the cut for the Employees Only cocktail cookbook, Speakeasy. Fittingly, it's the last recipe of the book. "It's a thank-you and a farewell token, and our way of saying, 'We hope you get home safe,'" explains Jaksic.
A nice gesture, to be sure, but does it make good business sense? Bars and restaurants operate on notoriously thin margins, especially in New York, where the rent alone can sink a place. That's why late-night freebies tend to veer toward the inexpensive comfort-food category. You'll notice, for instance, they're not giving away hand-cut steak tartare or bone-marrow poppers in the wee hours at Employees Only. "The chicken soup is a pretty low-cost item that we absorb the cost of," says Jaksic. "It's really about the gesture of giving something away to those who made it to the end of the night…. It's our philosophy and who we are as a company, so the benefit far outweighs the cost of what we're giving away."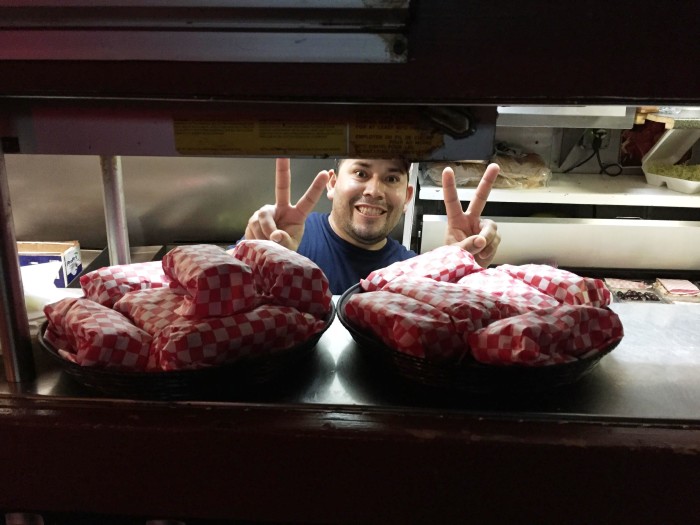 While Employees Only sends its patrons off with a full belly, the Pour House in Boston has a reputation for reeling them in specifically for that purpose. Red Sox post-gamers flood into the sports bar for ballpark-style hot dogs that are served nightly at 1 a.m. The nearly 30-year-old bar started serving the dogs in 2008 as a way of taking care of its customers and ensuring they catch up to their alcohol intake during a rowdy evening. "People get psyched, especially if they want food after our kitchen closes and they find out that we have free hot dogs," says manager Jessica Domaingue. "People will come in, too, and wait until 1 a.m. for them." Those people have the right idea — the foil-wrapped franks, which accompany any drink purchase, easily run out by 1:15 a.m. on a busy night.
The pie-inclined can find the same type of dish-for-drink deal at Crocodile Lounge, a DJ-scored bar with locations in NYC and Chicago that serves up individually sized pizzas with every — that's right, every — drink order, making it a one-stop shop for revelry-induced cravings. Adesso in Oakland, California, ups the happy-hour ante with its binightly aperitivo hour, when flatbreads, burrata and pâté are provided with a glass or two from the house's heavily Italian wine list.
And then there's dessert. Chicago's Scofflaw offers complimentary mugs of hot chocolate to shivering patrons who line up outside the venue in frigid winter temperatures. "We appreciate that people are waiting and braving the cold, so it's a little thank-you and acknowledgment of their patience," says co-owner Danny Shapiro. That accommodation continues inside, where, come midnight, platters of homemade chocolate-chip cookies circulate around the bar. "The inspiration was based on our love of hospitality and on being able to offer something to make people feel at home," says Shapiro. "It's a comfort, and above all else, we want people to feel comfortable in our place."
Employees Only, 510 Hudson St., New York, NY, 212-242-3021; employeesonlynyc.com
The Pour House, 907 Boylston Stl, #21, Boston, MA, 617-236-1767; pourhouseboston.com
Crocodile Lounge NYC, 325 E. 14th St., New York, NY, 212-477-7747; crocodileloungenyc.com
Crocodile Chicago, 1540 N. Milwaukee Ave., Chicago, IL, 773-396-4931; crocodilechi.com

Adesso, 4395 Piedmont Ave., #2, Oakland, CA, 510-601-0305; dopoadesso.com/adesso
Scofflaw, 3201 W. Armitage Ave., 773-252-9700; scofflawchicago.com