Where To Eat Incredibly Well In Portland, Maine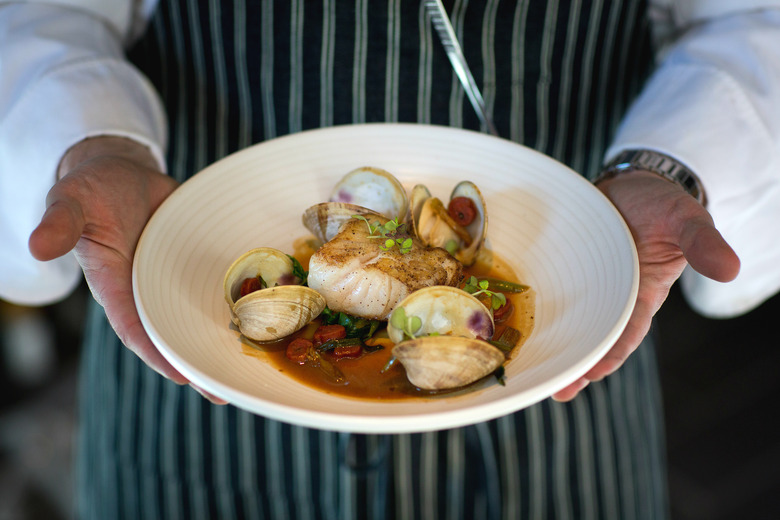 Union's cod is accompanied by tender littleneck clams and salty-sweet Chinese sausage slices.
During the summer months, Portland, Maine, is as irresistible as a destination gets. The weather is comfortably warm, with low humidity. The skies are crystal-clear, and the water is, well, right there. Aside from the postcard-perfect backdrop of the city and its natural surroundings, there's plenty of good eating to be done.
Here, I share five restaurants — including a sleek new hotel, should you need a place to lay your head — you've got to check out during your next visit to the beautiful costal city. Travel tip: Since the summer is Portland's busiest time of year, reservations are recommended. And if the restaurant doesn't take reservations, then come early or late. Either way — and obviously — always come hungry.
Union
Located off the lobby of the newly opened Press Hotel — it was formerly the Press Herald building, hence the name — Union is the chic and versatile restaurant this dining-minded destination needed. In the morning, the cheery and light-filled space is perfect for hosting power breakfasts or for a more leisurely start to the day. There's no shortage of hearty salads and sandwiches come lunch, but the house "upper exchange lobster roll" refines the beloved local specialty with citrus mayonnaise, fresh chives and an artisanal bun. It's a sublime example of what chef Josh Berry is all about: "enhanced local cuisine that's left of center, and a little different." At dinnertime, dive into one of Berry's seafood dishes, like the pillowy ricotta gnocchi, which is finished with handpicked lobster and Connecticut River shad roe "for an unexpected hint of ocean." Hungry for more? The popular roasted Casco Bay cod is firm and meaty and accompanied by tiny, tender littleneck clams and salty-sweet Chinese sausage slices. 390 Congress St.; thepresshotel.com/union
Lolita Vinoteca + Asador
This cozy Mediterranean-inspired spot in the up-and-coming neighborhood of Munjoy Hill has been crowded since opening last summer. The secret to its success is straightforward: Build a menu mostly around crowd-pleasing small bites and snacks of exceptional quality so that guests can snack or feast as they please. The charcuterie and cheese offerings are brief but well edited, ranging from paleta iberica, a prized Spanish shoulder ham, to Lakin's Gorges Prix de Diane, a local soft-rind cheese paired with honeycomb. There are also simple pleasures, like toasts and spreadable pots; the harissa-laced Spanish sardine is especially addictive. The kitchen's centerpiece, a custom-designed wood-fired oven, lends depth and swagger to Lolita's larger plates. "Aïoli" comes with a gorgeously charred assortment of seasonal vegetables, while the restaurant's pièce de résistance, the "bistecca," features a massive, sizzling porterhouse that feeds three very hungry diners. 90 Congress St.; lolita-portland.com
Vinland
If eating seasonally and locally is of serious importance to you, you need to meet David Levi, the chef and owner of Vinland. Even before opening his hyper-locavore restaurant via a Kickstarter campaign, Levi set off ripples through the Portland community with a 19-point Vinland Manifesto, in which he exhaustively outlined his goals. Because he is strict about using ingredients sourced from Maine, you won't find a trace of standard kitchen staples like pepper, vinegar, lemon or olive oil in any of his cooking. And if you think the food will be compromised or lacking in any way, think again. The artfully and thoughtfully composed plates — thanks to Levi's internship at Noma and graduate degree in poetry — aren't only visually stimulating. "I'm not trying to do anything too conceptual," says the chef. "I just want my food to be hearty and comforting." And if you're sensitive to gluten, you're in luck. All the menu items, even though they're changed frequently, are gluten-free. 593 Congress St.; vinland.me
North Carolina pork, Texas brisket and St. Louis ribs are all smoked over Maine oak at Salvage BBQ. (Photo: Matthew Robbins.)
Salvage BBQ
For Jay Villani, who also owns two other beloved local spots, Local 188 and Sonny's, the reason for opening a barbecue joint was simple: "No one else in the area was doing it right." And by "right," he means several things. The space, which used to be an architectural salvage garage, feels slightly raw (exposed ductwork and ceiling beams) but warm and welcoming (long communal benches). As for the meat, Villani and his team "don't cut corners." The smokers were built from scratch out of old propane tanks, and every slab of antibiotic- and hormone-free meat, from North Carolina pork to Texas brisket to St. Louis ribs, is slowly smoked for hours over Maine oak. "It provides lighter, cleaner and less acrid smoke," explains Villani. All the side dishes are vegetarian (even the collards), flavorful and filling, so no eater will feel left out. For more good times, stick around for live music on weekends and free bingo on Sunday nights. 919 Congress St.; salvagebbq.com
BaoBao Dumpling House
What goes well with late-night drinking? That's right: late-night eating. But for one reason or another, Portland restaurants shut down on the earlier side. That's where Bao Bao, a lively dumpling and snack joint owned by 26-year old chef Cara Stadler, comes to the rescue. (Thankfully, it's open until 11 p.m. on weekdays and 1 a.m. on weekends.) While the late-night menu is short, it's easy on the wallet (the most expensive item is $8.08) and hits the spot (especially with a few rounds of drinks). The black-vinegar peanuts — a popular snack food in Beijing — are what to order immediately. They'll arrive at your table in minutes flat and help curb the initial discomfort of drunken munchies, or "drunchies." (You know what I'm talking about.) Whether you take the much-talked-about Northern Chinese lamb and peanut dumplings boiled or fried, they'll satisfy with their earthy, gamey filling. If all this sounds appetizing, terrific — try dropping by earlier, when the menu is much longer and packed with even more savory snacks. 133 Spring St.; baobaodumplinghouse.com