Rock And Rye Might Be Chicago's Cocktail Of The Summer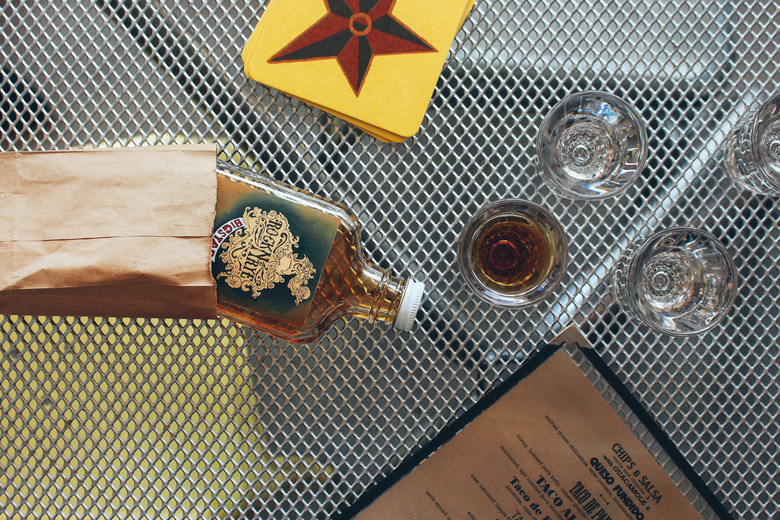 Rock and rye is being made in-house at Chicago favorite Big St
Even on weekday afternoons, the patio at Chicago hangout Big Star swells with revelers eating tacos al pastor and draining pitchers of margaritas. But now that beverage director Laurent Lebec is making from-scratch rock and rye, there's another reason to play hooky in Wicker Park.
Big Star — part of the well-known One Off Hospitality Group's collection of restaurants — just unveiled Lebec's concoction, available in both $4 shot and $20 half-pint flask forms. Last year saw the reprise of rock and rye, a 19th-century phenomenon that purportedly cured maladies with its mix of rye whiskey, rock candy, citrus and sugar. Thanks to such stellar modern-day versions as Brooklyn-made Mr. Katz's Rock & Rye from New York Distilling Company, it has made a full comeback.
Admittedly, Lebec hadn't drank much of the historic saloon tipple before experimenting with his own version. "I love whiskey, and some harmonious engagement of baking spice, sweet and citrus was the goal," he explains. "The first batch was esoteric; the second still a little too heady. The third, with dried and candied orange and lemon slices, peach, rock candy and citrus peel, married really well." His five iterations since have all been variations on this Rittenhouse Rye–based recipe, but "when I poured it for my favorite barbacks, our company beverage minds and some friends and got a thumbs up, then it felt good," Lebec says.
Downing one (or, more likely, a few) of these spicy-sweet shots elicits mighty tasty rewards, but sipping the aromatic brown stuff out of a glass flask is an even more clever approach. The label, designed by local artist Kris Olsen, is reminiscent of type-forward Victorian ones of yore and is inspired by the big, red ceramic rooster found in Dove's Luncheonette, One Off's Mexican diner next door. For a communal lair like Big Star, with its "big tables and a huge bar in the middle with speakers all around," as Lebec describes it, the idea of swilling from a flask sounded "raucous and fun. You are shoulder to shoulder with folks often, and we just dug the idea of buying a bottle you could hold, pass the shots around and pocket it without us looking."
Lebec, a longtime musician (he is a founding member of the post-metal band Pelican), likens the resuscitation of rock and rye to the "quest, discovery and celebration of a new artist. It's jubilant to look to the past and dig up and reintroduce something buried and dusty that maybe deserves a closer look."
It was important, Lebec points out, for the rock and rye to flaunt "muscle, like what you would want to drink the first time you hear Merle Haggard's 'Honky Tonk Night Time Man.'" We wonder which tune he'll equate with the forthcoming autumnal rendition.
Big Star
531 N. Damen Ave.
Chicago, IL 60622