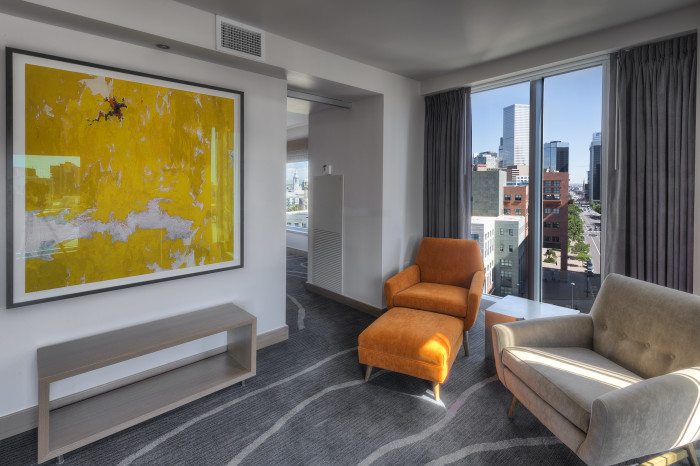 In Hungry Concierge, we travel the world to spot hotels that operate with their guests' food and drink needs squarely in mind — hotels, both big and small, that are located in neighborhoods rich with bar and restaurant options. Because there's nothing worse than having your trip derailed by crummy room service.
There is no insufferable small talk with strangers in the elevator ride up to my room at the ART, but there is an avant-garde video of artist Lars Kremer distorting his boxer-clad body to fit into those retro poses made famous by Old Masters. On the way back down for a peppercorn-spiked Tom Collins, the other elevator serenades me with the sounds of the Archie Bronson Outfit while Oliver Michaels's untraditional split-screen sculpture videos flash before me. As I walk to the bar I stop in my tracks, hypnotized by Edward Ruscha's Industrial Strength Sleep, a mammoth-size tapestry that reinforces how a deep, comforting slumber awaits those who, unlike myself, do not spend their nights in a perpetual state of anxious thought-fueled tossing and turning. Lucky them.
Paintings and sculptures permeating a hotel is not a novel concept. Consider the burgeoning portfolio of contemporary-art-filled 21c Museum properties. The ART, however, which opened in Denver's culturally rich Golden Triangle neighborhood in June, doubles as an intimate contemporary museum. Here, guests are greeted by affable bellmen before being struck by minimalist icon Sol Lewitt's vivid Wall Drawing #397, Frank Gehry's trippy mid-1980s Fish Lamp and a wall dotted with Mary Ehrin's seductive Molten Meterorites fashioned from metallic leather. More than 40 artists get the limelight at the hotel, including such bigwigs as Kiki Smith and Claes Oldenburg. Their creations meld beautifully with imaginative pieces like Bottoms Up, Joel Otterson's chandelier crafted from vintage glassware; Sean Landers's tartan-swathed bear in Some Choose to Believe It; and Vietnamese-born Dinh Q. Lê's woven floral triptych. Visual excitement even brightens corridors, meeting rooms and the fitness center, making the ART a destination for all art aficionados, including those who aren't spending the night curled up inside one of the orange-accented guest rooms.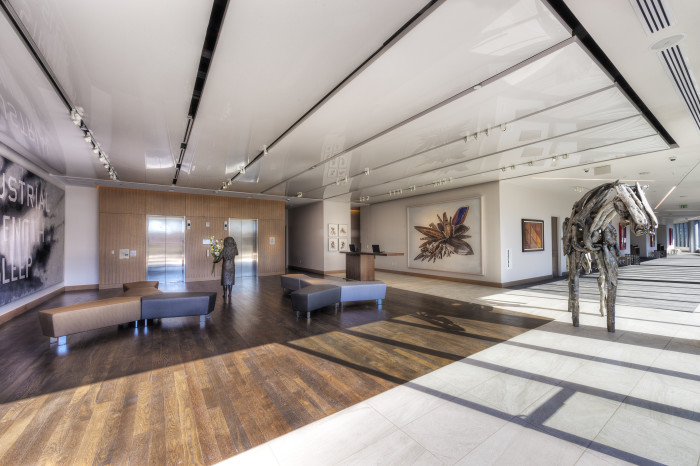 Another reason the ART is worth seeking out sans room reservation is the fourth-floor FIRE, a surprisingly solid addition to Denver's creative culinary landscape. Executive chef Chris Jakubiec, an alum of Plume in Washington, D.C., turns out dishes like an on-point black parmesan risotto and the state's famed lamb accompanied by raspberry and pistachio, all heightened by the backdrop of Larry Bell's oversize Mylar-and-metal installation Light Knots. The adjacent terrace, complete with fire pit, is where locals will want to convene until the bar's last Smoked Manhattan of the evening is stirred.
The Rooms: Each one of the hotel's 165 rooms — naturally flaunting artwork — is spare, tricked out in soft woods and colorful duvets. Cool marble, voluptuous tubs, peekaboo glass showers and Gilchrist & Soames toiletries are found in the commodious baths. Some of these light-filled retreats promise staggering views of the Rocky Mountains. Throwing back the blackout curtains and waking up to such natural beauty is well worth the upgrade.
The Look: For years, Denver had been high on my hit list. There was stellar food, on-the-rise neighborhoods like RiNo encapsulating edgy urban development and an impressive arts scene. The architecture geek in me was also thrilled to take a gander at Michael Graves's Central Library and Daniel Libeskind's geometric extension to the Denver Art Museum. The ART, designed by local firm Davis Partnership Architects, fits right in with those storied buildings.
As its name suggests, the hotel boasts as its centerpiece a world-class art collection, curated by the quirky and stylish Dianne Vanderlip, who once lent her savvy to the nearby Denver Art Museum. Vanderlip's keen eye ensures sophisticated but animated settings at every turn. For example, Rob Reynolds's otherworldly cloud captured in Continental Divide calmed me every time the elevator doors flung open to my ninth-floor hideaway.
The Neighborhood: Guests drawn to the ART will undoubtedly relish the close proximity to museums, including the History Colorado Center, where the nostalgia-inducing Toys of the '50s, '60s and '70s exhibition is on display through October 4. Diners who fancy pristine charcuterie plates may stroll over to Charcoal and a first-rate local brewpub, Lowdown Brewery + Kitchen, is a short ten-minute walk, but most of Denver's can't-miss dining and imbibing lairs are just a quick and cheap Uber ride away. Wander through the Source, a one-time brick foundry building, for crispy sweet potatoes and burrata at Acorn and Belgian-inspired ales at Crooked Stave. Devil's Food Bakery & Cookery is a homey breakfast spot for smoked pulled-pork huevos rancheros and sprinkle-studded confetti cookies, and the the Populist, which would fit right in in Brooklyn's Williamsburg, is where to devour sweet corn agnolotti in a dreamy garden. While there is no better place in the city to sip a cocktail than Williams & Graham (the Jugo Verde with tequila, green Chartreuse, pineapple, lime, cucumber and green peppercorn tincture is one savory beauty), a nightcap at Union Station, where Amtrak trains glide in and out of this revamped 19th-century marvel, is essential. Playing pool underneath soaring arches in between nips of whiskey from Terminal Bar is alluring utilitarianism at its best.
The ART Hotel
1201 Broadway St., Denver
thearthotel.com
Rooms start at $289