How To Make A Bottled French 75: The Ultimate Picnic Cocktail Move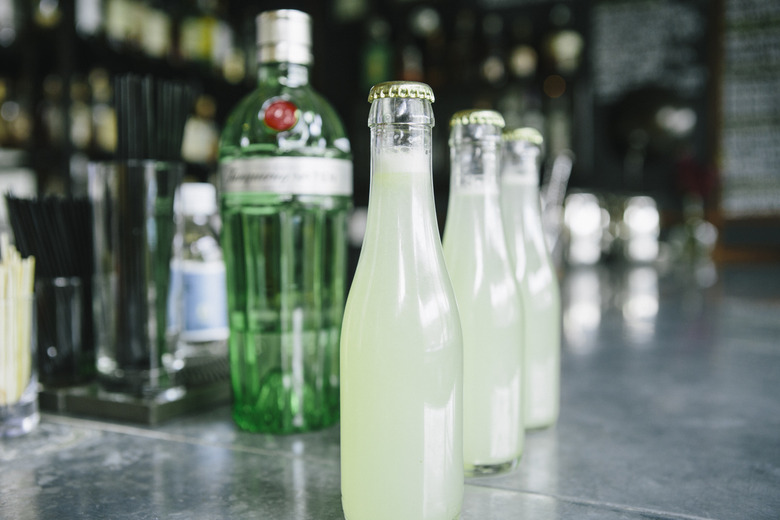 "I'm not bringing Negronis on this outing. We're eating food and enjoying the sunshine, not getting day-wasted on spirit-driven cocktails. That's a rookie move." (Photos: Alicia R
We may receive a commission on purchases made from links.
Jeffrey Morgenthaler is Food Republic's contributing cocktail editor and the author of the column Easy Drinking. He currently manages the bars Clyde Common and Pépé Le Moko in Portland, Oregon, and is the author of The Bar Book: Elements of Cocktail Technique.
You know what I'm not ashamed to admit? I'm a guy who loves a summer picnic. I know that the word conjures up images of, well, girls, mostly. Frolicking in summer dresses and eating little cucumber sandwiches with the crusts cut off, drinking pink wine and sitting on flowery little blankets. But I can't help it; I love everything about it. It's food, it's drinks and it's sunshine. What could be better? Personally, I think the word has gone soft and that we need a better, more masculine word than "picnic," but until one comes along I'll stick with it.
Naturally, I want to bring an alcoholic beverage to the picnic. Beer sucks — we all know that. You have to pack a cooler with ice because nobody in America wants to drink a warm beer, and it's all heavy and stuff. Screw beer. Wine is a natural choice, but since I'm the bartender in the group, everyone is counting on me to show up with something a little more creative. So I end up making cocktails on my day off. But what to make?
Listen. This is a picnic. It's got to be light and refreshing. I'm not bringing Negronis on this outing. We're eating food and enjoying the sunshine, not getting day-wasted on spirit-driven cocktails. That's a rookie move.
Let's talk about the French 75. It's kind of the perfect drink for a summer picnic. It's got a touch of gin, some fresh lemon juice, a little sugar, and some sparkling wine. Doesn't that sound awesome? Now that we've decided on the perfect picnic drink, let's make it a little more interesting. I'm going to carbonate the whole thing and bottle it in individual bottles. First, we're going to make enough for eight people and chill it:
French 75
8 oz. gin
8 oz. fresh lemon juice
8 oz. 1:1 simple syrup
16 oz. unoaked Chardonnay
8 oz. water
1. Combine ingredients and chill for at least one hour.
You might be looking at this recipe and wondering why we're not using sparkling wine. Well, you're certainly welcome to, but what's the point? We're going to be carbonating the whole thing anyway. And my inflammatory statement of the week is this: Blanc de Blancs Champagne is little more than carbonated Chardonnay anyway. Ahem.
I have a carbonation system at home that I'm absolutely in love with, and if you're serious about making cocktails at home, I suggest you get one for yourself. I've written detailed instructions and a shopping list here.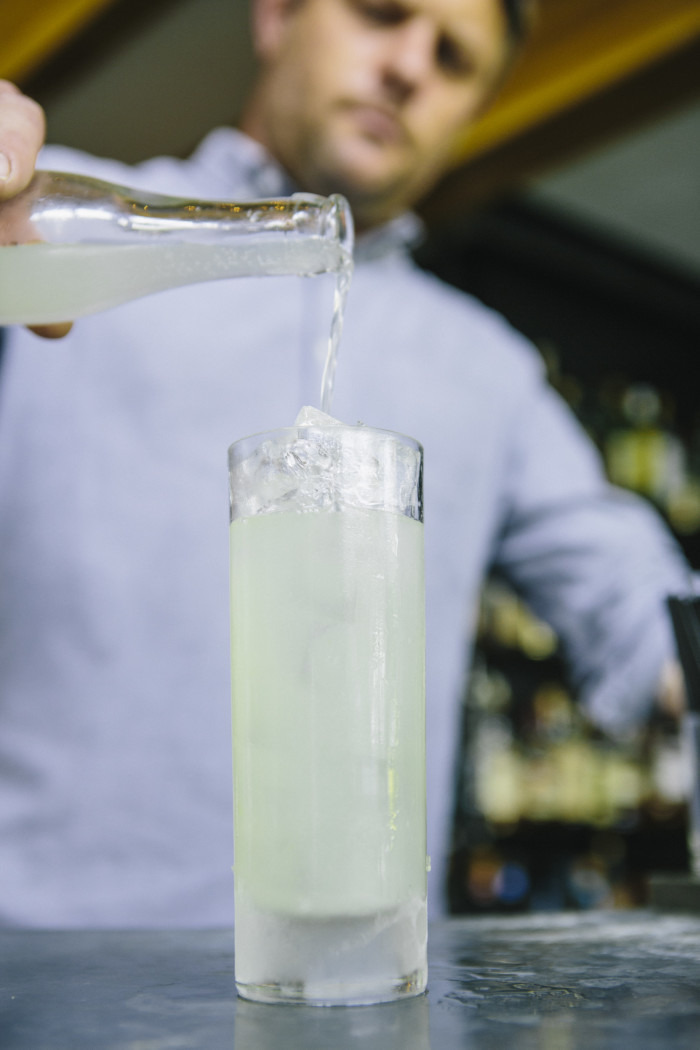 The author pouring a bottle French 75 over ice
They're only around a hundred dollars to make and are indispensable for carbonating cocktails, but I use mine to carbonate water every day. You won't catch me spending five bucks on the exact same thing with an Italian label ever again.
In batches, I carbonate my well-chilled French 75 in a plastic liter bottle and carefully transfer the finished product into eight 187-mL champagne bottles, or four 12-oz. beer bottles. I can then cap them with my handy bottle capper and transport them to the picnic. There is nothing better.
I use my carbonator all year round. I show up with bottles full of sparkling, bittersweet Americanos in the early fall, bubbly, spiced punch in the winter, and non-alcoholic sparkling lavender lemonades in the spring. It's a simple way to take drinks to the next level.