A Simple Guide To Sustainable Seafood: The Myths, The Truths, The Apps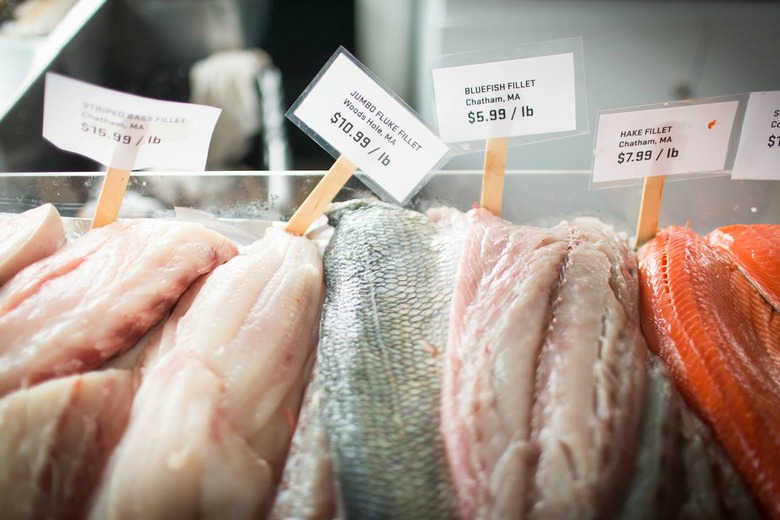 Transparency is a big part of the mission at Greenpoint Fish & Lobster Co. in Brooklyn, where every piece of fish is advertised as "sustainably sourced." (Photo: Vicky Was
Never before have Americans been so self-conscious about their seafood choices, and with good reason. Health-wise, we know we're supposed to eat more fish. Socially and ethically, though, we know we should only eat certain kinds, lest our daily supping further contribute to the coming aquatic apocalypse. Every day, it seems, we learn more about the sorry state of our oceans and all the shady things the global seafood industry is up to — overfishing, mislabeling and so forth. (For more, check out our colleague Christine Haughney's excellent in-depth series on illegal seafood.)
If we have any hope of not making things worse, we need to make smarter decisions at the fish counter — buying only sustainable seafood, for starters. But there is so much information floating around about what makes seafood sustainable or not that it can be difficult to make any decision. Turns out, the hesitation is justified, because figuring out whether eating a particular piece of fish might be detrimental to its species or to the planet at large — or, for that matter, to one's own body — has as many variables as those algebra problems that made your head spin in high school.
In some cities, a few savvy entrepreneurs are making these choices a lot easier, by selling just the sustainable stuff, such as Michael Chernow's new restaurant Seamore's in New York City. But until this approach becomes the industry standard, it's generally up to consumers to navigate the choppy commercial waters on their own.
Not everyone is lucky enough to go fish shopping with a seafood investigator. So what's an eco-conscious seafood eater to do? For the digitally inclined, a good move is to install an app like the Monterey Bay Aquarium's Seafood Watch, a free service offering up-to-date seafood recommendations, with a searchable database and in-depth conservation notes. Also new on the scene is Seattle-based entrepreneur Paul Allen's app, Smart Catch, which rates local seafood-focused restaurants according to sustainability criteria. But even those handy tools have their limits.
To establish some simple guiding principles, we consulted with a few notable seafood purveyors and chefs about the various myths and truths regarding seafood and sustainability. Here's what they advised.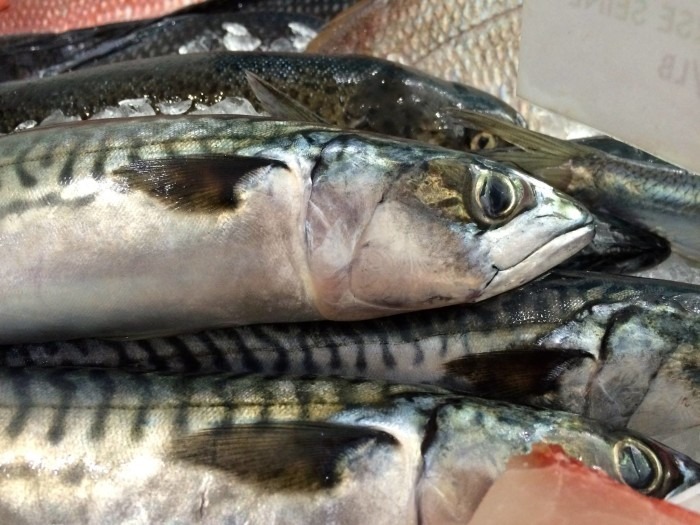 Boston mackerel is among the "fully traceable sustainable seafood" available from Mermaid's Garden in Brooklyn, New York. (Photo: Mermaid's Garden.)
Bianca Piccillo, co-owner of seafood purveyor Mermaid's Garden, Brooklyn, New York:
TRUTH: When in doubt, buy domestic.
"The U.S. has a much better track record than anywhere else in the world as far as monitoring and trying to rebuild their fisheries. Almost by default, if you're buying American, you're buying sustainable. Although there are lots of exceptions, it's a good place to start."
MYTH: Farmed salmon is OK for the environment and our bodies.
"It takes a whole lot of wild foraged fish to produce farmed salmon. It's got environmentally negative impacts. It's subject to incredibly high antibiotic and chemical use because they have terrible infestations of all kinds of disease. They are highly polluting, because it's a bunch of animals in one place and everything they eat and poop goes into the water, in high concentrations. Even the more responsible growers have these problems. And if they're not feeding them wild foraged fish, they're feeding them GMO-grown corn and soy. [On the other hand,] wild Alaskan salmon is incredibly well regulated and in good shape. The Alaskans don't have a lot of resources other than oil and fish, so they were smart enough to keep an eye on things."
MYTH: Frozen seafood is less healthy and less delicious.
"Like vegetables, fish have seasons. The main season for [wild Alaskan] salmon starts in the spring. If you find it in the winter, it has likely been frozen. Eating wild Alaskan salmon off-season is a good choice. It's more affordable when it's been frozen. The facilities in Alaska flash-freeze it, so it's going to be in great shape. Personally, if I'm going to eat it frozen, I'd rather buy it frozen and defrost it myself."
FACT: "Overfished" is not the same thing as "subject to overfishing."
"This is a complicated one. 'Overfished' has to do with the population level right now, and it refers to the biomass — how many cod do we think are in the ocean, and then, is that where we want it to be or is it a fraction? 'Overfishing' is the rate: Are we catching them faster than they can make babies in order to reproduce?" (Pro tip: Make it easy on yourself and avoid both.)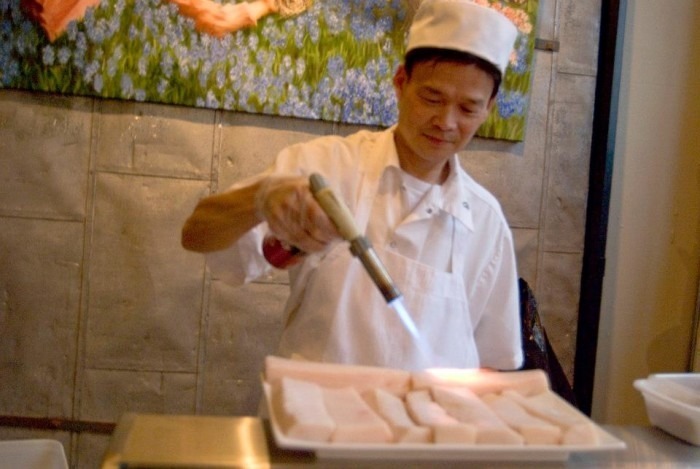 A chef sears white tuna at Mayanoki, a sushi pop-up restaurant in New York that focuses on sustainable seafood. (Photo courtesy of Mayanoki.)
David Torchiano, seafood buyer at Mayanoki, a pop-up sustainable sushi restaurant in Brooklyn, New York:
MYTH: You can tell just by the type of seafood whether it's eco-friendly to eat.
"Location and catch method are the main variables [to pay attention to]. You could get a farmed salmon from Scotland full of antibiotics and farmed in environmentally destructive ways. Or you could get an Arctic char from Iceland, completely sustainable, raised in tanks on the land, not in open water; the water is recirculated so it's minimal use; there's no need for antibiotics because low likelihood of disease infecting the fish. Within the same species, even — uni from Maine versus California. Maine is less ample."
TRUTH: Some species are across-the-board endangered, however, such as bluefin tuna.
"In the 1970s, Japan Airlines was flying back empty from Australia. So, to make money, they brought tuna as cargo, and that's how the tuna craze started. Now, bluefin tuna is on the brink of extinction, and there's no international regulation; it's shady and loose."
Adam Geringer-Dunn, chef and co-owner of Greenpoint Fish and Lobster, Brooklyn, New York:
TRUTH: In terms of sustainability, oysters are a fairly safe bet.
"Oysters have a net positive effect on the environment [because they filter the water around them]; they are totally sustainable, incredibly healthy and delicious. You can eat an oyster in 10 seconds, but it takes a farmer three years to grow. An incredible amount of care goes into each oyster you eat. Savor it!"
TRUTH: The old adage about "so many fish in the sea" applies to more than just your social life.
"People should eat more small fish, like butter fish and mackerel. They mature faster and so are easily accessible. We have also been working with a lot of invasive species, like lion fish, wild blue catfish and snakehead."
George Loren, chef at Captain Kidd's Fish Market & Restaurant, Redondo Beach, California:MYTH: An app is a better resource than your neighborhood fishmonger.
"There are a couple of good rating systems out there, but the word 'sustainable' is like 'organic' now; it means too many things. Really, the best thing is if you can rely on a human. Get to know your local markets and fishmongers. They're the ones who know where the fish are coming from."