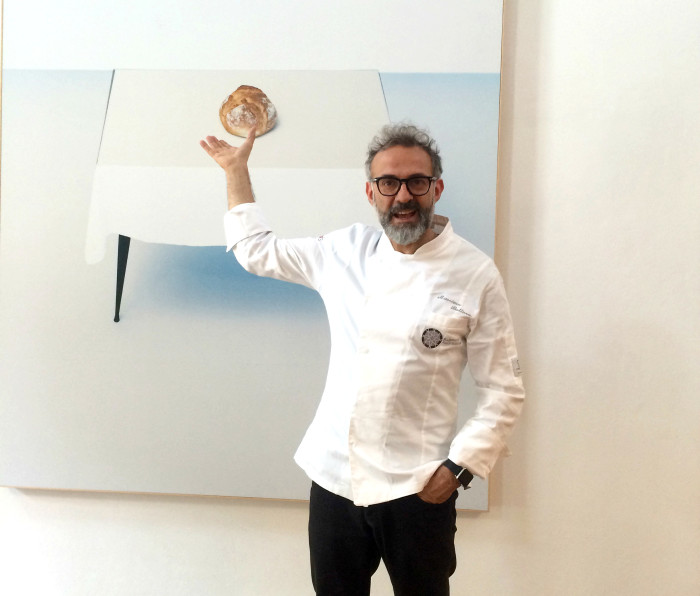 The genius of Massimo Bottura, recently anointed the world's second-best chef, reaches far beyond the avant-garde foams and soufflés on full display at his restaurant, Osteria Francescana in Modena, a small town down the road from Parma in Emilia-Romagna, Italy. On a recent trip to Milan to cover a cooking competition, I had the pleasure and luck of cornering the chef (not an easy task!) for a few minutes of conversation. One day, we chatted about global poverty and the importance of cooking with day-old bread — the topic of a cookbook he's working on. The next day, we talked about the delicate political relations between Japan and South Korea. On another, his longtime fascination with contemporary art, which often leaks into the chef's slightly off-center, though extraordinarily charming, style of conversation (in English, at least).
Here, Bottura speeding along like a brakeless Fiat: "Listen, 15 years ago, I was almost ready to close the restaurant because no one was coming, and I was serving exactly the same plates: five different aged Parmigiano-Reggiano cheese in five different textures and temperatures. What was that? That was an abstract painting of Emilia-Romagna. What is Emilia-Romagna? It is a slow passing of time."
He's talking about his now-famous dish, titled (yes, like a Kandinsky): "Cinque età del Parmigiano Reggiano in diverse consistenze e temperature" ("The five ages of Parmigiano-Reggiano cheese"), in which aged local cheese (24, 30, 36, 40 and 50 months) is presented in various preparations. I've not had the pleasure of tasting the dish (the waiting list for a table at Osteria Francescana is somewhere around 1,800 names), but the cooking is almost secondary. The genius of Massimo Bottura is allying food and art in the most unforced and natural way, and not just with the major collection he's compiled with his wife, Lara Gilmore. There's an Olafur Eliasson in the dining room, and Matthew Barney welcoming your trip to the head. Talking about art can be messy and open-ended, and few chefs I've interviewed have been willing to go there like Bottura. Here, the chef jumps at the opportunity.
You walk into Osteria Francescana and there's an Ai Weiwei piece sitting there. You and your wife, Lara, are avid and inspired collectors. So how important is art to you, and your cooking, at Osteria?
Art is a motivational force. Art is the highest point of the human thought. It can be poetry, it can be visual art, it can be culture, whatever. I've said more than one time that the most important ingredient in the future for a chef is culture, because I can travel anywhere in the world to find out what [is going on] if I have the knowledge of culture to understand it, and to fill my mental palate.
Tell me more about art in general. How do you collect?
Art is becoming so important for us because I'm explaining through art. Think about Capri Battery by Joseph Beuys, the lemon filled in a yellow light bulb. Through the acidity of the lemon, it's giving light to that. To me, he's one of the most important artists in the 20th century. He's a social jester and enormous. Andy Warhol was influenced by him because he was more of a philosopher than an artist.

Marcel Duchamp — do you like him?
Exactly, you got it. Duchamp, Beuys, Warhol. So Beuys was dying for the longest years in Capri, and he was recovering there because of the sun of the isle. He said, "For me, I'm going to recover in a gesture of nature." But it was just a mental recovery, more of a spiritual recovery. So the lemon as a metaphor of the rise of Capri, and you can think about that in "Oops I dropped the lemon tart." The warmth and the yellow from the sun is giving you such a deep and important feeling. So thinking about that is like inspiring in the culture but also inspiring in the flavors.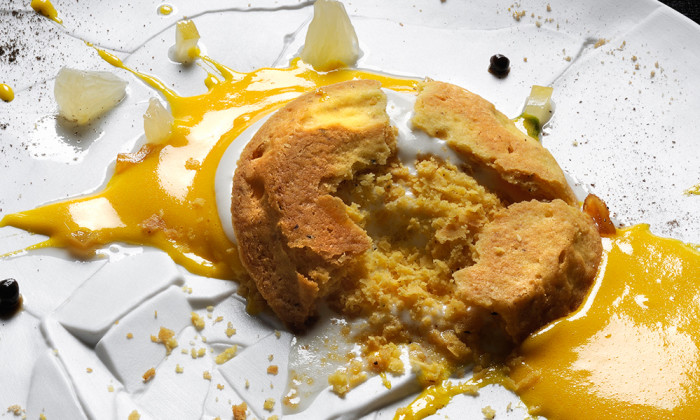 Where do you want to travel? What culture do you want to experience? It seems that you're like a sponge.
Exactly, that's a very important metaphor — I'm like a sponge, and I want to be like a sponge. Because being a sponge means I can travel with my eyes and ears open and I'm absorbing culture. I get contaminated in a wise way, not in a wild way, because I'll never forget where I come from.
So where do you want to go?
I don't know where I'm going. I'm doing things that are suggested by my sense of responsibility, because culture brings knowledge. From knowledge comes open consciousness, and consciousness drives you to the sense of responsibility. So from culture to sense of responsibility you can go everywhere in the world, and you'll do interesting and smart things.
OK, physically though, are there places that you want to visit? [Laughing]
Two weeks ago, there was a woman from Beirut, a journalist. She was crazy about what she had at Osteria. She said, "Please, please, please come to Beirut. I want you there to explain all these things you do at Osteria because you'll be so important for helping the chefs." I said, "Yes, I'm going to come."
She's going to set up an exchange and you're going to meet some chefs?
Yes, because it's very important and Beirut can be very interesting.
OK, let's talk about the rankings. Congratulations, you're at the highest level you have ever been [number two in the world]. Do you think about this through the course of the year? Please be honest.
No, I can be honest. For me, I'm an Italian chef, and the most important thing was the third star Michelin. Because between Italy and France, there's always been a fight over everything. We fight even now. With all the problems we have, they closed the border — we fight over everything.
You fight over who has the best products, too?
Over everything! So being recognized by the French is big. In 2011, I got the best recipe in the world for the Gastronomic Academy in Paris. Even that year, the Michelin was very important. The ranking is a way to be one of the most, not best, but influential chef in the world. In the last six years, we've always been in the five best. So for me, being the five best is something amazing.
How do you achieve this, year after year?
With hard work and cultural stimulation to the brigade that I have. In the moment, we are creating all these dishes like "Oops I dropped the lemon tart" and "Camouflage." All these dishes are like a beautiful psychedelic grill or a spinning painting. But now it's time to change.
You do a full reset?
A full reset. Now we are painting the plates, we are playing with irony, like La Cina è Vicina — China Is Very Near. It's a 1965 movie from Marco Bellocchio. It's just the ironic way to see the first immigrant; they were coming from China.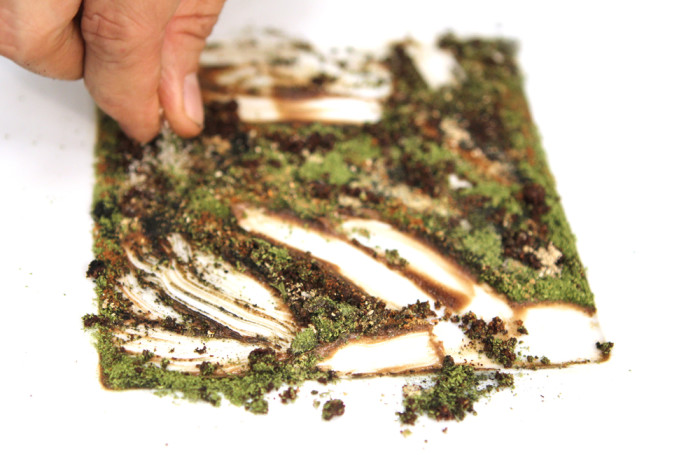 Irony can be delicious, though.
Delicious! An ice cream bar with foie gras. You eat the most snobby dish with the joy of a child!
What's the irony of the foie gras there?
In 1999, I decided to serve a terrine of foie gras that is considered, like the French do, the most snobby dish of international cuisine, cut into an ice cream bar. Then I injected in the heart of the terrine a very old balsamic vinegar that is my production. Then, on the outside, is a nut from northwest Piedmont and almond from southeast Noto. So the spine of Italy, crunchy around the foie gras and in the heart the balsamic vinegar.
The metaphor is strong.
And you eat with the joy of a child.
Let's talk about people coming to your restaurants. Is it difficult to get into your restaurant? Is there a long waiting list?
1,800 tables.
And you do like 12 tables, right?
Yeah, but what I'm doing, I cannot get all those tables because we're going to fill all through 2016. So we open [by months]. So we're fully booked through October, and the first of July will be open the month of November. In one day, it'll fill. So keep the waiting list short, keep the visiting time short — it's much easier to fight against the no-show. And that's the biggest problem in gastronomy right now, especially for a restaurant like ours, that is 12 tables in a downtown.
So why do you do this?
It's not about making money. It's like 43 people are working there for 28-30 covers. It's about dreams; it's about culture; it's about experience. You ask me the first question about Ai Weiwei. [His piece] with the jar and the 2,000-year-old vase that is broken is put there. Francescana is about that — it's about that vase. It's about my past that is there. My grandmother is there, and the grandmother of the grandmother of the grandmother is there. But my mind is a contemporary mind, and I also project into the future. So I'm getting that to project myself into the future.
Did you see the episode of Chef's Table that you're in?
No. I don't want to see it. I don't like to look at myself.