Cartagena — Colombia's walled city on the Caribbean — is a food nexus, one in which ingredients from the sea, jungle and mountains meet with African, Spanish and native South American techniques. Visitors have to look no further than the city's streets to experience the variety of tastes and textures that come together here.
When I visited last month, Kristy Ellis of Cartagena Connections was kind enough to guide me through the best carts, stands, trucks and kitchen windows of Cartagena's Old City and Getsemani neighborhoods. Originally from Australia, Ellis first visited Cartagena on the way to a wedding in California and was taken with the city, the people and especially the food. From there she conducted what she calls "extensive research." "Yes, I ate all the things," she says. "And I learned all about the different food enjoyed here and the cartagenero relationship to it."
Her expertise took us on a three-hour walk around the outskirts of the Old City through the locals-only marketplaces where you're more likely to find vendors selling phone cards than the sunglasses and Panama hats you'll encounter in the more touristy areas. Here are some of the highlights.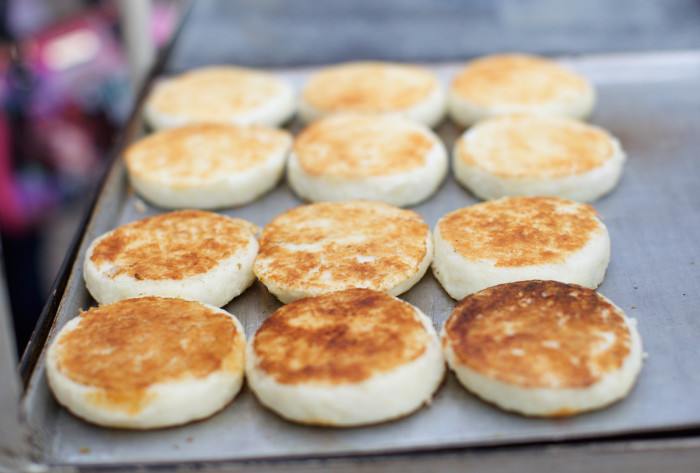 Arepas
"There are many types of arepas!" Ellis exclaims. Arepas, found in nearly every park or square, are among the most popular street food in all of Colombia. That's easy to understand: The griddled patties of handheld deliciousness have a mix of textures and flavors that keep you wanting more.
I've come across arepas before, in New York, where they usually resemble a cheese-filled cornbread, but in Cartagena, that's just the tip of the iceberg.
Ellis explains that the style I've seen is called arepa de choclo. The arepas are made from yellow sweet corn (which, in Cartagena, is called maiz choclo). Vendors use yellow cornmeal and fresh corn kernels from the choclo corn, which are blended. They make a batter of this mixed with milk, salt and sugar, basically making a batch of thick pancakes. Then, later, these pancakes are joined together or sliced in half, and grilled with a filling of mozzarella cheese. And, of course, more butter.
These are delicious, but they come in a far second to my favorite, the arepa de queso. "It's made on a masa of white corn, queso costeño, milk, butter and salt and is pan-grilled. It is sometimes opened up to allow more cheese and butter to be shoved inside. Sometimes you will also see it made with pieces of ham inside," says Ellis.
Also available is the arepa de huevo, which is specifically from Cartagena and Santa Marta. Influenced by African frying traditions found in this region, this style is also made from yellow cornmeal (but not the sweet choclo corn). Vendors take the masa and roll it into a palm-sized ball before flattening the ball into a circle and frying it. It emerges from the oil looking like a pita bread. It is then split open, filled with seasoned ground beef and a whole raw egg is cracked inside. From there, it is back into the fryer to cook the egg.
Arepas are served with suero (a sour-cream-like sauce), guacamole, pico de gallo and/or spicy sauce.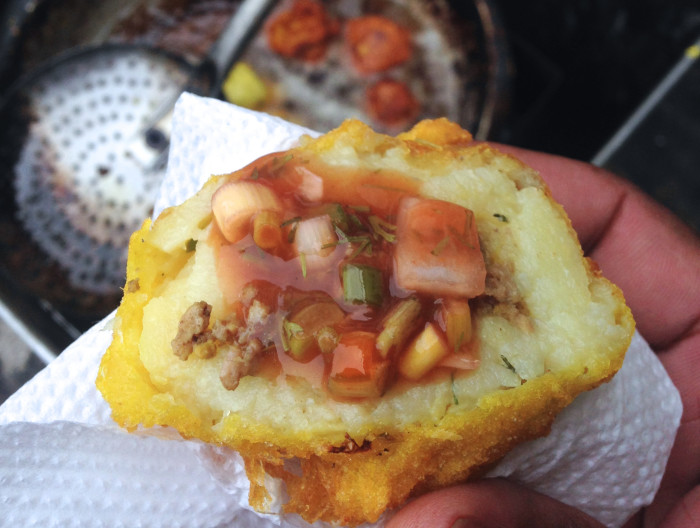 Papas rellenas
Like a bundle of Shepherd's pie, battered and deep fried, papas rellenas (literally "stuffed potatoes") are hearty, filling and, like much of the street food in Cartagena, vastly better with the addition of one or several of the sauces and condiments offered at the carts.
According to Ellis, papas rellenas vary greatly from one cart to another. "The cooked potato can be wrapped around all matter of things. I've seen ground beef, a whole boiled egg, vegetables, et cetera. The batter will usually include achiote, often just called color, a spice that serves the same role as saffron here."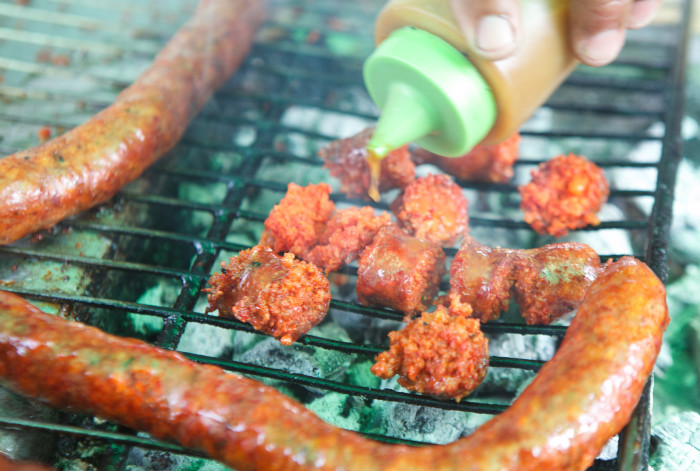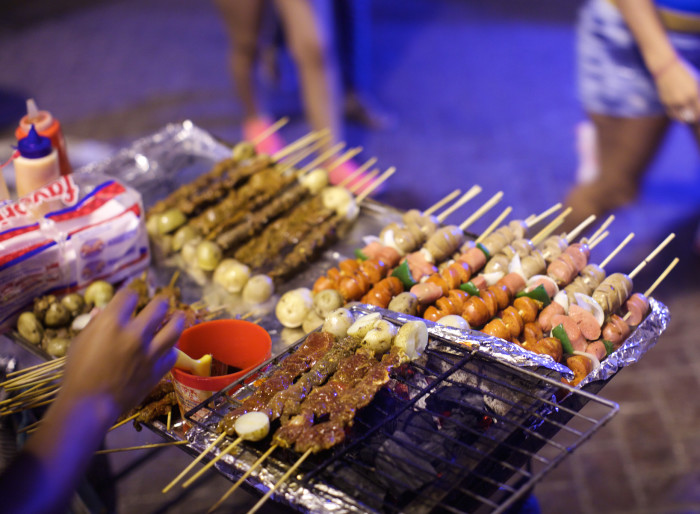 Street meat and chorizo
Outside the walls of Cartagena's Old City is the rapidly changing neighborhood of Getsemani. The area, which used to be known for drugs and violence, is now a destination for hostels and nightclubs. Venues like Bazurto Social Club and Café Havana draw out late-night revelers looking for a snack to end or to extend the night's festivities. Options range from simple skewers, hot dogs and kebabs to chorizo, burgers, sandwiches and platters piled high with meat. Look for them in the evenings around Calle Media Luna and Plaza de la Trinidad.
Juices
Juice is huge in Cartagena. Ellis notes that while Colombian kitchens may lack toasters or tea kettles, they all have blenders. This is evident as soon as you get to town: There isn't a busy street or intersection that doesn't have at least one street vendor hawking juices. Some push carts with tanks of sweet, tart, icy citrus, while others set up stands with blenders and dozens of fruits and vegetables that they whip into frothy smoothies. Whichever you come across, do yourself a favor and have some.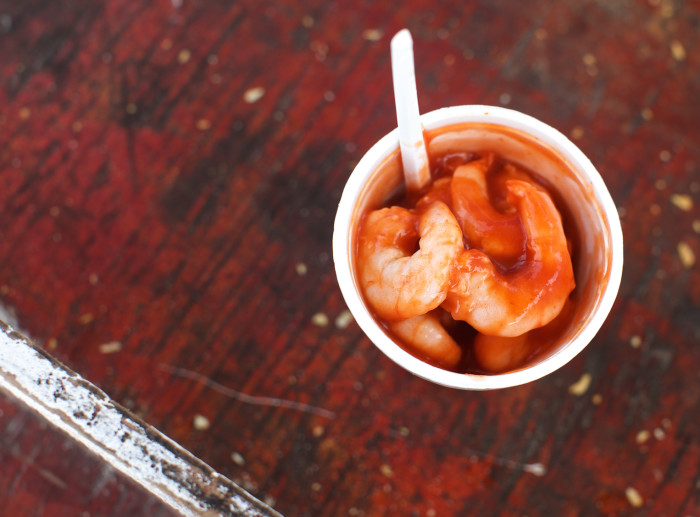 Ceviche
In Cartagena, you can find the traditional citrus-cured ceviche common in Peru, Mexico and elsewhere at restaurants like El Boliche Cebicheria and La Cevichería, but on the streets, it's a little different. Cartageneros, Ellis says, like to eat their raw and cooked seafood served like the cóctel de camarón I found on Playa Blanca: "Pretty much like a '70s shrimp cocktail, loaded with garlic, mayo, tomato sauce, onion and lemon."
While she's fond of them herself, Ellis is a bit more circumspect on her tour: "I don't include samples of the cóctel on my street-food tour out of prudency. I definitely eat them. It's a tour where I guarantee nobody will get sick from what they eat. I'm just not prepared to extend that guarantee to the street shrimp cocktail."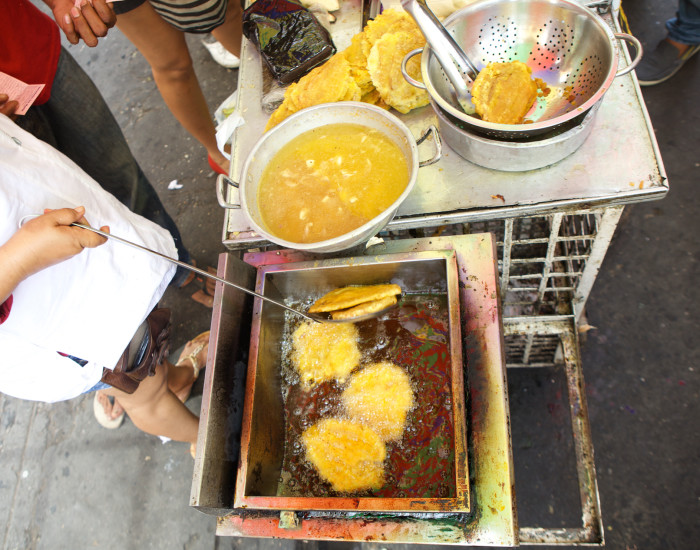 Patacones
I'll be honest: When I heard that patacones were hugely popular in Colombia, I was not that excited. Fried green plantains are common throughout the Caribbean and widely available in Puerto Rican and Dominican restaurants in New York. Usually a little dry and only improved slightly with a sprinkling of salt, they tend to be a distraction. Not here. Fried twice and soaked in garlic sauce in between, the patacones in carts and restaurants around Cartagena were just the right mix of crisp on the exterior and soft, garlicky and chewy inside.
The key, according to Ellis, is the garlic sauce (agua de ajo). "Literally, water with bunch of garlic cloves smashed up to release the flavor and heavily salted. After a few rounds, some of the oil from the fryer inevitably gets mixed up with the water, turning it yellow. But to start with, it is just water. The idea is the water causes the oil to crisp up the outside of the plantain and cook in the flavor of the garlic and salt."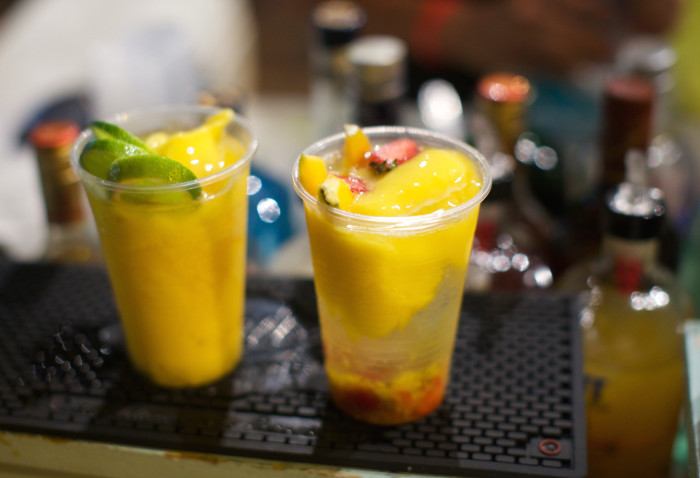 Cocktails
At the heart of the Getsemani neighborhood is Plaza de la Trinidad, which, though anchored by an active church, is the site of kids' soccer games, musical performances, smoking, eating and drinking. There, you'll find a stand set up with dozens of bottles and jars filled with liquors, mixers and fruits along with a Vitamix and coolers of ice biked in throughout the evening. Cocktails vary from the pedestrian gin and tonic to the sublime blend of mango pulp, muddled tree tomatoes and vodka, all for 10,000 peso, or less than $5.
Elsewhere in Getsemani, another bartender and his crew drive around in a truck with a pop-up roof and a booming sound system, taking the party with them wherever they land on a particular evening.
Clay Williams photographs food, drink and events for The New York Times, Gothamist, Edible Brooklyn and others.