Mexicans have the playful habit of turning everything into a verb. Eating tacos becomes "taqueando"; drinking mezcal can be called "mezcaleando." And one of my favorites, "cantineando," refers to bar-crawling between cantinas.
In the U.S., a cantina is generally thought of as a divey saloon-type place, probably located in a part of the country once overrun with bandits and tumbleweeds. In the Marty Robbins ballad "El Paso," for example, the narrator recounts that "nighttime would find me at Rosa's cantina" — a bar-going habit that later has him fleeing for his life after fatally shooting a romantic rival.
Cantinas south of the border aren't required to have gunfighter ballads as part of their history, though some of them do. Generally, they're low-key places to grab a "chela," a cold beer, in the company of mostly working-class men. Many cantinas serve food — known as botanas, or snacks — and it's often very good. Much of the time it's also free (!), getting more and more substantial with each round you buy.
While traveling around Mexico for four months earlier this year, I popped into cantinas in various parts of the country. At most of them, I found swinging wooden doors and a jukebox (and yes, a barstool, for you Merle Haggard fans) — but not always. In Mexico City, for instance, some cantinas are downright grand. Because I'm just back from my long trip and feeling nostalgic, here's a ballad, if you will, about the cantinas I've loved — which you should most definitely check out on your next trip south.
Valladolid, Yucatán State: El Yuk'Tko and La Joyita
Cantinas abound in this small colonial town surrounded by cenotes (limestone swimming holes) and traditional Mayan villages. Maybe that's because there's basically no other nightlife, though cantinas don't really count here anyway, since they all close by 8 or 9 p.m. Valladolid is where I visited my first cantina and fell in love with the style of bar, which is at its most classic here. Though it's rare to find a woman cantineando in this conservative town (except, ahem, working girls), foreign ladies get a bit of a pass.
The hot tip came from a couple staying at my hostel: They'd found a place where you could buy a beer and get a free lunch. Always hungry for a bargain, I located the corner they'd mentioned and swung through wooden saloon doors into El Yuk'Tko — a bit tentatively, since there were only men inside. But the decor of colorful streamers was more high school dance than sinister, and the waiters were welcoming. I grabbed a table, fished House of the Spirits out of my purse to suggest I was an honorable sort of lady, and ordered a Dos Equis.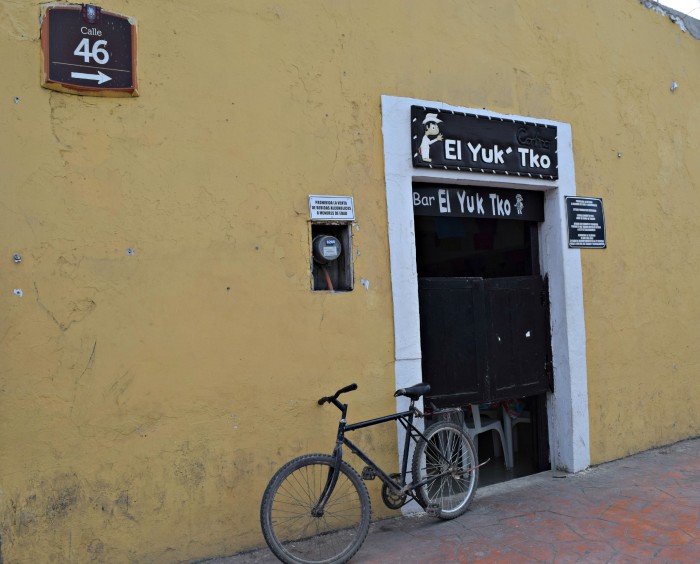 I needn't have fretted, since the scene this Thursday afternoon was as tame as could be — even tamer than the menu that soon began to arrive. "Sesos," said the waiter, when I asked what the creamy white stuff in tomato sauce was. Brains, served with tortilla chips. Why not? The rather flirty waiter (House of the Spirits couldn't get me out of everything) also produced a small dish of potatoes escabeche, deliciously quick-pickled in vinegar with onion slivers, and then fish soup with rice. I gobbled it all, drank my chela, and soon found I was full. All for less than two bucks. Would I be back? the flirty waiter asked. Yes, I most definitely would.
In fact, I came back the next evening, with a friend I'd met at the hostel who liked ridiculous situations as much as I do. He thought a cantina crawl sounded ideal, so we decided to hit El Yuk'Tko then graduate to a super-tacky place we'd passed earlier that had Christmas lights and a blaring jukebox. As it happened, this was a tactical error, since El Yuk'Tko stays open until the cosmopolitan hour of 9 p.m., while the other cantinas close around 8 or 8:30.
However, it didn't matter that jukebox-and-Christmas-lights was shuttered when we tried to go later, because we had a grand time at El Yuk'Tko, defending ourselves from a drunken midget's silly faces and hand gestures (true story) and attempting to queue up some "karaoke" numbers before noticing that there were neither words printed on the screen nor microphones. We settled for Aerosmith, and the crowd of cowboy-hat-wearing drinkers took the interruption to their accordion-heavy ranchero tunes in good stride. The food, however, was lousy at this hour: It had clearly been sitting all day. If you're going for the botanas, traditional cantinas are better for day drinking.
Not sated yet, on Saturday I took a group of fellow travelers to a cantina whose food I'd read good things about, La Joyita. Our first round earned us potato salad, some kind of mashed-bean spread and ceviche. Pretty good. But a table of locals nearby had upped the ante: They were digging into a hearty stew filled with pieces of juicy pork they wrapped inside tortillas. I hailed our server: We'll have what they're having. Since we also asked for another round, he complied, and soon we were stuffing our faces with the excellent soup, which turned out to be called mechado. Then some green mango with chili salt arrived — dessert! All of that cost us just over three dollars each. I could have gone on cantineando in Valladolid for quite a while, but it was time to move.
Merida, Yucatán State: La Negrita
Merida is reportedly home to some excellent traditional cantinas (they're big in the Yucatán in general), but it was so bloody hot in March that I didn't stick around this beautiful yet blazing city for long. I did, however, hear about a newly revamped "hipster cantina" and made a point of hitting that up.
La Negrita wasn't crowded when I slipped in one mid-afternoon, and I might have ordered any number of fine mezcals, but instead I opted for a slightly-less-cheap-than-usual beer. Since I was starving and figured Negrita (and its bartender, rocking some creative facial hair) was too cool to serve plentiful botanas, I also asked for some guacamole off the food menu. I was wrong. The bar snacks began to arrive: jicama dusted with chili salt, pork rinds and pico de gallo, meatballs swimming in salsa and on and on — everything super-tasty. I rolled out of there several kilos heavier and hoped to return some evening to see the crowd that arrives for cocktails and mezcal. I never did make it for a nighttime visit, but you definitely should. This is a place I would frequent if it were down my New York City block. Who knows — they might open a branch in Brooklyn soon.
Mexico City: La Opera and La Faena
As a megalopolis of 24 million or so, Mexico City has even Valladolid beat for cantineando. You can find the gamut of cantinas here, from full-scale lunch restaurants (just buy a beer!) to rough, wrong-side-of-the-tracks joints even my Mexican friends wouldn't be caught alive in. My favorite style of D.F. cantina is the elegant old-school kind, all gleaming wood, starched-shirt bartenders and soaring ceilings.
The best example of cantina opulence can be found at La Opera. Dating back to the extravagant Porfirio Diaz era, the place opened at its current corner location downtown in 1895, and seems not to have changed much since then — unless you count the bullet hole Pancho Villa supposedly installed in the ceiling near the bar. With an ornately carved wood ceiling, velvet-upholstered mahogany booths, and enduringly classy lunch clientele, this place is one to visit for the atmosphere alone. Don't come for the botanas, which might consist of a sad bowl of crunchy snacks, or the cheap beer, since it's not very cheap here. But do come on in. You won't be sorry.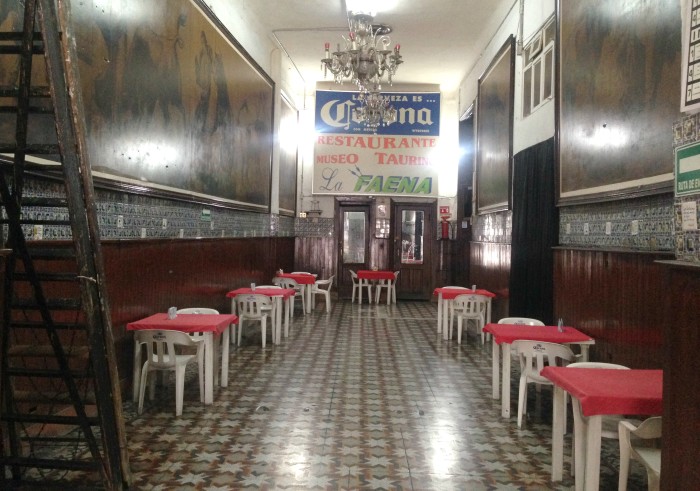 One more Mexico City cantina captured my heart, this one mainly for the weirdness factor. La Faena bills itself as a "bullfighting museum"-cum-bar, which I had to see. I dragged some friends over there one sultry afternoon only to find the place completely empty, the better to show off its musty glamour. Even two roomfuls of white plastic chairs couldn't overshadow this grand dame's beauty: Her painted ceilings, Italianate tile floors, and chandeliers still turned my head.
The museum part of the operation wasn't evident, though the joint was decked out with huge oil paintings of bullfighting scenes and some matador costumes that had seen better days on display behind dirty glass. After wandering around the deserted bar for a few minutes, I found a small, wrinkled man perched in one corner. When I delicately inquired about the museum side of things, he seemed impatient. "Didn't you see the paintings and the costumes? That's why we call it a museum." Okay, then. And when does the bar get busy, I asked, hoping to politely promise to come back later. This living relic, who seemed to speak some variant of Spanish dating to Don Quijote days, mistook my question for one about opening hours. "How did you come in now?" he asked. Uh, from the street. "So we are open."
At that point I left with some flimsy excuse and rejoined my friends on the sidewalk, feeling like I'd escaped from something. Sometimes cantineando has that effect, but it's rarely a dull experience.
El Yuk'Tko, Calle 46 at Calle 37, Centro, Valladolid
La Joyita, 198 Calle 41, Centro, Valladolid
La Negrita, Calle 62 at Calle 49, Centro, Merida
La Opera, 10 Calle Cinco de Mayo, Centro, Mexico City
La Faena, 49 Calle Venustiano Carranza, Centro, Mexico City