The following list is intended to instruct you on how you can quickly, safely and very comfortably get the money you win at the
online casino takes paypal
to your service account. First of all, carefully check and then confirm all the details and information about your PayPal account. Go to the cashier option on the paypal casino site, then select the amount of money you would prefer to get. Click "confirm operation to get money" and wait patiently before the funds appear in your PayPal account in a few minutes. To sum up the above-mentioned steps, you are a few easy steps away from getting the winning cash on a paypal casino site. That is, checking your personal details, the option to get the cost from the cashier, then – entering the amount of money you prefer to get and after one click – having the money!
Of all the places to find good Vietnamese food across the United States, two particular hotbeds stand out — Houston, Texas, and the wide swath of Orange County in Southern California known simply as Little Saigon. As a first-generation Vietnamese immigrant who has lived in both areas, I've eaten my way through the sandwich shops, crawfish shacks and noodle-soup joints with a fair amount of alacrity. And it's led me to a conclusion that some may find surprising: The Vietnamese food in Southern California is not the same as what you'll find in Houston. Not by a long shot.
But first, some history. The communist revolution in Southeast Asia created two generations of Vietnamese diaspora; first, in 1954, when Ho Chi Minh–led insurgents took over Hanoi and the northern half of the country; then again, in 1975, when they conquered the southern half, forcing a mass exodus of refugees who had but two things to take with them to far-flung destinations: a regional Vietnamese accent and a yearning for the tastes and flavors of their beloved homeland.
Among these immigrants were my parents, each born in Hanoi, the national capital of Vietnam at the time, but forced to restart their lives in the southern capital of Saigon in 1954. I was born in Saigon, two years before its fall and our subsequent emigration abroad in 1975. We found our way to Sacramento, California, where I grew up with a strong sense of ethnicity, a sense of being not only Vietnamese but Northern Vietnamese.
♦♦♦
From the time I was a teenager, our family would make the six-hour drive to Southern California specifically so we could visit the area known as Little Saigon in Orange County, home to the largest Vietnamese population in the United States. I remember the excitement and sense of homecoming I'd feel when we'd exit the Santa Ana freeway and begin seeing clusters of Vietnamese signage, indicating that we'd arrived in the land of the Vietnamese.
The one thing we always did was hit the indoor Asian Garden Mall, known as Phước Lộc Thọ, which is the closest Stateside equivalent to the famous central market in Saigon called Cho Ben Thanh. We would spend hours in the little shops, browsing jewelry, makeup counters, gift items and clothing, before breaking for Vietnamese street snacks at the food court, where we'd buy items like nem nướng (grilled pork sausage) skewers, đu đủ khô bò (shredded green papaya and beef jerky salad) and fresh-pressed nước mía (sugarcane juice).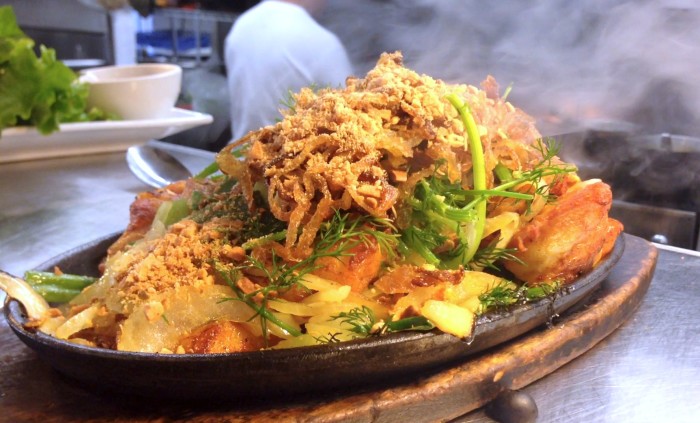 It wasn't until I became an undergrad at UCLA that I started really getting to know Little Saigon — jump-starting a 20-year kinship with the neighborhood. Knowing exactly where to go to satisfy any specific Vietnamese-food craving is now a source of personal pride.
I took the breadth and quality of the traditional Vietnamese food in Southern California for granted until I moved to Houston, where I've lived for the better part of the last 10 years. Home to the third-largest Vietnamese population in the United States, Houston definitely has great Vietnamese food, but it's vastly different than what you find in Southern California, where the traditional foods from each of the three regions of Vietnam (North, Central, and South) are all very well represented.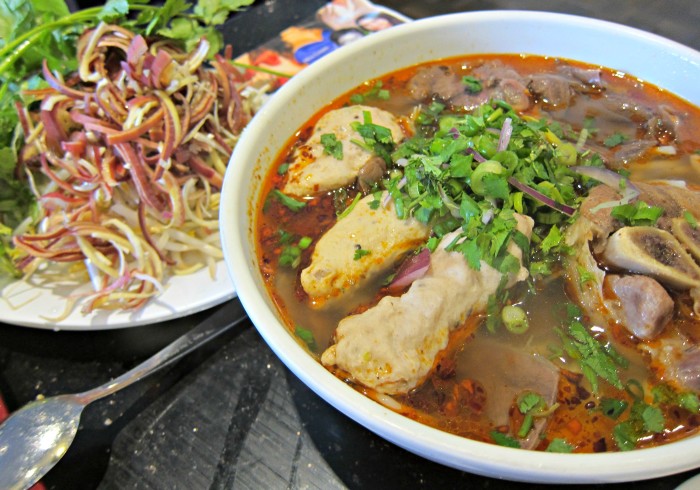 Typically, Northern Vietnamese food is saltier — with the use of pure, undiluted nước mắm, or fish sauce, in the cooking. Dishes are simple: fried fish, braised meats, simple vegetable consommés, different sorts of noodle soups. As you move to the central region, around the Vietnamese city of Huế, you will find an abundance of rice-cake-type items, and of course bún bò huế, the spicy beef and pork-hock noodle soup for which the region is known. In South Vietnam, restaurants started largely serving "món nhậu," which, loosely translated, means "dishes to snack on," which are basically Vietnamese tapas. Many Southern Vietnamese specialties use rice paper that gets filled, rolled and then dipped in a diluted, sweet fish sauce known as nước mắm pha. As a genre, Southern Vietnamese food is also much sweeter, often incorporating fresh coconut and sugar caramel.
♦♦♦
With few exceptions, the food in Little Saigon is a Vietnamese purist's dream: It is real Vietnamese food like what you'd eat if you traveled to Vietnam proper. And it will taste as good as, if not better than, what you'd experience if you visited the motherland. Although the U.S. lacks some of the ingredients found only in Vietnam, the high quality of the produce and meats in Southern California, as well as the first-world standards of kitchen hygiene and cleanliness, lends a purity lacking from the unregulated farmlands and food-prep methods of the old country.
There's also a historical basis for this supposition. "The first wave of Vietnamese that settled in the area, the ones that came over in 1975, were Vietnam's urban elite," says Dr. Thuy Vo Dang, an archivist at the University of California, Irvine, who recently led a panel on the history of Little Saigon. Dang says that many were former leaders in South Vietnam who possessed a strong Vietnamese nationalism. The establishment of Little Saigon was meant to re-create a part of the country that they had lost and longed for. The businesses that grew out of that — especially the restaurants — were always meant to serve the Vietnamese consumer. In other words, there was never an Americanization of the food. The restaurants were opened by Vietnamese people with the intent of serving Vietnamese people. Over time, as the area grew in size and density, so, too, did the restaurants, in variety, quantity, quality and sophistication. Consequently, an entire nation's menu — everything from home-cooked fare to simple street foods to the classic, iconic dishes — can now be found in some form or fashion in the hundreds of restaurants that make up the Little Saigon blueprint.
Phở, the beef-broth-based rice noodle soup that is Vietnam's most famous export, can be found on the menus of more than 100 restaurants in the greater Little Saigon area. At least 30 of these restaurants bear the name "Pho" in some form, and you really can't go too wrong, though there are favorites among the pack. For starters, I'd recommend Pho 79, an old-school, cash-only pho joint known for its deep, rich broth; it's been open for decades. Then I'd try Pho Nguyen Hue's phở gà (chicken pho) with the works — gizzards, chicken hearts, tendon and quail egg — followed by trendier spots like Pho 45, which offers thinly sliced filet mignon as a topping, or Pho Lu, which serves up phở đuôi bò (oxtail pho).
The best bánh mì (Vietnamese sub sandwiches, a legacy of French colonization) you'll ever have will most definitely be in Little Saigon. I favor the beautifully crafted flavor grenades at Teo Sandwiches, which makes a tasty, overfilled bánh mì thit nuong (smoky grilled pork side by side with sweet pickled carrots, sprigs of cilantro, thinly sliced jalapeños, French butter, pâté spread, drops of Maggi, surrounded by thin crusted baguette) for less than $4. My parents prefer Tip Top Sandwiches, where the French bread more closely resembles baguettes you'd buy in France, but there are countless others: Bánh mì Che Cali (now a chain throughout Southern California), Tan Hoang Huong, Top Baguette and Gala Bakery, to name a few.
♦♦♦
Because my roots are in Northern Vietnam, I crave those regional dishes the most. They are easy to find in Little Saigon, at places like Vien Dong, Binh Minh and Hanoi Avenue. We usually start with a plate of bánh tôm chiên (sweet potato and shrimp fritters) before ordering family style. My favorite things are the sườn ram mặn (caramelized pork spareribs), the canh chua cá thì là (tamarind soup with dill served with a whole fried fish), đậu hũ chiên tẩm nước mắm hành (deep-fried tofu topped with fish-sauce-steeped green onion), thịt đông (thinly sliced pork hock in its own gelatin), with a small side order of dưa chua (pickled mustard). These dishes are considered very basic. They are inexpensive, typical dishes that Northern Vietnamese cook at home and eat on a daily basis. When I'm with my family, this food inevitably rekindles my parents' stories of the good old days on the streets of Hanoi, finding that perfect sidewalk food vendor who does her version better than anyone else. I hang on every word, imagining those aromas and flavors, comparing them to the modern-day, expat versions at our table.
Other crave-worthy dishes hail from the Huế region in central Vietnam. I love bánh bèo chén, glutinous rice-flour cakes topped with baby shrimp served in small shallow saucers. You can get these at Quan Hy or Quan Vy Da, but my go-to is Ngu Binh, where there's always a line of people waiting to get in.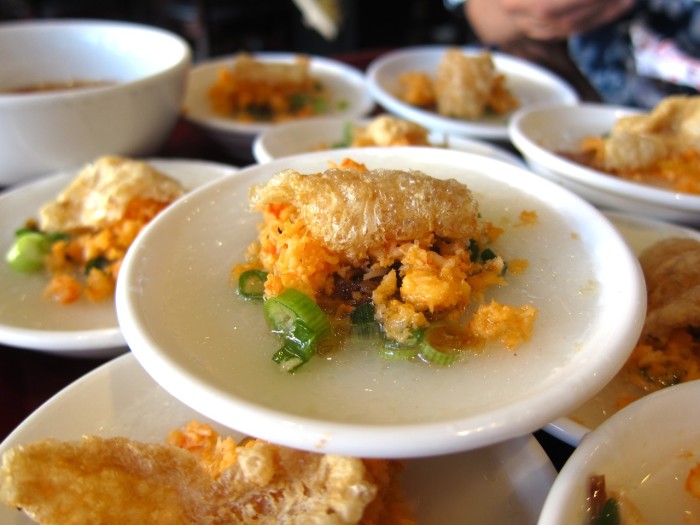 Everybody goes there for the bánh bèo chén; you'll see them gracing just about all of the black granite tabletops in the small but clean, well-appointed restaurant. They're served on a plastic orange cafeteria tray, 10 little white saucers stacked atop each other. The thin, glutinous rice cakes seem simple, but there's an art to making them. The batter needs to be the right thickness so that the cake isn't too thick and doughy. It has to be steam-cooked for just the right amount of time so that cake exhibits a chewy bite. The toppings must be fresh — these are topped with bits of marinated shrimp, scallion and a crispy pork chicharrón — and the the nuoc mam pha fish sauce needs to be very dilute and slightly sweet, so that when you ladle the sauce onto each saucer and scoop it up with your spoon, you get all these lovely textures — slick and silky, chewy, and crisp — combined with this mild, shrimpy umami essence. Ngu Binh gets all of this right, and what's more, it's consistent and very reasonably priced, a reason why I never mind the wait.
When I feel like eating Southern Vietnamese, the choices abound. Cơm tấm (broken rice with smaller grains like couscous) dishes have their own specialty restaurants, like Com Tam Tran Quy Cap or Com Tam Thuan Kieu, where you can order broken-rice plates in hundreds of variations. The enterprising restaurateurs at Com Tam Tran Quy Cap, one of the first of the com tam–only restaurants in the area, took the traditional peasant dish made of unsellable fragments of rice (throwaway pieces that are broken off during rice processing) and gave it a gourmet spin. The result: customizable broken-rice platters piled high with glistening, mix-and-match toppings, like lemongrass-glazed pork chops or shrimp fritters wrapped in dry bean curd.
Brodard Bistro, the legendary kingpin whose family of restaurants churn out as many as 10,000 rolls per day, practically invented the genre of spring roll known as nem nướng cuốn (spring rolls filled with Vietnamese grilled pork sausage).
Specialties like bò 7 món (beef seven ways) are also of Southern origin. For this, you visit Thien An. Cá nướng mỡ hành (whole catfish grilled with oil and chives until the outer skin is crispy) is also a must-try, and Favori Restaurant has been the reigning spot for at least 20 years.
♦♦♦
Life happens, and I married a Texan, also of Northern Vietnamese roots. It was no small task for him to convince me to move away from my beloved California and Little Saigon, the epicenter of expat Vietnamese cuisine. It took me three tries to make Houston home. I've lived sporadically in Houston since 1997, and while I can get several of the aforementioned dishes here, they're harder to find, and oftentimes shy of the quality you'd find in Orange County. Thien Thanh, family-owned for 25 years, does a fine bánh cuốn nhân thịt (rice-cake rolls filled with meat), but its chả cá thăng long doesn't hold a candle to the version at California's Song Long.
One of the things I noticed fairly early on about Vietnamese cuisine in Houston is that there is a predominance of Chinese-Vietnamese mash-ups here. At the ever-popular Tan Tan, a go-to restaurant for Vietnamese visitors looking for fast service, decent prices and a large menu, a signature dish is the bánh bột chiên. The pan-fried egg and rice-cake omelette is topped with pickled daikon, green onions and shallots, with a vinegar-based dipping sauce. It's a very popular item. But is it really Vietnamese? Though you can find it in Vietnam now, my mom would tell you that it's definitely a newfangled, fusion-type invention with Chinese roots (a Teochew dish known as chai tao kway) that wasn't available when she lived there (she still loves it and requests it every time she visits Houston).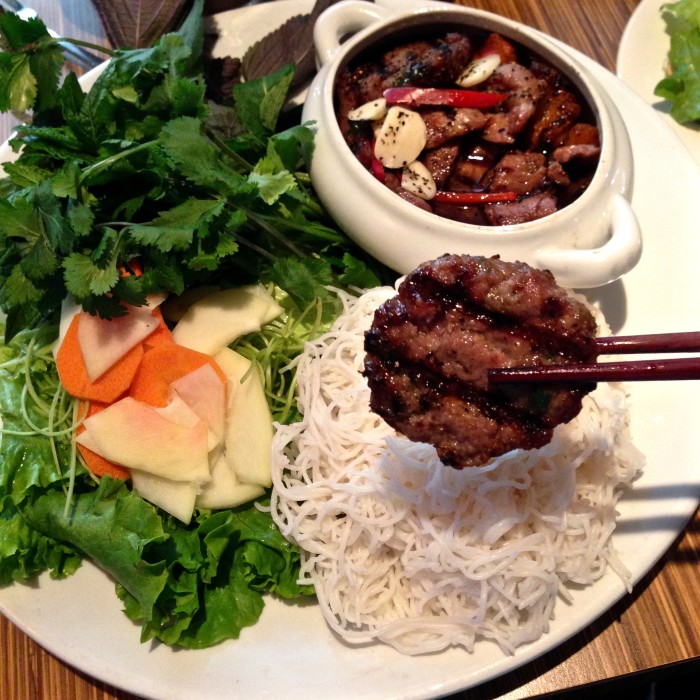 Unlike California's Little Saigon, which developed in the spacious suburbs outside Los Angeles, Houston's early Vietnamese community was concentrated in Midtown and east of Downtown, areas once considered the armpits of local real estate that have gentrified in recent years, complete with escalating rents. The economic pressure has largely pushed Houston's Vietnamese population toward the more affordable suburbs, where the community now flourishes. In the early days, the scene was mostly made up of Vietnamese-Chinese immigrants, who had the advantage of financial backing from China; these first-comers indelibly left their mark on the food.
At Jasmine Asian Cuisine, whose owners also operate Houston's lone Bò 7 Món restaurant, you can order cá 8 món (fish eight ways) and cá nướng mỡ hành alongside Chinese standards like Peking duck and Peking spareribs. Ditto for Kim Son, one of Houston's most well-known banquet and wedding venues (several locations). There, you can order everything from Vietnamese bánh mì and gỏi cuốn (spring rolls) to Chinese-inspired General Tso's chicken and wonton soup, and on weekends, the restaurants serve Cantonese-style dim sum.
People ask me all the time, "Where should I go for the best Vietnamese food in Houston?" I don't have a ready answer. I usually have to clarify the question with "What kind of Vietnamese food do you want? Rice? Noodle soup? Family meal?" It's easy to find specific dishes that are good, harder to find a restaurant that does everything well.
There is excellent bún bò huế at Bun Bo Hue Duc Chuong Midnight. When my friend Liz, a reporter for NPR, came to Houston to report on the food scene, she asked me take her to a Vietnamese place that's truly legit. I took her to Thuan Kieu Com Tam, a place where the typical customer speaks Vietnamese as a first language and the servers aren't used to non-Vietnamese clientele. I like Thuan Kieu's Southern Vietnamese–style family meals, which include a killer cá kho tộ (caramelized catfish in clay pot), canh chua cá (sweet and sour fish soup) and a towering pyramid of gỏi ngó sen (lotus-root salad with shrimp and pork). I worried that the fish might be too overpowering because of its strong fish-sauce base, but Liz was all over it. She chronicled her visit here.
I have yet to find a really great bún chả Hànội, as there seems to be a dearth of Northern Vietnamese restaurants in Houston. But for one of the best bánh xèo (Vietnamese crepe) ever, Thien An in Midtown is awesome.
There are two things at which I think Vietnamese Houstonians really excel: crawfish and pho, both of which are influenced by regional sources. The crawfish, specifically Viet-Cajun crawfish, has really only flourished over the last 10 years, thanks to plentiful supply from crawfish farms in nearby Lafayette, Louisiana. The influx of New Orleans–based Vietnamese who settled in Houston after Hurricane Katrina in 2005 stoked demand even further.
Cajun-style crawfish was and is just the boil with Cajun spices thrown in. Viet-Cajun involves a myriad of ingredients, such as garlic and oranges and other aromatics, which are added to the boil to enhance the flavor of the crawfish flesh, and is finished off with a toss of garlic butter on the outside shell.
Viet-Cajun-style crawfish wasn't around until Houston-based Vietnamese came up with it. All of the Viet-Cajun crawfish places have their own versions, which they usually keep secret. It's quite addictive. I know people who get it two or three times a week during crawfish season, which runs from January through June, and restaurants compete hard to get on the top-10 lists each year, with places like Crawfish & Noodles, Wild Cajun, the Seafood Shoppe and Cajun Kitchen usually among the top contenders.
♦♦♦
Besides crawfish, the other thing that Houston-based Vietnamese do really well is phở. I would even argue that Houston has the best phở in the country right now. There is a dish here called phở tái bê, which you can get at Pho Hung or Pho A Hung. Tái bê is bê thui, which, translated, means baby cow (another fancy word for veal). Thin slices of veal carpaccio are served with this ginger-hoisin dip, and you dip the carpaccio in the broth to cook the meat as you go along. Californians will come to Houston to buy tái bê by the pound to take back with them — it's that good.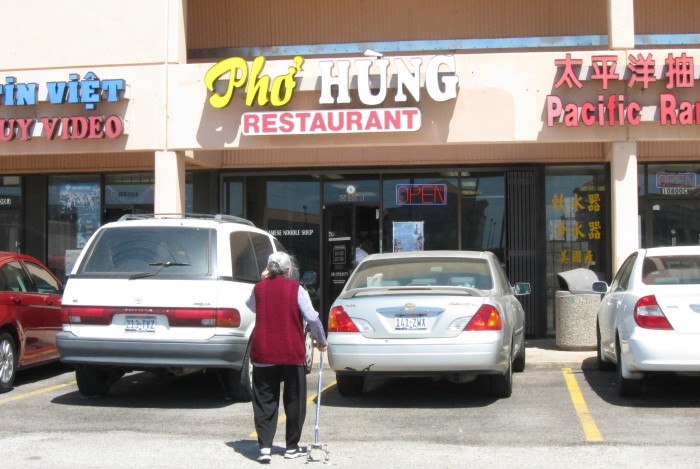 I haven't seen it in Little Saigon, and if you were to ask me why, I'd say it's because Southern California doesn't have the advantage of Texas's cattle industry in its backyard, which gives Houstonians better access to high-quality beef product at a price that's reasonable enough to still make a bowl of pho for about $7. For steak lovers, it's sinful to cook a great cut of beef any other way than rare to medium-rare. Likewise, for pho lovers availed of high-quality beef, thin carpaccio slices are the only way to go.
When I first moved to Houston in 1997, I thought there was no comparison between the Vietnamese food in Houston and Little Saigon. Now, I'm sure that there isn't. Not a straight comparison, anyway. I still think that the Vietnamese food in Little Saigon is the best you'll find outside of Vietnam in terms of overall quality and the sheer breadth of what's available.
But Houston is my home now, and rather than missing the things I can't get, I'm discovering new foods to love. When I'm happily nibbling on my tái be at Pho Hung, when I'm shamelessly sucking the flavor off of a red-clawed crustacean, or when I'm heading straight for that bánh bột chiên at Tan Tan the minute I get off a plane, I know I've found them.
Orange County
Asian Garden Mall, 9200 Bolsa Ave., Westminster, CA 92683
Pho 79, 9941 Hazard Ave., Garden Grove, CA 92844; 714-531-2490
Pho Nguyen Hue, 10487 Bolsa Ave., Westminster, CA 92683; 714-839-8916
Pho 45, 9240 Garden Grove Blvd., #19, Garden Grove, CA 92844; 714-537-9000
Pho Lu, 10141 Westminster Ave., #5, Garden Grove, CA 92843; 714-539-7979
Teo Sandwiches, 14014 Magnolia St., Westminster, CA 92683; 714-622-4819
Bánh mì Che Cali, 15551 Brookhurst St., Westminster, CA 92683; 714-839-8185
Tan Hoang Huong Valley Center, 15972 S. Euclid St., #A, Fountain Valley, CA 92708; 714-775-7422
Top Baguette, 9016 Bolsa Ave., Westminster, CA 92683; 714-379-7726
Gala Bakery, 14570 Brookhurst St., Westminster, CA 92683; 714-775-7327
Vien Dong, 14271 Brookhurst St., Garden Grove, CA 92843; 714-531-8253
Binh Minh, 9908 Westminster Ave., Garden Grove, CA 92844; 714-636-7103
Hanoi Avenue, 8432 Westminster Blvd., Westminster, CA 92683; 714-898-8838
Quan Hy, 9727 Bolsa Ave., Westminster, CA 92683; 714-775-7179
Quan Vy Da, 9950 Bolsa Ave., Westminster, CA 92683; 714-531-2905
Ngu Binh, 14092 Magnolia St., #116, Westminster, CA 92683; 714-903-6000
Com Tam Tran Quy Cap, 16175 Harbor Blvd., Fountain Valley, CA 92708; 714-418-1333
Com Tam Thuan Kieu, 14282 Brookhurst St., # 2, Garden Grove, CA 92843; 714-531-4852
Brodard Bistro, 9100 Trask Ave., Garden Grove, CA 92844; 714-899-8273
Thien An, 13518 Harbor Blvd., Garden Grove, CA 92843; 714-530-4955
Favori Restaurant, 3502 W. 1st St., Santa Ana, CA 92703; 714-531-6838
Houston
Thien Thanh, 11210 Bellaire Blvd., Houston, TX 77072; 281-564-0419
Jasmine Asian Cuisine, 9938 Bellaire Blvd., Houston, TX 77036; 713-272-8188
Kim Son, 10603 Bellaire Blvd., Houston, TX 77072; 281-598-1777
Bun Bo Hue Duc Chuong Midnight, 12148 Bellaire Blvd., Ste. 124, Houston, TX 77072; 832- 351-2644
Thuan Kieu Com Tam, 10792 Bellaire Blvd., Houston, TX 77072; 281-988-8865
Thien An, 2611 San Jacinto St., Houston, TX 77004; 713-522-7007
Crawfish & Noodles, 11360 Bellaire Blvd., # 990, Houston, TX 77072; 281-988-8098
Wild Cajun, 6533 Wilcrest Dr., #104, Houston, TX 77072; 832-328-4000
The Seafood Shoppe, 10555 Westheimer Rd., # B, Houston, TX 77042; 713-978-5055
Cajun Kitchen, 6938 Wilcrest Dr., Houston, TX 77072; 281-495-8881
Pho Hung, 10800 Bellaire Blvd., Houston, TX 77072; 281-575-9177
Pho A Hung,11900 Bellaire Blvd., Houston, TX 77072; 281-498-8899
Tan Tan, 8066 Westheimer Rd., Houston, TX 77063; 713-977-6682