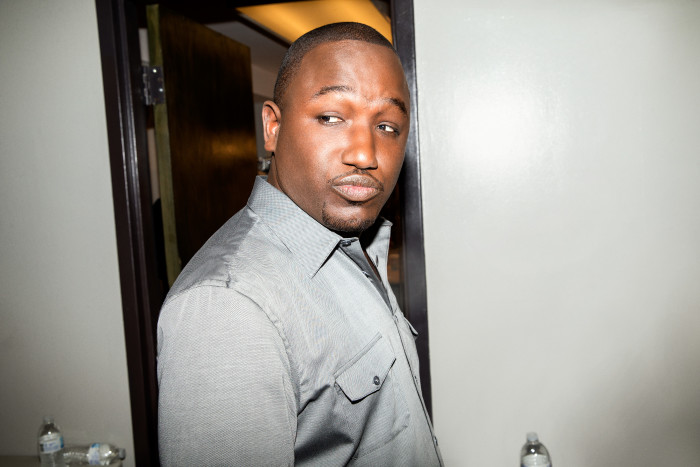 Our new feature asks celebrities what's on their mind and between their bread.
Comic Hannibal Buress has taken his distinct comedic style and voice from Chicago comedy clubs to his own show on Comedy Central. Why? With Hannibal Buress, which premieres July 8 at 10:30 p.m. ET/PT, features Buress asking some of the burning questions on his mind. This summer, he can be found in the movies Band of Robbers and Flock of Dudes and is also lending his voice to two upcoming animated features, Angry Birds and The Secret Life of Pets. Buress can also be seen in Comedy Central's Broad City (stealing scenes!) and Cartoon Network's The Eric Andre Show.
If you can share, what's one of the burning questions you are asking for Why?
The "why" is just a general conceit that allows us to talk about anything. We are going to talk about a lot of different stuff.
With regards to Flock of Dudes coming out this summer, what does a "guys' night" consist of?
Food and drinking. It's nothing too complicated, really. Usually going to a few bars and maybe checking out some music. Me and my friends go to rap shows sometimes, but it's about going to have good drinks and good food in a good environment.
You're from Chicago, so for those visiting, what is one place they have to check out?
The Old Town Ale House. It's a great late-night Chicago bar around the corner from Zanies Comedy Club and Second City. Also, in Irving Park, there's Diner Grill, a great restaurant. On one side it's spelled "diner," but on the other side it says "dinner grill." The Allende Restaurant on Lincoln Ave. has really good Mexican food. The Wicker Park neighborhood is awesome in general. Subterranean is a good spot, too. They usually have good music and a good comedy show. There are a lot of spots in Chicago; you didn't think my answer was going to be this long.
What is your favorite joke?
I don't remember this comedian's name, but it was this roast battle in Hollywood at the Comedy Store. It's a real fun show to watch; it's basically 8 Mile but with comedians. I wish I remembered his name, but this guy says, "This girl is in an on-and-off relationship with this guy. It's on when he sees her body and off when he sees her face."
What is the best song to jam out to?
Right now I like the new Hiatus Kaiyote album. There's a song, "Molasses," that I really like. Kamasi Washington put out a new album. It's jazz, and "Miss Understanding" is one of the songs I really like on there.
What's your go-to dance move?
I'm pretty relegated to the two-step. I don't really deviate from that.
If you could bring a fictional character to life, who would it be?
Gambit from the X-Men — he seems like a cool guy. He has the cool power to make stuff explode and would be fun to hang out with.
If you could have any superpower, what would it be?
Flying and teleport.
What item do you miss from your childhood?
All the video games. ToeJam & Earl was a weird, fun video game.
What is your favorite vacation spot?
I end up in New Orleans a lot. It's a fun city with great food, something to do all the time and fun people. That's where I go when I have off days if I don't want to be in New York.
What would your signature sandwich consist of?
Ham, feta cheese, banana peppers, cilantro and some ranch on a ciabatta bun.