Hôtel Hermitage Is Your Appropriately Baller Monte Carlo Home Base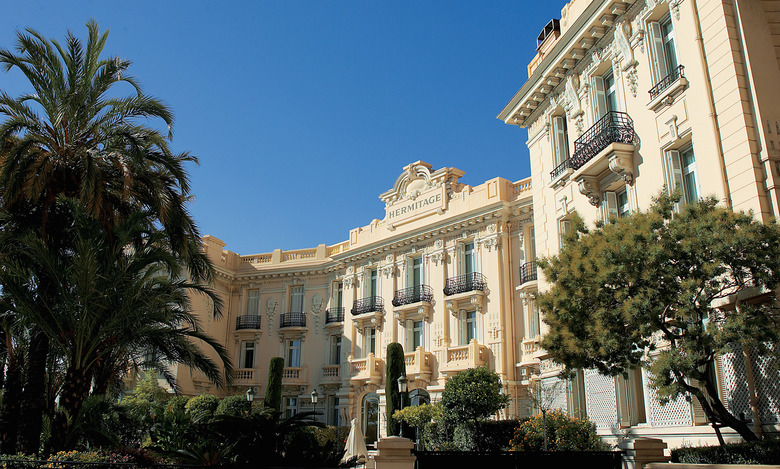 In Hungry Concierge, we travel the world to spot hotels that operate with their guests' food and drink needs squarely in mind — hotels, both big and small, that are located in neighborhoods rich with bar and restaurant options. Because there's nothing worse than having your trip derailed by crummy room service.
Several days into my stay in Monte Carlo, Monaco, I realized I had eaten every meal al fresco — even breakfast. I was living it up royally at the stately Hôtel Hermitage, which is even more grand than the Prince's Palace, visible high on a hill on the other side of the harbor from my room's Juliet balcony. Not many of us can pull a Grace Kelly or Princess Kate and wed a prince, but anybody can check in here and enjoy all the royal perks — without any pesky paparazzi lurking about or stuffy official functions to attend.
Monaco, in case you need a refresher, is a pocket-size principality on an extremely prime stretch of the French Riviera. This wealthy enclave of fewer than 40,000 people is the world's smallest country, not counting Vatican City; the whole place measures about 0.7 square miles, or roughly the size of Central Park. The sunny and mild year-round climate once furnished an ideal environment for the olives and oranges that brought in most of the country's revenue until the 1850s; now it offers the perfect backdrop for cultivating the newer crop of visiting Russian billionaires.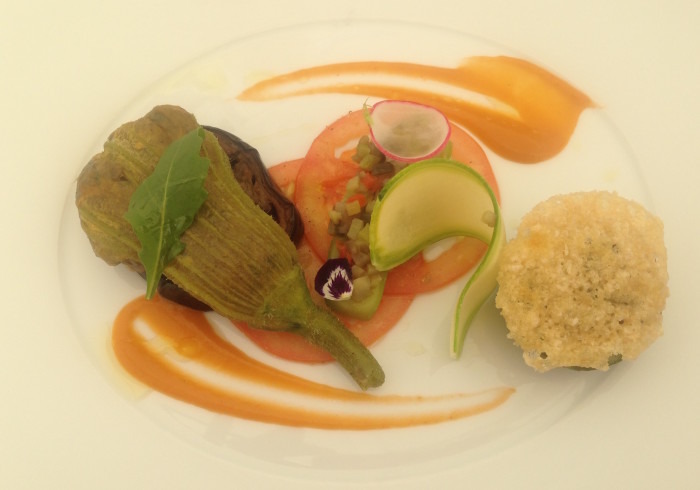 Zucchini three ways at the hotel's Michelin-starred restaurant, Le Vistamar
Hôtel Hermitage is an ideally opulent base for living, and dining, like a royal for a few days. Within the hundred-year-old Belle Epoque building you'll find a swanky champagne outpost, Le Crystal Bar, a Michelin-starred restaurant, Le Vistamar, with an expansive terrace overlooking the harbor, plus a newly renovated world-class spa, fitness and pool complex, Thermes Marins Monte-Carlo. If you ever manage to leave the hotel, equally decadent dining, drinking, beach-clubbing and casino-going awaits a short hop away.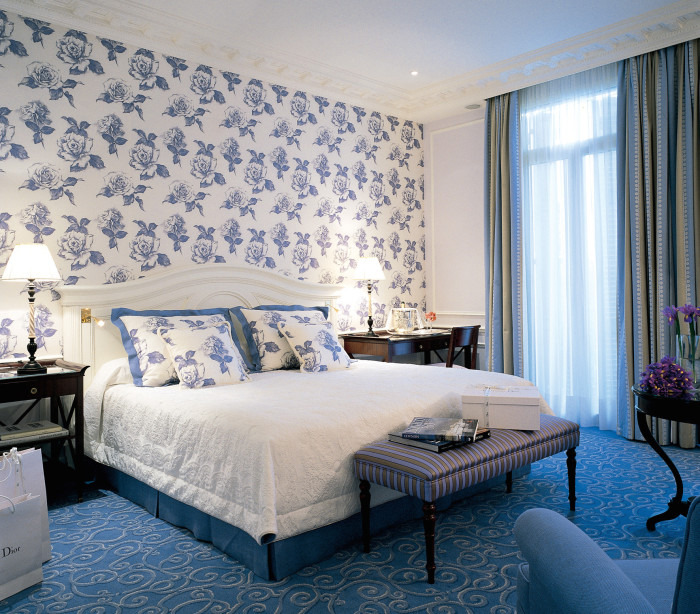 All of Hôtel Hermitage's rooms and suites feature high ceilings, large windows and ample space.
The Rooms: The hotel's 278 rooms and suites were recently renovated by design firm Pierre Yves-Rochon in a classic, elegant style. Decor varies from room to room, but all feature high ceilings, large windows, ample closet space for a royal wardrobe and marble bathrooms stocked with Bulgari bath products. Twice-daily housekeeping might include treats like colorful macarons or, for ladies, a bouquet of a dozen white roses.
The Look: Wander Hermitage's hallways if you want to know what it might've felt like to be a pre–World War I European aristocrat. Outside the chateaux of nearby France, you'll be hard-pressed to find a place with more chandeliers, shinier floors or more gilded detailing. The huge hotel has two regal reception areas, one adjacent to the stately winter garden, with its domed colorful stained-glass ceiling. A staff that insists on greeting everyone with "Bonjour/Bonsoir, madame/monsieur" adds to the effect.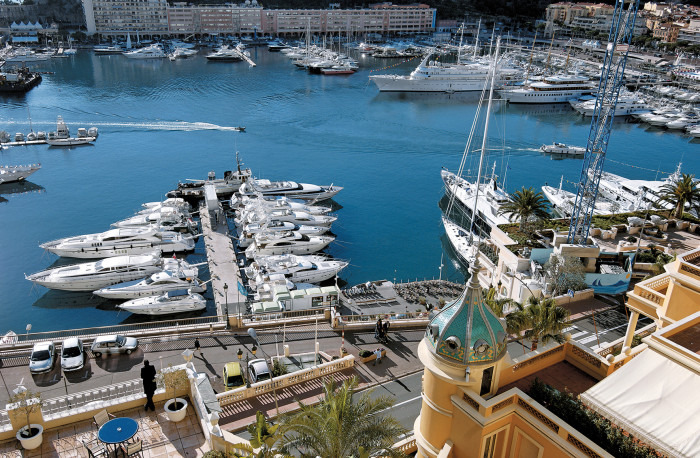 The view from one of the hotel's suites
The Neighborhood: In Monaco, you're never very far from anything — especially Michelin-starred restaurants. Within a short jaunt or a five-minute cab ride, you can arrive at Blue Bay, inside the Monte Carlo Bay Hotel & Resort, where Martinique-born chef Marcel Ravin offers creative tasting menus featuring dishes like shredded papaya "spaghetti" on top of real spaghetti in a truffle-Parmesan sauce, or a "pre-dessert" that's essentially a tangy yogurt parfait. Five minutes farther on, next to the dreamy Monte-Carlo Beach Club, you'll find Elsa, the world's only totally certified organic Michelin-starred restaurant. Executive chef Paolo Sari uses lots of seafood (and no red meat) to delicious effect, and he grows some produce on site. His signature dish, the Bio Sama, a colorful medley of raw seasonal vegetables, is inspired by time he spent living with Korean monks. Don't miss grabbing a cocktail at the Hôtel de Paris's classic Le Bar Américain (sadly, the Alain Ducasse restaurant inside the hotel, Le Louis XV, was closed at press time while the property undergoes a major renovation), or at Buddha Bar, whose large terrace becomes a late-night hot spot. At all of these places (well, except Buddha Bar), you'll be presented with an amuse-bouche of Monaco's signature dish, the spinach-stuffed fried ravioli known as barbajuan — it's fun to compare and contrast the different versions. Then there's the historic Casino de Monte-Carlo itself, which is every bit as badass as it looks in the James Bond movies. Hôtel Hermitage is also within walking distance of the palace and old city (with choice yacht ogling along the way), if you don't mind hoofing it up the hill. I can't think of a better way to work off all those tasting menus.
Hôtel Hermitage
Square Beaumarchais, Principality of Monaco
Rooms start at $333