At New York City's Bâtard, Your Cocktail Glass Is A Shining Example Of Adaptive Reuse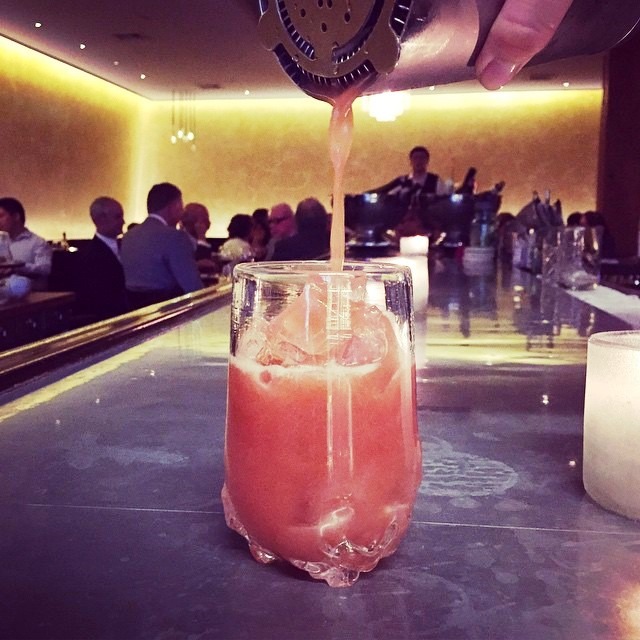 The distinctive tumblers at Bâtard in New York City are made from recycled glass. (Photo: Alia Akk
Among the exquisite cocktails served at the diminutive bar of Bâtard, the recent James Beard Award–winning restaurant in New York's Tribeca neighborhood, is the tropical Junglebird. Those who order head bartender Candice Valetutti's rendition of the rum-Campari-and-pineapple classic — or one of her quenching gin and tonics or Tom Collinses — will be served the drink in one of a dozen distinctive highball glasses.
These gorgeous vessels, which cannot be found on the shelves of Crate & Barrel or some other fashionable retailer, are the handiwork of Leigh Taylor Wyatt and Shara Funari, the gals who have presided over Austin, Texas-based East Side Glass Studio for the past four years. When they are not crafting modern chandeliers and lighting installations for the likes of Austin restaurant developer Bridget Dunlap, Wyatt and Funari are devoted to their eco-friendly Riforma line, which transforms recycled glass into such works of art as the highball glasses.
"We didn't want to put any leftover glass from our projects into the landfill because it was just so beautiful," says Wyatt. Instead, she and Funari decided to shun the usual molds they turn to and apply these salvaged pieces to molten glass. The results include one-of-a-kind textured tumblers, cups flaunting shards of colorful patterns and chunky votives.
East Side Glass Studio's connection to the restaurant goes back several decades to when Wyatt was a student at Castle High School, in Newburgh, Indiana. Here, one of her fellow classmates was John Winterman, Bâtard's managing partner and dapper front man. "His group hung out with mine," Wyatt explains. Despite having seen Wyatt only once since 1990, Winterman sought out his old pal to help accentuate the invitingly elegant dining room with her bespoke glassware.
Each of Bâtard's highball glasses shares a unifying look, but no two are exactly alike. A bubble here, a dent there — such is the nature of hand-blown custom-made glassware. "They each have their own personality," says Wyatt. "These aren't just a slew of glasses you're getting from China." And they're likely much more expensive than factory-made glasses, too, though neither Wyatt nor Winterman will say exactly how much.
As pricey and precious as they might be, you'd think the restaurant would be concerned about breaking the things. Yet according to Winterman, the glasses are "surprisingly durable." Besides, he says, "if you are really concerned about breakage, then partnering in a restaurant is the fast track to heartbreak."