In June, Food Republic is counting the many reasons to love Asian food in America right now. Here's one of them.
You can't pigeonhole Edward Lee as simply a Southern cook. "I don't cook traditional Southern food," he says. The acclaimed Korean-American chef has built a reputation for masterfully blending the flavors of his Asian heritage with the regional bounty of his adopted Dixie homeland, things like collards and kimchi, or edamame grits, among many other less obvious, intercontinentally inspired dishes that you tend to find at Lee's restaurants, 610 Magnolia and MilkWood in Louisville, Kentucky. "Asian spices go really well with Southern food and Southern sauces," Lee says, citing the compatibility with smoky flavors as a common trait among the two cooking styles.
We're talking about a guy who packs the pungent fermented chili paste known as gochujang like a normal Southern biscuit-maker does White Lily Flour. "To me, gochujang is such a natural pantry item that I reach for it for just about anything," says Lee. That inclination comes so naturally, he says, that he sometimes neglects to even mention the stuff on his menus: "I put gochujang in my pimento cheese. I don't necessarily list it on the menu as gochujang pimento cheese. It's just part of the way I make my pimento."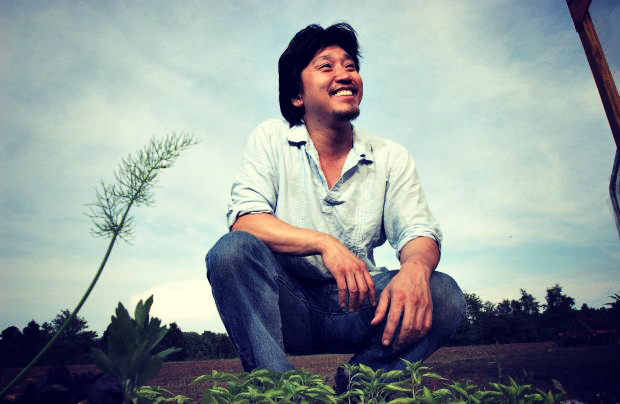 Expect to see the same sort of vaguely described "spicy pimento" among the offerings at Lee's new East Coast outpost, which is scheduled to open later this summer in a Maryland suburb just outside of Washington, D.C. — a so-called Southern-themed restaurant that, like its inventive proprietor, aims to transcend easy categorization. He's calling it Succotash, after the classic American corn-and-beans dish, and he calls it that for much the same reason. "Succotash is one of those recipes that's really open to interpretation," Lee says. "Most people don't know that succotash is actually a Native American dish that was invented in Rhode Island. It really has nothing to do with the South, except that it became popularized and iconic in the South."
The same could be said of the chef himself, of course: The son of Korean immigrants, Lee was born and raised in Brooklyn and honed his cooking chops in his native New York City before heading south in 2001 and onward to fame thanks to, appearances on national TV shows like Top Chef and Iron Chef America, as well as a popular cookbook, Smoke & Pickles.
The idea that Southern cooking is about more than just geography strikes at the heart of what Lee is all about. Southern food, he says, was really the "first fusion cuisine," embracing "everything from spices from the West Indies to African cuisine to coconut from the Far East." By cooking his own version of Southern food in a place "not technically in the South," Lee is striving to help broaden the definition.
It's the first time in more than a decade that Lee is setting up shop outside of his Kentucky comfort zone. Located at National Harbor — a sprawling shopping, dining, hotel and convention complex overlooking the Potomac River in suburban Maryland, just along the periphery of the booming Washington, D.C., food scene — Succotash promises to deliver what Lee does best to a big new audience that seems tailor-made for his sort of thing: a diverse, international community that's more open to interpretation and less beholden to the traditions and canonical recipes of the Old South.
"National Harbor is a place where Edward Lee can reach America," says Jason Berry, a former executive with the Rosa Mexicano chain of restaurants, who is now one of Lee's partners at Succotash. (The restaurant is the first project for Berry's new company, Knead Hospitality and Design.) Berry notes that tourists and conventioneers from all over the world keep the complex's nearly 3,000 hotel rooms packed for much of the year, and a planned MGM casino at the site should only add to the draw, promising a steady flow of potential patrons for the new restaurant.
"We had a short list of chefs that we wanted to work with, and Edward was at the top of that list," Berry says. "He brings a perspective that's just slightly different. I wouldn't call his food Asian, but there are bits and pieces of his heritage mixed in with the cuisine, and I think that's a lot of fun. When you think about bringing sort of traditional Southern food to the masses at National Harbor, there's going to be just a slight angle difference from what people would typically get. Everybody does fried chicken. We want our fried chicken to be the best fried chicken we've ever had."
Menu details are still getting worked out, but Lee confirms that, yes, Succotash will be serving a version of its namesake. Also expect a heavy emphasis on smoked meats, like Lee's popular gochujang-marinated chicken wings served with a creamy Alabama-style white sauce, a dish that nicely sums up his love of Asian and Southern flavors. "Really creamy, really spicy, really bold, really aggressive flavors — they just mix really well together," he says.
Oh, and there will be bourbon, lots of it — about 100 different varieties, perhaps even enough to satisfy the insatiable chef, a noted connoisseur of the barrel-aged brown liquor. "Edward knows his bourbon, so it's fun to drink with him," Berry says.
The coastal perch also offers Lee the perfect opportunity to branch out from his usual meat-centric repertoire. "An audience in Louisville is not going to be as receptive to trying new types of fish, just because we're such a landlocked region," Lee says. In Maryland, he won't have that problem. With the close proximity to the Chesapeake Bay and the Atlantic Ocean, "we can do more interesting things [with seafood]," Lee says. "As I explore more and get to know the coastal cuisine, you'll see more of that bleeding into the menu." In particular, he's excited to cook with the invasive blue catfish, which wildlife officials consider a threat to the nearby Chesapeake ecosystem, albeit a tasty one, he says.
Just don't expect to see a version of Maryland's ubiquitous crab cake — either with or without Lee's beloved gochujang.
"That's where we draw the line," Lee says. "There's really no crab cake recipe in the Southern doctrine. There's nothing about it that really excites me. It's a frickin' crab cake, you know?"