Mexico City is so stuffed with street-food stands that all you need to fashion a DIY eating crawl is to hit any busy boulevard or subway station. That strategy might work fine if you have decades to explore the capital's offerings, but those who are more pinched for time might benefit from professional guidance. Enter Club Tengo Hambre, a company that started several years ago as a collaboration between food bloggers and now holds events and gives eating tours in Baja California and Mexico City. One of CTH's most popular offerings is its street-food tour of D.F. (that's shorthand for Mexico City, or Distrito Federal). Since I'd been drooling over the club's Instagram account for several years now and had already exchanged emails with cofounder Jason Thomas Fritz, it didn't take much arm-twisting to get him to show me some favorite D.F. spots. After rounding up a few fellow eaters — chefs from Brazil and Argentina, plus a Mexican would-be restaurateur — we set off for an afternoon of serious chowing.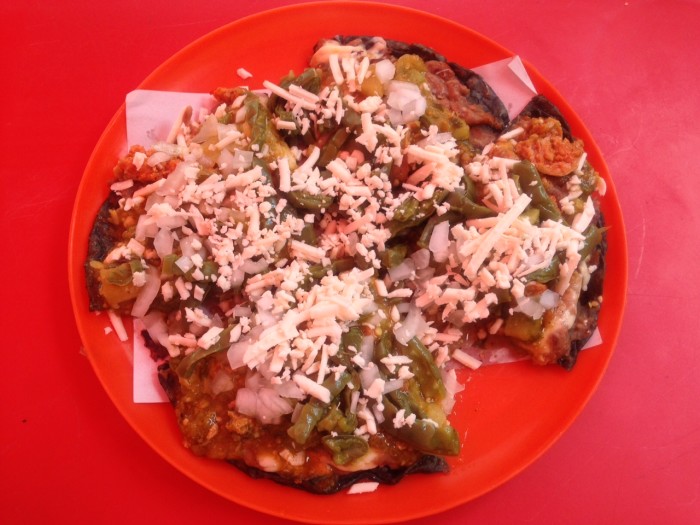 After our food-obsessed group rendezvoused on the steps of the grand Palacio de Bellas Artes downtown, Fritz led us a few blocks away to one of his favorite pit stops. My stomach growled as we passed a handful of crowded food stalls before reaching Ricos Tlacoyos y Quesadillas "Lights" (Calle Balderas between Avenida Juarez and Calle Articulo 123). There was nothing light about this food, not the oozing quesadillas made from tortillas freshly griddled on the comal, not the oversized sopes topped with beans, nopales (cactus), grated cheese and our choice of guisados (meaning daily stews — on this day, there was sausage in green salsa or shredded pork rib in red salsa). "They rotate their guisados daily, so you can come back every day and try something new," Fritz enthused. Though everybody was starving, we tried to pace ourselves by sharing a few things: a quesadilla with the pork and a sope with the sausage. The quesadilla was killer, though I loved the sausage's green salsa preparation. After scarfing these with a Coke to wash it down (practically a digestive requirement in Mexico), we were ready for stop no. 2.
The second stop happened to be just up the block, on the corner of Calle Morelos. This crowded stand called itself Ricos Tacos de Guisado "Las Aguilas" (Calle Morelos between Balderas and Enrico Martinez). For just four or five pesos per taco (26 to 32 cents U.S.), you can enjoy the usual fillers plus a few that might make the average gringo gag: tongue (lengua), blood sausage (moronga), etc. "We get people to try things they haven't tried before," Fritz said, before calling out, "Who wants a taco with blood sausage?" Normally, I love blood sausage. But not this time: Maybe budget blood sausage just isn't as good; to me it tasted strongly of animal innards. However, nothing was lost but a few pesos — the next stop was just across Balderas.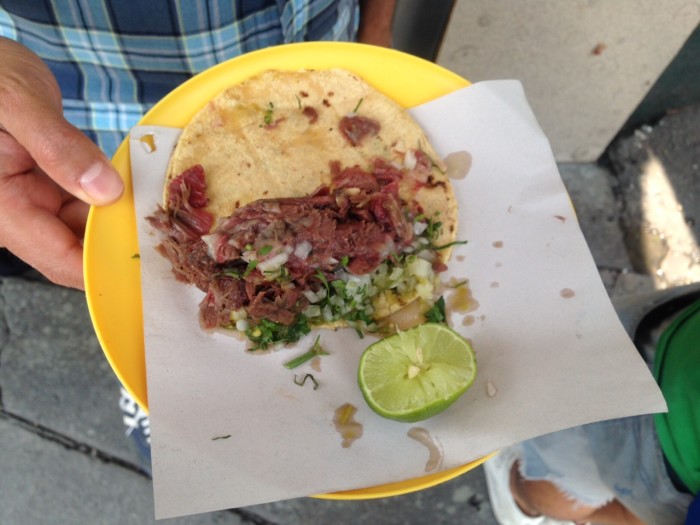 The jaunty yellow-painted corner taco spot announced its offerings in large letters: Tacos de Cabeza (corner of Victoria and Calle de Balderas). This kind of taco, stuffed with tender and flavorful beef head, had become a favorite of mine after a Mexican friend turned me on to them. So it was a no-brainer to squeeze on some lime and pop a couple of these succulent three-biters down my increasingly exercised gullet. Three minutes later, we were on the move again.
Next we hit Tacos Gonzalez (Vizcaínas 19 at Calle Lopez) near the Mercado San Juan. Gonzalez is something of a legend for its juicy longaniza (sausage) tacos, which come mounded with nopales and — something I'd never seen before — potato mash. Two of these babies could sink a taco-crawler in one swoop. After chomping my way through a campechano (longaniza mixed with beef), I was holding my stomach and calling out for an agua fresca (fruit water) to sooth my salt-parched throat. Fritz promised we'd hit the aguas stand hard after just one more stop.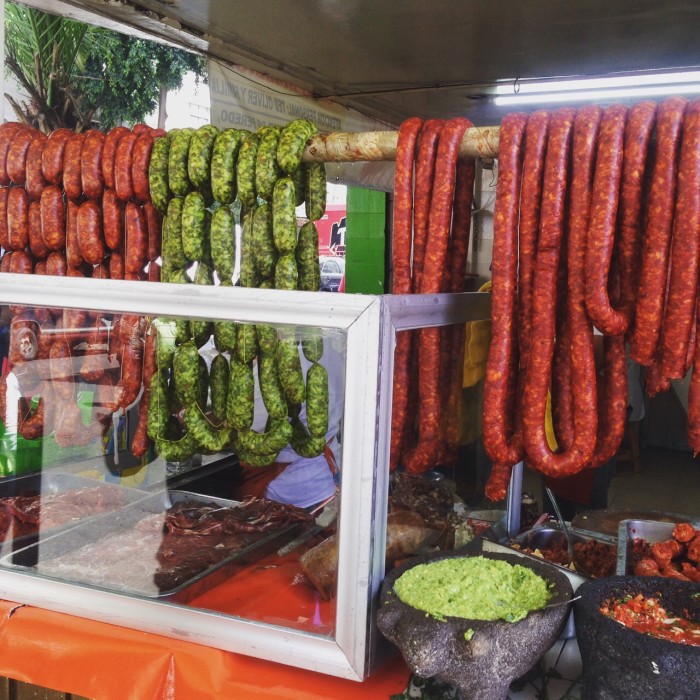 I forgot my thirst at the next place, Ricos Tacos Toluca (87 Lopez at Puente Peredo). Because: green chorizo! This uncommonly vibrant sausage contains parsley, cilantro and green-colored chilies (serranos and poblanos), among other things. Toluca is a town about an hour from Mexico City, Fritz explained: "They're known for being the best sausage makers." As proof, this open-air corner joint had several types of expertly hand-made tubesteak on display: red, green, and something called "obispo," a pork blood sausage. Add to this taco toppings that include fries, an excellent guacamole, and stewed beans, and it's no wonder Toluca is beloved among taco hounds. As Fritz put it, "Christians have the Vatican, Muslims have Mecca, and taco lovers have Toluca."
After that, the group was panting for something to drink. As promised, we headed to Fritz's favorite agua fresca stand, inside Mercado San Juan (Lopez 163 between Delicias and Avendia Arcos de Belen). To make matters confusing, there are two Mercado San Juans within a few blocks of each other. This is the one located on Lopez, which doesn't sell gourmet charcuterie and cheeses. It's known to locals as "San Juan de los Pobres," since it instead specializes in 35-peso ($2.24 U.S.) lunches. I opted for a liter of watermelon since it looked bright and juicy, and then remembered I'd brought some of the mezcal I purchased directly from a producer in Oaxaca for Fritz to sample. We each added a glug of the smoky stuff to our drinks and clinked our plastic cups.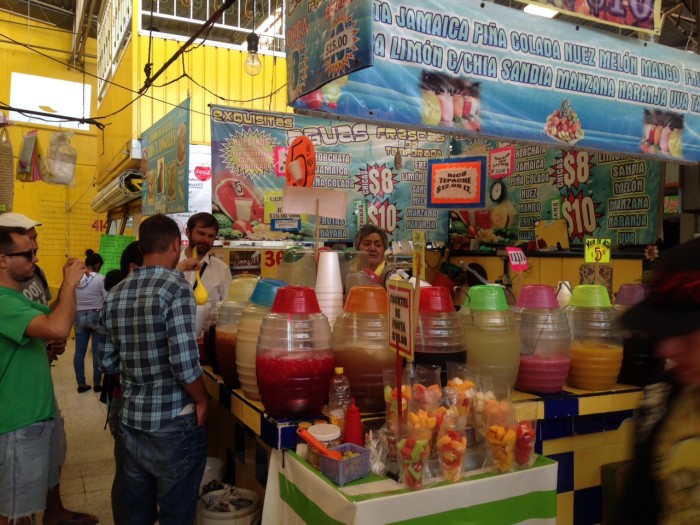 We were stuffed by then and it was mid-afternoon, an acceptable hour to hit up one of the historic center's old-school cantinas. On the way, of course, we passed another well-known taco stand: Los Cocuyos (Calle Bolívar 54, colonia Centro). "This is a real cantina street, so this place is perfect when you come stumbling out at four in the morning," said Fritz. It wasn't even four in the afternoon, but who knew when I'd be back? I stopped the group to order a taco, bypassing "ojo" (eyes) for classic suadero. This one came with delicious grilled onions and nopales, a bonus some taqueros throw in gratis. If you add salt and lime and let your onions marinate for a few moments, you won't regret it. Of course, my body did somewhat regret the lunch I'd just stuffed into it, but the feeling would pass. We swung through the doors of La Opera cantina into ornate Porfirio Diaz-era digs. A cerveza would settle my stomach.