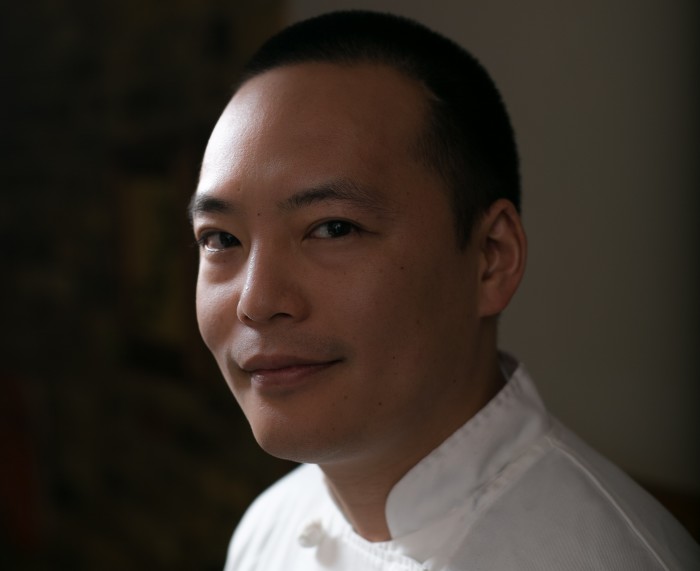 In June, Food Republic is counting the many reasons to love Asian food in America right now. Here's one of them.
Chef Edward Kim knows a thing or two about spinning moments of adversity into those of opportunity. Take, for example, the name of his debut restaurant: Ruxbin. Nicknamed "Teddy" growing up, Kim noticed that some kids quickly added "Ruxpin" to the moniker, referencing a certain talking toy bear of the 1980s. Years later, that childhood teasing would become a source of inspiration for the aspiring restaurateur. "The whole journey in opening the restaurant was very difficult for us, and we didn't have that much capital," he says. "That's the whole idea of the name — to take what might be obstacles and make them your strengths."
Kim and his partners (including his sister Vicki and his future wife, Jenny) did just that in 2010 with the group's first venture, a 32-seat spot on a dimly lit stretch of Ashland Avenue in his hometown of Chicago. The place was so small, in fact, that it didn't even qualify for a liquor license. (In Chicago, you need two restrooms to serve booze; Ruxbin had room for just one.) But Kim's cooking and dedicated staff swiftly turned this intimate BYO into one of the city's most popular restaurants for bottle-in-tow and in-the-know crowds, while also earning national praise with spots on coveted lists including GQ's Best New Restaurants in America in 2012 and Bon Appétit's Best New Restaurants of 2011.
Being a chef wasn't originally part of the plan for Kim, who first set out to study law. Culinary training at California's Le Cordon Bleu didn't come until Kim's post-college years, when lawyer friends warned him against pursuing the legal profession any further. Out of everything else he could have turned to, it was cooking he chose. "I appreciated that it's so much of a craft, that you're working with your hands, and that you can see progress readily," he says. "It's about being able to take joy in even the most simple aspect of wiping down your station and seeing a tangible difference immediately." That schooling was the springboard for stints at New York's Per Se, Los Angeles' Maru and Maison G, as well as six months in Korea, where Kim shadowed his uncle, a baker. His approach in the kitchen seems to be an ode to this collection of experiences with subtle, yet impactful, clues into his Asian-American heritage: Prawns are met with pickled plum, daikon and taro; halibut is accompanied by kimchi tarragon broth.
His team informs the menu, too. When Kim added a selection of hot pots to the menu at Mott Street, the group's second restaurant, he featured sous chef Bridget Close's sinigang recipe — a sour Filipino fish soup she enjoyed as a child, and a dish that the team had together enjoyed during family meal, a priority for Kim. "One of the things I find sad is when your staff is feeding people throughout service, and yet they're starving," he says. "A huge thing for us is family meal, so we try to put emphasis on it and ensure it's something we all enjoy eating and have pride in putting together."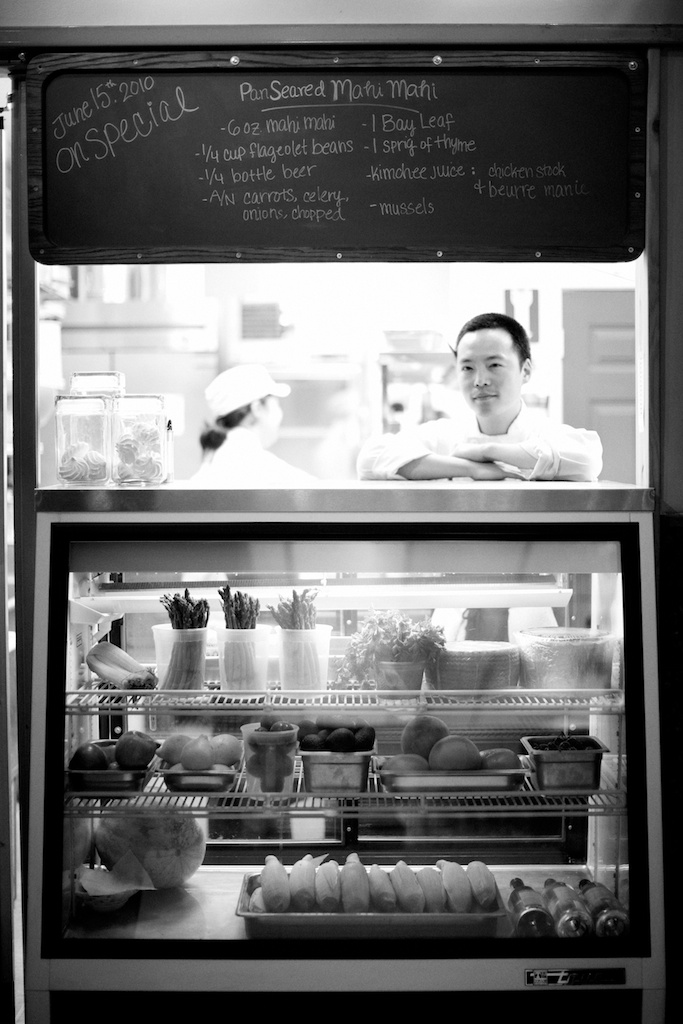 The staff was a big part of the impetus for Mott Street, which opened in 2013. "As we get older, we have staff that we love working with, but they need some opportunity to grow as well," says Kim. While the restaurants share the same street and are located within a mile of each other, the menu at Mott Street clamors for attention as the edgier sibling, its menu teeming with post-shift cravings of Kim and staff with a pronounced Asian influence, such as General Tso's lamb sweetbreads and wok-fried calamari bokum with Korean chili paste. "They satisfy two very different aspects of cooking," Kim explains. "Ruxbin might be the more cerebral and more like the ballet, whereas Mott Street is the more visceral, the rock concert."
Still, Kim plays fair, splitting time between the restaurants as best he can. "Some of my proudest moments are driving back and forth between both places on a busy night and seeing the places lit up and people outside of them and knowing that if they weren't there, it would probably be a very dark corner," he says. "Having cooks coming in and out of them helps them to look a little busier — a little safer." Sometimes those drives happen eight times a day, and other times Kim will stay put at a spot for two-week stints, as is the case during menu changes.
Most recently, that's happening at Ruxbin, where the team will celebrate its fifth year of service this month with a menu charting the restaurant's greatest hits, including a few dishes that didn't seem so great at first. One such plate is the cured salmon carpaccio with citrus zest and coriander seed, a dish whose initial sashimi-style iteration sent him and his sous chef running for the hills. "It tasted like crap," he says. With fine-tuning by way of knife skills, the dish was perfected, with no ingredients gained or lost. "It's a great example of self-editing and being able to admit to yourself, 'Yeah, it didn't work, but don't completely give up,'" Kim says. Each dish on the monthlong menu tells a story fitting into the restaurant's five-year span, including the rooftop salad, a dish featuring mustard greens and butter leaves grown upstairs that the chef can't bear to take off the menu, and the half chicken with a cheddar cumin waffle, a classic spin that quickly climbed the house-favorite ranks.
Regardless of the dish, there's a good chance that even the most experienced Ruxbin diner will be surprised. "For every jazz standard, the musician playing it puts their own riff on it, and these menu items are similar to those jazz standards," Kim says. "We've matured to the point where we can now improvise and be a little more daring and confident in our own skills."
Ruxbin, 851 N. Ashland Ave., Chicago, IL 60622, 312-624-8509; ruxbinchicago.com
Mott Street, 1401 N. Ashland Ave., Chicago, IL 60622, 773-687-9977; mottstreetchicago.com