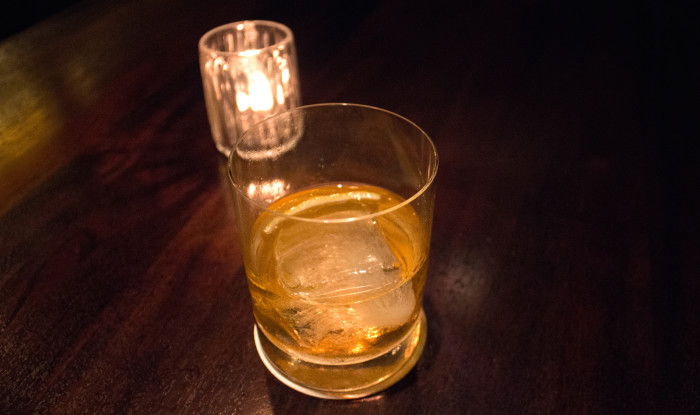 Peaty single malt Islay scotch can certainly be an acquired taste, but it's also a delight for those who love strong flavors. Strangely, few cocktails really use Islay whisky well, though Sam Ross's Penicillin, essentially a modern classic combining scotch with lemon juice and ginger-honey syrup, is likely the most well known today. Taking a more spirit-forward approach at NYC's NoMad Hotel (and the NoMad Bar around the corner), bar manager Leo Robitschek has crafted what may resemble a smoky old-fashioned to some, but is actually far more complex.
"The North Sea Oil came from my love of mixing flavorful and polarizing ingredients together," says Robitschek in explaining his unique blend of flavors in this drink, which includes Aquavit (caraway/fennel), triple sec (orange), Laphroaig (smoke) and Cocchi Americano to mellow them all. The resulting effect is incredibly balanced and perplexing, as there are clearly identifiable notes of orange, fennel and smoke, while the Aquavit becomes almost transparent as it complements the Islay's intensity perfectly.
In the end, what matters is that this drink sips remarkably well and, in addition to being one of Robitschek's favorites, would likely suit any whisky drinker, novice or otherwise, just as well. Thankfully, Robitschek has done all the work in discovering the simplicity of combining just four ingredients in the proper proportions to bring the North Sea Oil to life. It's a great reminder that a certain degree of smoke and intensity is certainly welcome respite, even in the warmer months. Enjoy.
North Sea Oil Cocktail
Servings: 1 cocktail
Ingredients
1/4 ounce Combier
1/2 ounce Laphroaig 10y/o Single Malt Scotch Whisky
3/4 ounce Cocchi Americano
1 1/2 ounces Linie Aquavit
Directions:
In a chilled mixing glass, combine ingredients with ice and stir well for ten seconds.
Strain into a chilled rocks glass with a solid two-inch cube of ice.
Garnish with a grapefruit twist.
Prep time: 5 minutes
Difficulty: Moderate