Here's How To Easily Make Soft Serve Ice Cream At Home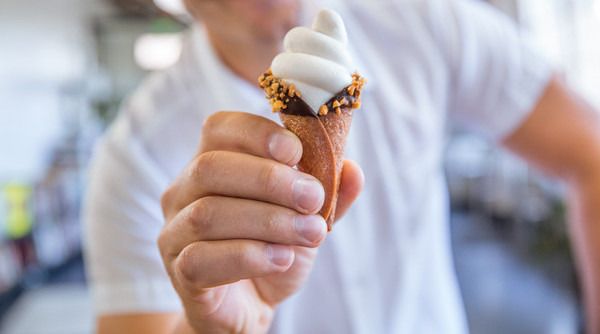 Soft serve just screams summer. In existence since the 1930s, the ice cream is known for its light flavor and rich texture (and its ability to quickly cause a mess). It's most often associated with Mister Softee trucks — and their music — as well as national chains like Carvel and Dairy Queen and smaller shops like Big Gay Ice Cream. But soft serve can be equally as delicious when it's homemade. Our friends at ChefSteps wrote in with a simple technique for making the refreshing treat at home, no fancy gadgets required.
So what will you need? Just your trusty stand mixer and some dry ice (which can be bought cheaply at local supermarkets or stores like Walmart). From there, you just need to crush it up and slowly incorporate it into your ice cream base. Within minutes, you'll wind up with a soft, delightful mixture that you can squeeze into cones. Easy, right? Check out the short video demonstration and the basic ingredients and directions below.
Ingredients
4 1/4 cups whole milk
2/5 cup heavy cream
1 cup sugar
3/4 teaspoon salt
2 1/2 teaspoons pure vanilla extract
2/5 cup nonfat dry milk powder
3 3/4 cups dry ice, plus extra just in case
Directions:
Make the Base
Combine all ingredients in the pitcher of a blender or other container.
Blend to combine ingredients, about one minute.
Cover and reserve in the freezer until you're ready to churn.
Note: If you don't have a blender, use an immersion blender. If you don't have an immersion blender, use a whisk. Just be sure to whisk away any clumps of milk powder that form in the mix.
Break Down the Dry Ice
Carefully transfer your dry ice to a burlap sack, a clean tote bag, or even a bath towel, and wrap it up completely.
With a heavy cast-iron pan or a hammer, crush dry ice into a fine powder.
Transfer crushed dry ice to a plastic bowl or tupperware container.
Churn
Pour your ice cream base into the bowl of a stand mixer fitted with the paddle attachment, and begin mixing on low.
Add dry ice one spoonful at a time. Allow foam and steam to dissipate, then add another spoonful.
Note: Adding too much too fast will lead to a big pile of bubbling ice cream all over your work surface. Nobody wants that. Go slow. Seriously.
Keep adding spoonfuls until the ice cream begins to thicken. When it does, increase mixing speed, continuing to add spoonfuls of dry ice until your ice cream is rich, thick, and creamy. (Note: You may need less than 3 3/4 cups, or slightly more; it depends on many different factors. So just go slowly and eyeball it — when it looks like soft serve, it probably is!)
Transfer to Piping Bag
Scoop soft serve into a piping bag and store in the freezer until you're ready to serve.
Serve
Break out the sprinkles and chopped nuts — it's time for an epic snack.
ChefSteps comprises a team of award-winning chefs, filmmakers, scientists, designers and engineers focused on revolutionizing the way people cook by inspiring creativity and encouraging expertise in the kitchen. The site is currently offering a free online class called Cooking Sous Vide: Getting Started, as well as a $10 class called Cooking Sous Vide: Beyond the Basics.