If you find yourself at Momotaro, a recently opened modern Japanese restaurant in Chicago's West Loop, and are having trouble deciding what to order from the seven-page menu offering everything from sushi omakase to skirt steak adorned with foie gras and shishito peppers to Italian-inspired itameshi dishes (note: there is no ramen), you should not get stressed out. Simply take a break from the table and head to the tavern-style izakaya section of the restaurant, in the basement level, where you can pick up a vintage pink telephone, sourced from Tokyo, and take some elementary Japanese lessons. Or just kick back and listen to soft-core Japanese porn films while enjoying a glass of one of the dozens of sake on offer.
Equally as remarkable as the menu at Momotaro is the design, helmed by the two-time James Beard Foundation Award winner AvroKO. Inspired by unique aspects of post-WWII Japanese culture, the firm has created a palatial dining establishment (the restaurant occupies more than 11,000 square feet across three levels and seats 250) that places diners within a fantastical version of modern, urban Japan.
In this setting, guests select from a wide array of contemporary Japanese fine-dining experiences with global influences, courtesy of two chefs, Mark Hellyar, who is in charge of the robata (barbecue) station, and Jeff Ramsey, the only American-born chef to receive a Michelin star in Japan, who is managing sushi.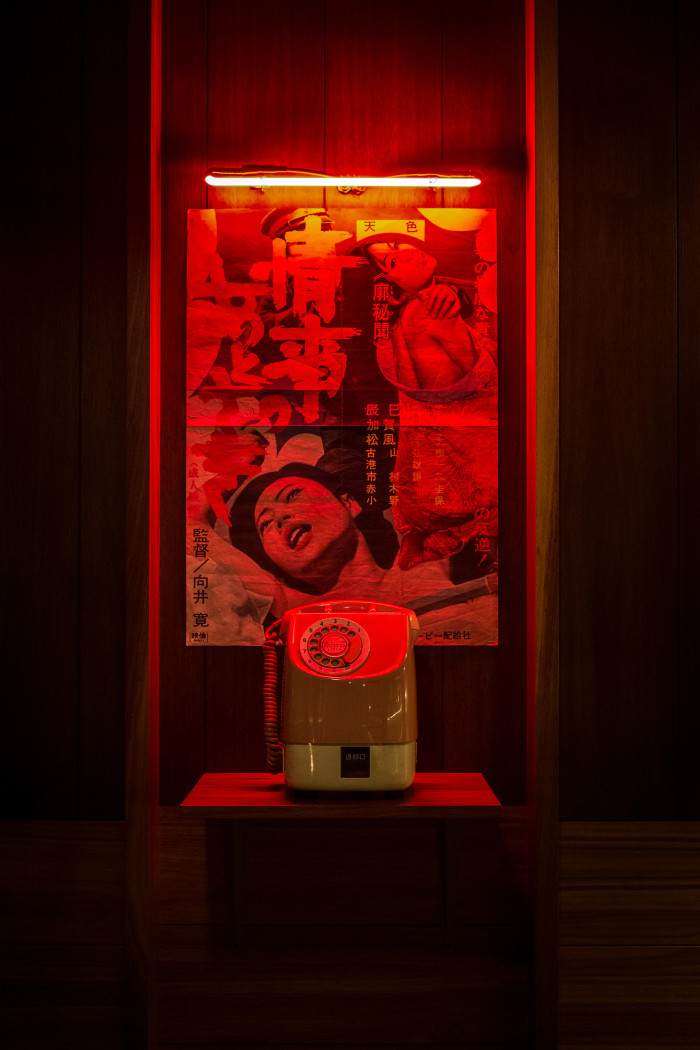 Momotaro is the first Japanese restaurant within the Boka restaurant group, and AvroKO's first experience working in Chicago. The collaboration has proved successful, as AvroKO is now set to work with Boka on three more projects in Chicago, including Stephanie Izard's Chinese-inspired Duck Duck Goat, which is set to open this summer, as well as a steakhouse and an unspecified project in the new Viceroy hotel.
Here, Food Republic speaks with AvroKO's four partners — Adam Farmerie, William Harris, Kristina O'Neal, and Greg Bradshaw — to get details on Momotaro's whimsical, winning design.
What was the initial concept for the design of the space?
Adam Farmerie: We were inspired by an era of Japanese history called the Economic Miracle, a period right after World War II in which the Japanese embraced a number of Western ideas to rebuild their economy. This became a time that the notion of the "salaryman" was effectively born, so we decided to make Momotaro an homage to this force of Japanese nature.
William Harris: The ground floor of Momotaro channels the spirit of a Tokyo office space of the 1950s/60s, where the salaryman spent his days, whereas the izakaya on the lower level is inspired by the yokocho — the back alleys that sprang up in Tokyo as postwar black markets, where the salaryman spent his nights.
Who led the design and construction?
Kristina O'Neal: As with all of our projects, it's truly a collaborative approach. All four partners had varying degrees of input together with a fairly large team in the design studio. It's really a family affair.
What were the biggest challenges?
Greg Bradshaw: There is always a bit of a dance when figuring out how to work with the space our clients have at hand. For example, the biggest challenge initially was that we had an entire three-story building to work with, but that also led to some of the most interesting developments — to knock out part of the upper floor in order to create a double-height space, to tuck in the "boardroom" PDR on the upper floor overlooking the main restaurant space, and to create an entirely separate yet connected concept (the izakaya) on the lower floor.
What, if any, compromises had to be made?
Harris: We really look at compromises as hidden opportunities. Due to budgetary constraints, we couldn't use an expensive hardwood for the flooring, but that led to the idea to use an inexpensive wood, then stencil a '50s-style graphic over the top. The "compromise" was better than had we not been pushed to work around it.
What's the most interesting design detail in the space?
Farmerie: The details are where we get to have the most fun. It matters that every touch point in our projects feels physically and subliminally connected not only to the core concept but to the architecture of the project overall. A few specifics:
We had a friend running around Tokyo to find a vintage Japanese pink pay phone to install in the izakaya. Then, together, we edited Japanese-language audio clips to randomly play when the phone was picked up — everything from "learn Japanese" lessons to clips from classic Kurosawa films to Japanese "pink films" (soft-core porn).
The bathroom corridor is lined with approximately 991,000 ballpoint pen marks to create a sort of wallpaper, which gives a nod to the idea of Otaku, a Japanese term for people with obsessive interests.
Throughout the dining room, there are screens made from traditional strand caning [a traditional technique used to make woven screens using canes or cane-like pieces of wood or bamboo], across all of which we wove a continuous line of red thread that marks the height of an average Japanese man in the 1960s.
How do you feel about the outcome of the space?
O'Neal: We couldn't be happier. It was an enjoyable project to work on and an enjoyable space to be in. We had such fun working with Rob [Katz] and Kevin [Boehm, of Boka] that we've decided to work on three more projects together!
Momotaro
820 W. Lake St.
Chicago, IL 60607
312-733-1448
momotarochicago.com